Top 5 Foods To Try When Skiing In Switzerland - A Taste Of The Alps
30 November 2016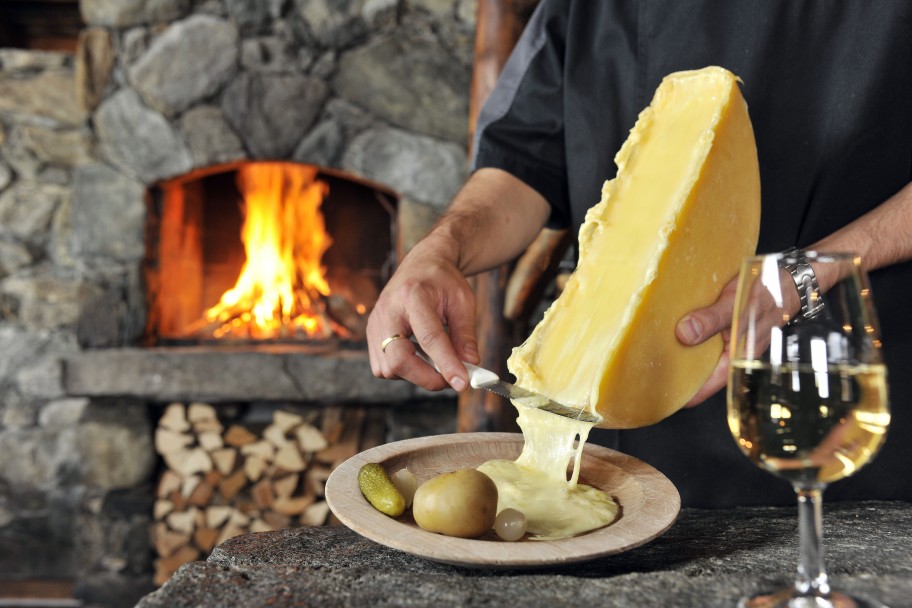 Heading to Switzerland for your next ski holiday? Make sure you try some of Switzerland's most famous food and drink.
If you're visiting Switzerland's Valais region, add these top 5 foods to your lunch or dinner menu.
Raclette
The first dish on the 'Top 5' list is the Raclette. Rumoured to have been invented by a Swiss Valais wine-grower, the Raclette is simply warmed up cheese.
The traditional Valais meal features a large piece of heated cheese that can be scrapped with a knife to subtract melted cheese onto a side plate. The melted cheese is then teamed with boiled potatoes and pickles.
To this day, Valais cheese makers follow a recipe which has been passed down for generations, taking raw milk and making it into the best and most authentic product Valais has to offer: Raclette du Valais AOP.
Valais Brandy
Not a food, but a great accompaniment, Valais Brandy can be enjoyed at the end of a good Swiss meal. Made from Williams pears or apricots, the Valais Brandy is a fruity alcohol that makes a great drink, but is also used in sorbets and desserts.
Fondue
The popular skiing dish, cheese fondue might seem like an obvious pick, but the famous fondue comes out on top in most Alpine regions for good reason. For centuries, mountain dwellers relied on fondue as a way to use bread and cheese during the colder months. With years and years of practice, the Swiss, like many other mountain habitants have become masters of a tasty fondue.
The timeless Fondue features on the menu in many Swiss Alpine restaurants. It is a must-have for any local or visitor to Switzerland and can be found in restaurants up and down the slopes.
Valais Platter
Dried meat has featured on the Valais menu since the 14th century. It is also the Valais Platter's key ingredient. Served alongside gherkins, quarters of tomatoes and butter, Valais dried meat is made exclusively from Swiss cattle.
Enjoyed as a main course, starter, snack or as an accompaniment during an aperitif, the Valais Platter is a great taste of the Alps.
Swiss Chocolate
Swiss chocolate boasts an excellent reputation worldwide. With high quality standards and strict manufacturing laws regulating Swiss chocolate, it's not surprising that it tastes so great. Fill your jacket pockets with Swiss chocolate, and have the world's most delicious chocolate on your mid-morning ski break.
Just a taste of the vast Alpine foods available in Swiss ski resorts! If you're in the Valais region make sure you add the traditional Rye bread to your meal, and whatever resort you're in, ask the locals about their top dishes and give them a try.
If you're not able to make it to Switzerland this winter, try a few Alpine dishes in The Snow Centre Hemel Hempstead's, Lodge Bar & Kitchen.