A Bucket List for Skiers & Snowboarders
25 March 2017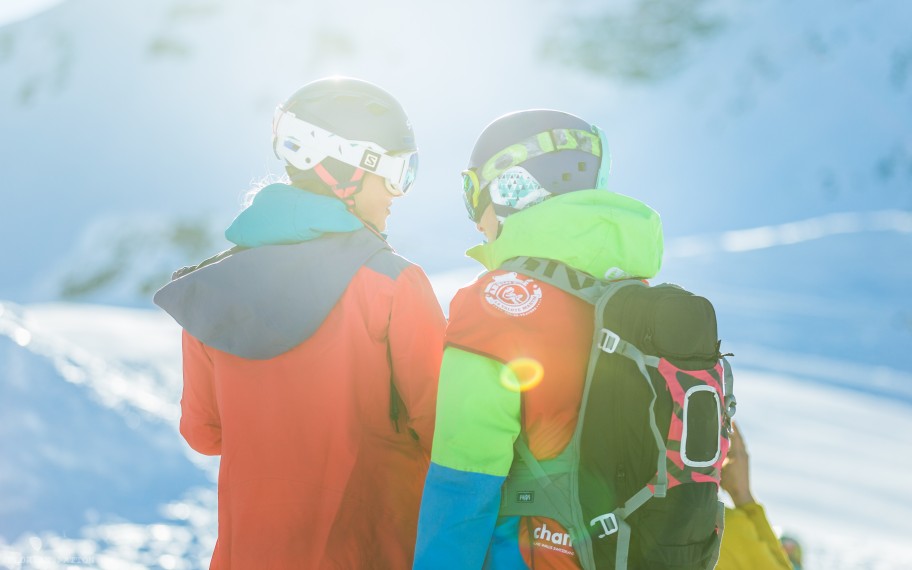 When there's never enough time on the slopes, it can be easy to spend year in, and year out covering the same ground, or simply lapping new mountains on your skis. While ski laps are always good fun, squeezing in a few bucket list 'must-dos' will enable you to create a snow load of unexpected, exciting mountain memories. Plus, you never know, perhaps you'll find a new on-snow past-time you can't live without!
There's so many bucket list possibilities in most mountain resorts. Besides trying out the park, hitting the pow at the sides of the piste, and enjoying far to many shots in the Après bar, here's a few ideas to start ticking off your bucket list.
1. Go Heli-skiing or Heli-boarding
Whichever's your chosen ride, heli-Skiing or heli-boarding, is off-trail sliding accessed by a helicopter, as opposed to a ski lift. This allows you to reach hidden runs and fresh powder that would normally be out of reach.

Some of the world's most famous Heli-Ski spots include, Zermatt in Switzerland, Alaska's Chugach Range and Hokkaido in Japan.
2. Complete the Iconic Black Runs
If you haven't skied the world's hardest black runs, then add this one to your bucket list. Read our piece on Europe's most challenging pistes and plan to ski them all, along with a bunch of other iconic slopes across the globe; from some of the world's best mogul runs like Stockhorn-Triftji in Zermatt, Switzerland, to the most scenic, such as Schilthorn-Murren between Engertal and the Kanonenrohr in Switzerland.
3. Try Cat Skiing or Snowboarding
Cat skiing or snowboarding is simply guided backcountry skiing, but rather than hiking or using a chair lift or helicopter, skiers and snowboarders are transported up the mountain in a snowcat, or piste basher with a cabin on the back. A great way of reaching hidden powder gems, you can try cat skiing in some of the most legendary cat akiing locations, in Canada, America and Japan.
4. Watch a Ski or Snowboard Competition Live
If you haven't seen a ski or snowboard competition live, it's worth doing! It'd be great to witness the Olympic Downhill, Freestyle or Slalom, but there's a lot of other competitions that boast equally lively atmospheres with the same top athletes competing. What's more, with Freestyle Big Air Competitions often running in the world's major cities, you don't even have to miss a day skiing to watch them. Instead, simply take a few hours out on your next city break.
5. Ski Volcanic Mountains
At Mt Etna in Sicily, Italy, Mt Elbrus in Caucasus, Russia, and at Niseko United in Hokkaido, Japan there lies the opportunity to ski a volcano. Skiing a volcanic mountain brings long inclined slopes, spectacular views and unpredictable weather. Ultimately, it's something very out of the ordinary to add to your bucket list.
6. Ski a Downhill Competition Course
Yes, you can actually ski a real downhill competition course in Kitzbuhl, Austria. During the winter season, the legendary Strief downhill ski race course is open to the public before, and after it brings the best skiers from all over the world together to compete for glory.
7. Take a Hut Trip
Hut trips include ski touring with plenty of off-piste or backcountry hiking and powder skiing, while traveling from hut to hut. With your nights spent in mountain huts in spectacular locations, it's a pretty unique experience. You can enjoy hut trips for varied levels of experience and ability with The Sivretta Traverse in Austria, The Central Bernese Oberland Ski Tour in Switzerland, and The Haute Route in France and Switzerland.
8. Take an Avalanche Class
Avalanche classes are really important if you're planing to go on a powder hunt, but they're also really interesting. Courses are available in many resorts across Europe and beyond, including at the Mammut Avalanche Training Centre in Zinal, Switzerland, the American Institute for Avalanche Research, and at various locations in Canada with Avalanche Canada.
9. Try Pond Skimming
Pond skimming is the ultimate spring skiing Après fun. What could be better than trying to speed across the top of a pond on your skis or snowboard, trying to avoid an unfortunate dunk, and sinking to the bottom in full snow attire?

Many resorts offer opportunities to try pond skimming at their spring or summer events; including Kaunertal, Austria at Spring Break, in the Swiss resort of Engelbergup up on Jochpass each April, and outside in the car park at the UK's indoor centre, The Snow Centre Hemel Hempstead. With so many opportunities to try pond skimming in the warmer months, it's an easy one to tick of your skiing bucket list.
10. Ride the World's Best Pow
Famous for thick and fluffy pow, and untouched slopes is Hokkaido, Japan. With a choice of uncrowded resorts, Japan is every powder hunters dream. Alternatively, the USA, South America, Canada, and New Zealand are all known to boast some pretty fresh powder spots, but that's not to say you can't catch some pow in Europe too.
11. Try Para-skiing or Para-gliding
To get a really great view of the mountain, give para-skiing or paragliding a try. You can glide off the side of a mountain in Switzerland, so you don't even need to travel far to cross this one off your bucket list.
12. Ski in the Summer
European glacier skiing in the summer allows you to spend your mornings on the slopes, and your afternoons sunbathing by the pool, definitely a snowy summer break not to miss out on. Make the most of some of Europe's best glaciers in Switzerland, France and Austria.

Alternatively, jetting off to the other side of the world to ski Australia or New Zealand enables you to enjoy all the perks of a winter down-under during the english summer time. If that's to far to go, you can always ski indoors all year round at your local UK ski slope.
13. Take to a Sledge
You've slid all over the mountain, but have you sledged that slope by your chalet or hotel and raced your friends or family to the bottom? If you missed out this season, sledging is available at The Snow Centre this summer.
14. Build a Mini Jump
Next time there's a white-out, or a heavy snowfall stops you heading up the hill, get the shovels out and build a mini kicker in the resort. You never know, you might learn a few tricks!
15. Literally get the First Lift
Many of us aim for 'first lifts,' but how few of us actually make it? Pick a powder day, and actually get yourself on the first chair or in the first gondola to slide the fresh stuff before anyone else.
16. Try Night Skiing
Flood lit night skiing is available in Colorado, Austria, Switzerland and many more resorts. Skiing at night adds a whole new dimension to skiing the slopes. However, it can get a little chilly, so make sure you wrap up warm.
17. Ride on a Snowmobile
You've seen them zooming around on the snow before, now drive one or at least ride on a snowmobile. The snowXpark in Engelberg Switzerland is an excellent place to take on your first snowmobile adventure.
18. Build a Snowman
How many times have you planned to build a snowman and never done it! Make your next trip to the mountains the holiday you build a snowman.
19. Have a Huge Snowball Fight
Once you've built a snowman, having a huge snowball fight will come naturally.
20. Take a Snowshoe Hike
Snowshoe hikes are great exercise and will allow you to explore areas of the mountain you just don't see when you're skiing. Many resorts offer guided snowshoe hikes, but Switzerland offers a choice of day and night hikes with plenty of magnificent views.
21. Learn to Telemark
Have you spotted that hardcore skier hiking up the piste as you're whizzing down? Perhaps you thought Telemarking doesn't look particularly fun? What you don't see, is Telemark skiing goes hand in hand with ski touring and exploring the mountain away from the slopes. Enabling you to hike up and ski down, so it can actually be a lot of fun.

Telemark skiing has also developed into a speed sport too, with Telemark ski racers executing unique lunging or "free heel" turns at speed. Take a look at Verbier, Switzerland for guided ski touring.
22. Try Indoor or Dry Slope Skiing
There are no excuses for not finding the time to try dry slope or indoor skiing, you'll be surprised at how much you can practice on a UK slope, particularly if you use the space wisely.
23. Sleep in an Ice Hotel
Ice hotels can be found across winter resorts, with varied levels of luxury; from the snow holes of Cairngorms, Scotland to the Igloo villages of Switzerland. You might not want to stay the week, but one night in an ice hotel is quite an experience.
24. Switch from Skiing to Snowboarding
You can make the switch in any resort or indoor centre, but make sure you pick somewhere with a great snowboard school.
25. Qualify as an Instructor
You don't have to leave the UK to qualify as an Instructor, there's a bunch of courses taking place at The Snow Centre Hemel Hempstead this summer.
26. Ski Multiple Valleys in 1 Day
In resorts that are connected by lifts and pistes, challenge yourself to ski all 3 or 4 valleys in one day. This is possible in Les 3 Vallées in France, with inclusion of the resort areas of Courchevel, La Tania, Meribel, Brides-les-bains, Saint Martin de Belleville, Les Menuires, Val Thorens and Orelle.

You can also cover some ground in Switzerland's Les 4 Vallées, with Thyon, Veysonnaz, Nendaz, La Tzoumaz and Verbier, but good luck trying to cover everything in one day.
27. Ski Down After Après
Finish with a fun addition to your skiing bucket list! Make sure you end a ski day in an Après bar on the piste, preferably one with a slope running back to your resort, so you can enjoy a merry ski to the bottom.