A handy guide to everything you need to know and what to expect on your visit...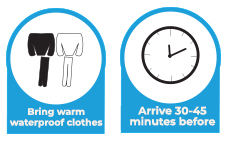 All bookings should be made in advance to avoid disappointment, and aim to arrive 30 - 45 minutes before your session. You can arrive dressed for the slopes, bring your warm clothing with you or you can hire a jacket and/or trousers, just £7 for 1 item or £12 for both. If you have your own equipment please bring this along too. Helmets are compulsory and hire of them is included, or if you prefer you can buy a helmet for £25.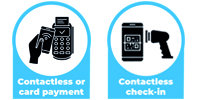 Use your QR code on your Booking Confirmation for quicker check in either at our Self Service Check In or Reception, both on the Groud Floor. We only accept card or contactless payments.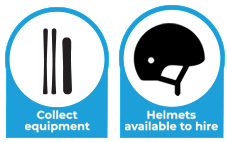 Equipment & helmets are included with all Snow Sessions and these can be collected on the 1st floor in the Kit Up Area. If you are bringing someone for their snow session who needs assistance, we ask that only 1 supporting adult enters the Kit Up Area with them. We'll need to know your height, weight and shoe size to set up your equipment, if you're bringing along juniors please make sure you know their details too. Other members of your party can view the slope from The Lodge Bar & Kitchen on the 2nd Floor.
After your session on the slope why not join us for a taste of the Alps in The Lodge Bar & Kitchen on the 2nd floor to enjoy a refreshing drink or a bite to eat. The Lodge offers a full menu with drinks, snacks, meals and alpine favourites available 7 days a week. Check out our menu here.
Please remember to take all your belongings with you when you leave The Snow Centre as we cannot store Lost Property right now.