The Biggest Airbag You've Ever Seen!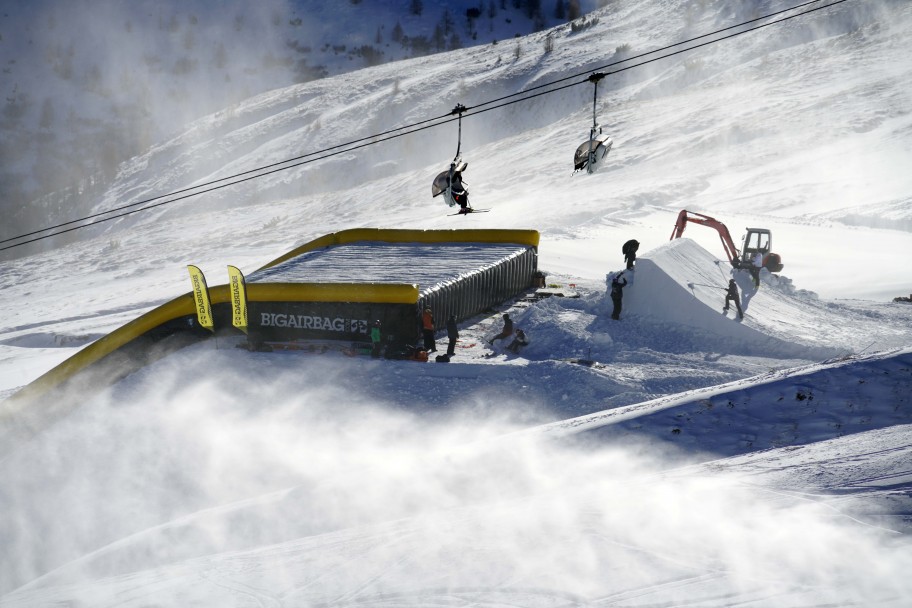 The snow is falling, the days grow ever shorter, and many of us are winding down for Christmas! Perhaps thoughts of festive fun, sugary treats and relaxing by the fire spring to mind? That all sounds grand, but that's not what our British Ski & Snowboard athletes are counting down to.
While many of us prepare for a well-deserved winter break, the Team GB winter athletes are stepping things up, with an intensive training schedule for February's 2018 winter Olympics in PyeongChang. And this time, the GB Park & Pipe organisers are changing the game to ensure the British athletes have the best chance possible of bringing home some metal.
Introducing the BigAirBag
Thanks to a team of dedicated GB Park & Pipe organisers and coaches, UK Sport's £100,00s worth of funding, and the Dutch company BigAirBag, December has seen the installation of the largest BigAirBag the specialist freestyle training brand have ever made. Located on the Italian slopes of Livigno, the extensive BigAirBag is laid below an Olympic size jump, in prime position for athletes to grab some airtime before landing safely on the airbag.
At a whopping 55 x 22 metres, this BigAirBag is essentially a giant bouncy castle —and will allow GB Park and Pipe skiers and snowboarders, the chance to train some of their biggest tricks with a huge reduction to the risk of injury.
What's so intriguing about this particular bag, is that you can land to your skis or snowboard. Many horizontally setup airbags require riders to land to their back, but due to the BigAirBags alignment with the steep landing below the jump, skiers and snowboarders can effectively ride out of their trick, as if they were landing onto the snow. This premium setup, provides athletes with airbag training, so similar to that of jumping in competition, it becomes that much easier to transfer newly learnt tricks from the BigAirBag to an all-snow jump and landing.
What the BigAirBag gives British Winter Athletes
The Ski or Snowboard Slopestyle and Big Air disciplines involve riders taking off jumps and performing daring tricks in the air. The competitions are often a spin to win occasion, and require athletes to continually push their boundaries in the air, before landing.
The GB Park & Pipe athletes, including Jamie Nicholls, Aimee Fuller and Mike Rowlands some of whom are training for February's 2018 Winter Olympics are using the BigAirBag to progress their tricks with a reduced chance of injury. Something that's very important so close to the big event.
For those still hoping to qualify for the 2018 Olympics, riding the BigAirBag is an opportunity to practice bigger tricks to land in qualifying competitions. It's also great for other athlete's prep for the tricks they'll be throwing in PyeongChang. Hopefully, we'll get to see some of the inspiring things they've been practicing when we switch on the T.V in February.