The Perfect Snow Conditions for Skiing and Snowboarding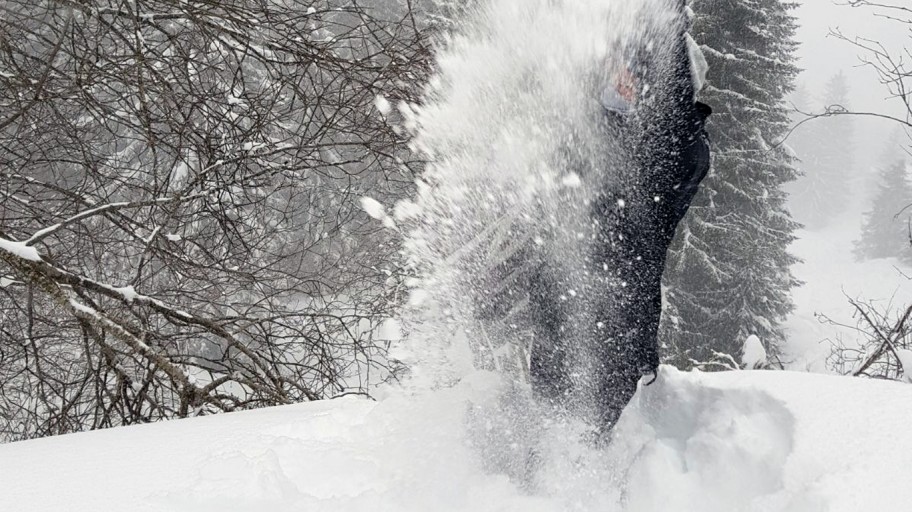 A big part of becoming a good skier or snowboarder is having the ability to take on a variety of snow conditions. Unlike many other sports, the snowsports experience can be significantly altered by the levels of snowfall.
Some snow conditions are more popular with skiers and snowboarders than others, but all have their pros and cons. To maximise your fun on the slopes, we uncover some of the most common snow conditions and what to expect from them.
Fresh Snow
Fresh snow, the favourite amongst most piste skiers and snowboarders, beginners, intermediate and advanced alike. A dusting of freshly fallen snow can usually provide an excellent day on the mountain for all.
A heavy sprinkle of fresh snow often allows for 'grippy' turns, a smoother ride down, and some cushioning if you do take the odd fall. In these kinds of conditions, you'll find most skiers and snowboarders are eager to get up the hill to make fresh tracks. First thing in the morning, the freshly fallen snow will usually have been groomed by the pitse bashers, to make for some great skiing and snowboarding.
Watch out, as the day goes on, soft snow can get moved around the slope by heavy skiing, and is likely to create an uneven slope, complete with a few snow bumps that could catch you out.
Powder (Pow)
Powder is another popular snow condition on the mountain, it occurs when the resort has seen some heavy snowfall. The low moisture content and structure of powder can give skiers and snowboarders the feeling of floating over the snow, making for a magical ride.
Due to grooming, you're unlikely to find much powder on the piste. However, following a heavy snow dump, if you're riding the sides of the piste or heading out on a guided off-piste tour you're likely to discover glistening, fluffy pow galore.
As you glide over thick powder, make sure you keep your weight in the back of your board of skis, to avoid the nose or tips digging in and taking a tumble in the pow. Although falling in powder dosen't usually hurt, digging yourself out of heavy pow can be challenging.
Packed Powder
Packed Powder usually refers to powder that has been compressed and smoothed by the piste basher, it makes for a great snow base. Layer upon layer of plentiful packed powder covering a piste, provides easy to ski, smooth conditions. It can be great for learning on, speeding over, and generally practicing most new ski or snowboard techniques without any unexpected bumps.
When resorts receive heavy snowfalls early in the season, they will usually create pistes with packed powder using the piste bashers. This ensures there is a great even base for the winter season ahead.
Icy or Hard-packed Pistes
Icy and hard-packed pistes are slightly different, but usually come hand in hand, and often you'll find both conditions on the hill on the same day. Naturally, ice is very smooth and can be easy to slip on, but hard-packed powder can also be slippery, although its usually slightly more forgiving than ice.
Ice and hard-packed snow is formed over time as the relative water content of snow increases. Compacted due to regular skiing and grooming, hard-packed snow and ice has usually warmed up during the daytime, or over a few daytimes, and refrozen or cooled into hard-packed snow or ice overnight.
Hard-packed snow is easier to navigate than ice, but skiers, and particularly snowboarders may find planting an edge to make 'grippy' turns more challenging in these conditions. However, when hard-packed snow is pretty smooth, it can be great for skiing at speed.
Ice, on the other hand, is very difficult to ski and requires razor-sharp edges. Snowboarders will also need sharp edges to be able to hold their turns on ice. The alternative, is to simply glide over the ice at speed without putting an edge or many turns in. This can make stopping a little challenging, but the best ski racers may enjoy icy conditions, because they help them reach their maximum speeds.
When it has been cold and has not snowed for a while, the pistes will start to get icy. Most skiers and snowboarders do not like ice as they cannot dig their edges into it very well, which makes staying in control more difficult. However, if the ice is smooth and even, and there are not too many people on the slopes that need dodging, ice can allow for some super fun speed skiing.
Slush Snow
Slush comes with warmer mountains temperatures, and often occurs in spring when the winter's packed snow base has begun to melt. Slushy snow often brings with it bluebird spring skiing and afternoons relaxing in the sunshine, which can make up for its downfalls.
Slush itself can be challenging to ski and snowboard. Due to its lack of crystal structure it can be heavy and slow, and its wet consistency can pull at your skis or snowboard as you try to turn through it. Slush also usually occurs as part of an icy morning and a slushy afternoon combo, with the conditions changing as temperatures rise throughout the day and melt the snow, and then cool again through the night and freeze it.
Slush is generally not a preferred snow condition, although it can be a lot of fun. Some people prefer the slower speeds slush creates, and the warmer temperatures it brings.
Crud Snow
Crud snow is one of the worst kind of snow conditions for most skiers and snowboarders. Crud is the by-product of skiers cutting up un-groomed powder, often found at the sides of the piste.
Skiing crud is hard work. It involves navigating your way through alternating snow consistencies, that may have become icy, bumpy or remained soft and fluffy. These kinds of conditions require concentration and a lot of leg work to successfully slide through snow that is light one minute and firm the next.
You can also find a variation of crud snow on the piste, one that has been churned up by heavy skiing or snowboarding. This will often occur when it's snowed throughout the day and the snow has not yet been groomed, but has simply seen heavy use. You might enjoy crud snow, if you like a challenge or a workout.
Sticky Snow
Much like slush, sticky snow is another snow variation created when the snow begins to melt. In the same way, when the snow is wet due to warm temperatures, it can start to create a vacuum under the ski, which makes it more difficult for the skis to slide through the snow.
The stickiest of snow usually occurs not during slushy spring skiing, but when fresh snow is falling and the temperatures are rising rapidly. Freshly fallen snow still has its fine snow crystal structure, and as it becomes wet very quickly moulds itself to the bottom of your skis or snowboard making it very hard for air to get underneath. This creates a vacuum that makes it more difficult for the skis or snowboard to slide.
This kind of sticky snow can catch even the most skilled skiers and snowboarders off guard, as it slows you down on the steepest of slopes and can make turning challenging, with its continually sticky pull on the bottom of your equipment. Luckily, it takes quite a precise chain of weather events to create such sticky snow, so skiers and snowboarders don't have to deal with these conditions too often.
All snow conditions and their general types can vary, and there's usually something exciting about each type. No two snowfalls are the same, so each day on the hill is a new adventure, check the resorts daily weather report, and follow their advice to be ready for your day on the mountain.