Top Tips for Planning a Ski Holiday with Toddlers & Babies
5 October 2017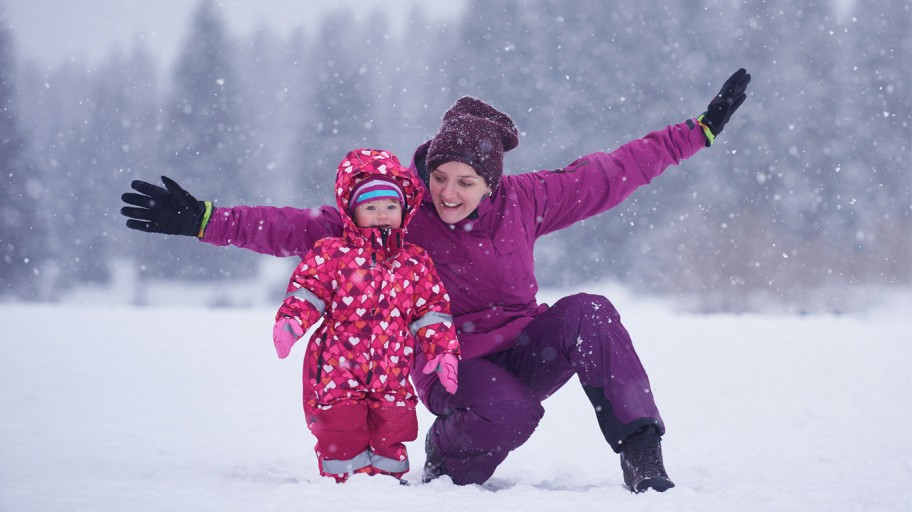 With winter fast approaching, many of us have started thinking about our 2017/18 ski holidays. If your plans include taking your toddler, baby or both to the mountains, then the task might seem daunting. You may have hundreds of concerns about how you are going to make this work, have a great holiday and keep the kids happy at the same time!
Fear not, Alpine Angels Childcare have put together 8 top tips for you to consider–that may just help you feel more prepared & raring to go…
Before your Ski Holiday Toddler & Baby Top Tips
Hotel or chalet?
If you're on a budget a hotel might seem like the obvious option as its cheaper, right? Wrong! Not all chalets are super expensive–if you shop around you're likely to find a great deal. We consider chalets to be the better option as there is more space for you as a family, and they are better if you're choosing to book private childcare. Furthermore, there may be other families in your chalets that will have play mates for your children.
Choose your resort wisely
Some resorts are significantly more child friendly than others. We suggest researching any resorts you are considering if you haven't been there before. Consider things such as the availability of childcare & children's ski school, activities available for children other that just skiing and transport options. Take a look at Alpine Angels blog for some great ideas.
Book your childcare ASAP
Don't let this be an after thought as you might find yourself bitterly disappointed! Childcare options in popular resorts tend to book up quickly, especially in peak weeks. If you have very young children you are unlikely to be able to manage a ski holiday without childcare. There are many options available for childcare, but we think the best option to go for is a private nanny–they care for your kids in and around your accommodation, offer the ultimate flexibility, can often pick up and drop off at ski school, meet parents for lunch and it is a more personal service–plus they are not as expensive as you might think!
During your Ski Holiday Toddler & Baby Top Tips
Invest well
We all know what children get like when they are cold & wet and it isn't pretty! To save yourself the trouble try not to spend too little on the basic winter essentials. An investment in a few decent pairs of gloves, waterproofs & boots will make the world of difference to your kids, by ensuring they stay warm and dry whilst skiing & playing in the snow.
Beat the hunger
Just like a cold and wet child, we all know hungry kids can be a challenge too. Skiing burns a lot of energy meaning they are likely to get hungry quicker than usual and unfortunately you don't always have instant access to somewhere to eat. Consider putting some small, but energy boosting snacks in their pockets, cereal bars, chocolate etc. It might just stop that mid-slope emotional meltdown!
Part-time skier
Kids attention spans can be limited as can their energy stores. When booking ski lessons, we suggest you consider keeping them to just mornings or afternoons. This way they are more likely to take in what they are being taught and improve quicker, as well as enjoying the experience more! As we mentioned above, private nannies are able to pick up and drop off your youngsters at ski lessons and entertain them with other activities in the morning or afternoon if you want to ski for the whole day.
Stay safe
Even if you are intending on spending the full day with your kids out skiing it's a good idea to put a card with your contact number in their pocket. When the slopes get busy you don't want to turn around to find your child not there. Tell your child your mobile number is in their pocket, then if they are found by a helpful stranger mid-slope they can give them your number to call.
Be prepared
If you're renting boots and skis for the family its worth going to get them the day before you start skiing. This way, you will avoid the morning crowd all trying to do the same thing, which eats into precious skiing time. You should also have in mind, trying to fit young children with boots, skis and helmets is no mean feat and is likely to take a while. Doing it the day before will result in a much more relaxed experience, without the presence of a growing frustration from wanting to get on the slopes when your child isn't sure if their boots are comfy or not!
Alpine Angels hope some, if not all of these tips will help make your ski holiday a fun, stress free and memorable family experience.