Things you should know for your First Ski Trip
5 January 2018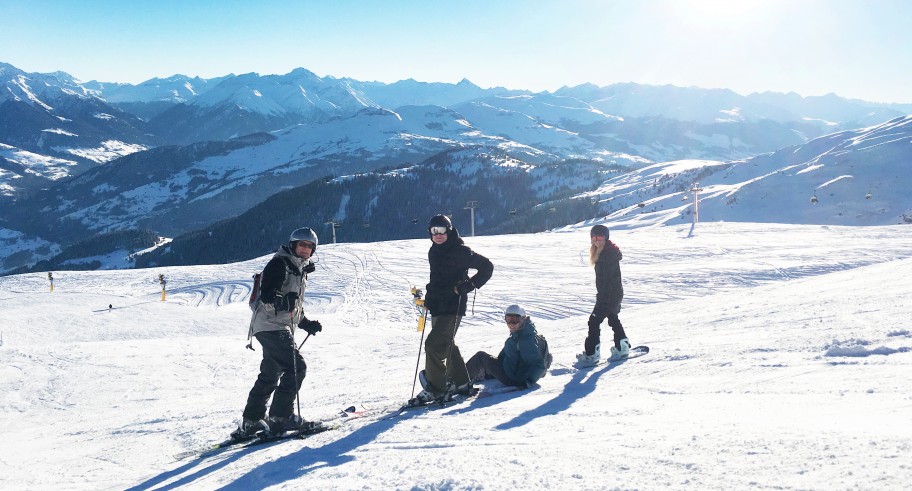 Heading on your first ski trip is exciting, breathtaking and all about embracing something new. Whether you've skied an indoor slope, visited a dry slope or never tried a Snowsport before, a little guidance for your first trip to the mountains can make the experience that much more enjoyable.
6 things you should know
Presuming you've already picked a resort, booked your accommodation, and sorted your transfers, there are a few other things you should know before you embark on your first ski trip.

If you haven't chosen a resort; select a ski area suited to your priorities. Our guide on 'how to choose a beginner resort' explains what makes a great beginner ski holiday. Once that's sorted, its time to prepare for your trip, equipped with a little inside knowledge.
Lift passes come in all shapes & sizes
Some package ski holidays include a lift pass, but if not, there are normally a choice of lift pass options in each resort. Plan ahead; if you're a complete beginner, chances are you won't need a lift pass that covers more than 1 valley. Decide whether you're going to hit the slopes everyday or enjoy the spa and other activities too, often resorts will offer 5 days in 6 lift passes or family passes, both of which could save you money.
Renting equipment is cheaper & easier
If you don't own ski or snowboard equipment, renting it normally works out cheaper and easier than transporting it to your first ski trip destination. Most resorts are not short of rental shops, so you can easily collect skis, boots, poles and often helmets on arrival. And in many cases, you can pick up a deal if you pre-book your rental equipment online.

Having your own kit is great, but it can be costly and an effort to transport!
Lessons are priceless
Everyone can benefit from ski or snowboard lessons, regardless of ability — but if it's your first time on the mountain or you're a complete beginner, ski or snowboard lessons are a must! You can often book your mountain Ski or Snowboard Lessons when you book your holiday or on arrival in resort. It's a good idea to take some Lessons at your local indoor snow centre or dry slope before you go. Lessons are the quickest and safest way to progress.
The right ski holiday insurance is a must
When heading on your first ski trip or any trip, it's important to have the right type of travel insurance for you, and all the ski or snowboard activities you're planning to participate in.
Like on a summer holiday, when you're off on a ski trip you're going to need the standard insurance to cover cancelling your trip due to illness, losing your luggage and any unexpected medical expenses. However, you'll also need insurance that protects you in case you have any accidents on the slopes, commonly known as winter sports cover.
Getting to know the piste map is invaluable
Hopefully you glanced at the piste map before choosing the resort you're heading to, and you already know it's got plenty of slopes suited to your ability. If not, it's worth getting to know the map and the runs appropriate to you and your group. In Europe, slopes marked as green are the easiest, blue are moderate, red are intermediate and black are advanced.
The fewer expectations, the better the experience
Any licensed skier can tell you how unpredictable the weather and the snow conditions on a mountain can be, but this doesn't mean you won't have a great time, whatever the weather. In heavy snowfalls, you can enjoy the fluffy snow covered slopes, and on clear, cold and icy days, the bluebird sunshine can be breathtaking.
During your first ski trip, you'll learn new on-snow skills and get to know the mountain, but there are likely to be highs and lows, progress and set-backs. Simply enjoying the journey will help you have a great ski holiday!