Things to do in the Swiss Mountains – Valais Events
Alongside skiing and snowboarding there's an extensive list of outdoor activities and fun things to do in the mountains. From climbing to ski touring, to tobogganing or cross-country skiing, the opportunities for outdoor adventure are endless, but there's also plenty of mountain entertainment and festivals to attend.
Switzerland's canton Valais with its four-thousand-meter-high peaks and marvellous glaciers provides visitors with an excellent choice of things to do when skiing in the area. Besides offering adventure in the heart of the Alps and a selection of winter and summer activities, Valais celebrates its winters with festivals, competitions and carnivals.
Things to do in Valais Switzerland – 2018/19 Events
22nd – 28th December 2018
Hoping for a white Christmas? Why not guarantee a winter wonderland for all the family with a visit to Thyon 2000's Christmas village?
Providing access to the 4 Vallées, Switzerland's largest ski area, Thyon is a snowy playground for both kids and adults. With slopes for all levels and Thyon 2000's Christmas village this December, it's the perfect place for a festive family celebration.
In the village, 6 traditional wooden houses offering the chance to taste local delicacies, sip mulled wine, shop arts and crafts and tuck into sweets and chocolate will kick start your Christmas. While daily festive entertainment, including Santa paragliding and the procession of the bell ringers will see you on your way to a very merry Christmas.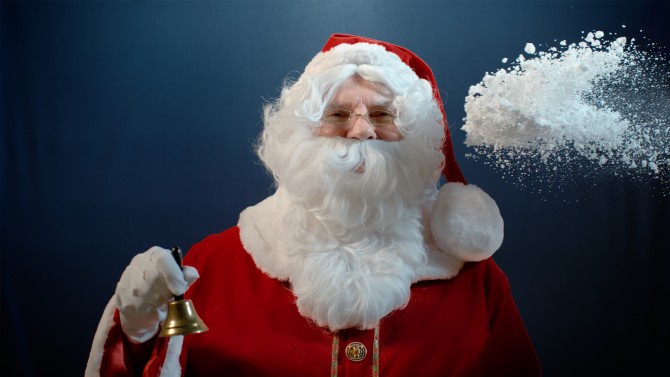 23rd – 24th February 2019
Crans-Montana's Audi FIS Ski World Cup is the place to go to watch the pros speed down the mountain and compete in downhill and Alpine combined (downhill and slalom) this coming season.
Located in the heart of the Alps, Crans-Montana is easily accessible by rail, road and air, and besides providing it's visitors with plentiful slopes to ski or snowboard, and an abundance of other things to do in the mountains, the area also provides an impressive view of the chain of mountain peaks from the Matterhorn to Mont-Blanc.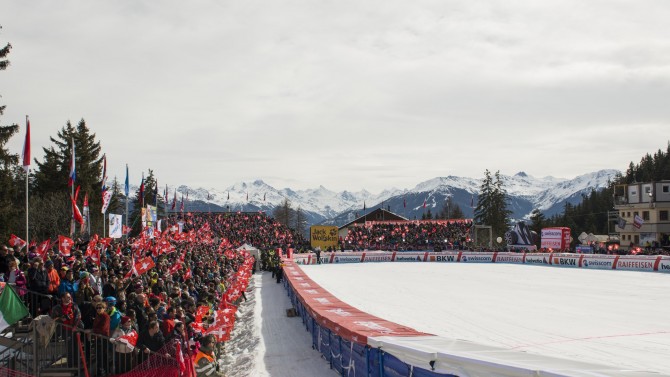 28th February 2019 – 2nd March 2019
For anyone interested in Alpine traditions and culture the Magic Valley's Carnival comes top of the things to do in Valais list. Set in the UNESCO World Heritage Site Jungfrau-Aletsch, the Lötschental is one of the most beautiful Valais valleys and nestles between the Bernese and Valais Alps. The people and local character have been shaped by the superb natural surroundings and the history which was influenced primarily by the valley's former isolation, which came to an end with the construction of a train line that connected the valley to an international railway network in 1913.
Since then the area has developed further and the extension of its ski slopes and the Lauchernalp cable car has made the area a magnet for skiers. Yet, in spite of the growth in tourism the area remains a living tribute to its history and tradition.
During carnival week, guests can get a true taste of this tradition. Known as "Tschäggätta", from 3rd February onwards locals dress up as frightful figures, wear grotesque masks and liven up village life in the Lötschental. On 28th February 2019 the traditional Tschäggätta procession from Blatten to Ferden takes place at 8pm or a similar display at the Lötschental Carnival Procession in Wiler follows on 2nd March 2019.
1st – 3rd March 2019
Between skiing or snowboarding and many other winter activities, over 2 days, visitors to the beautiful Alpine Valley of Val d'Anniviers can watch the most daring adrenalin junkies take on a freeride challenge like no other.
From 1st-3rd March 2019, competitors in the First-Track Freeride Competition will take on the powder, drops and steeps of St-Luc's Couloirs des Ombrintzes, a stretch of secured off-piste that could have even the most advanced skiers and snowboarders running scared.
To watch, the gripping event unfold, visitors can base themselves in the Espace Live on the terrace of the Tsapé restaurant, and weather permitting, enjoy spectating in the sunshine. When it comes to things to do in the mountains, there's nothing like a drink or two on a sunny terrace with great views and a little action to keep you entertained.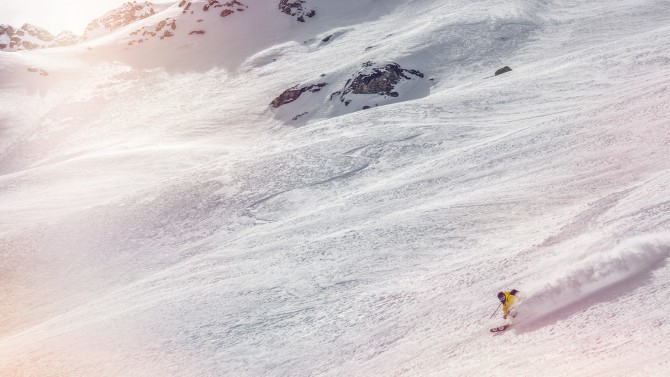 8th– 20th March 2019
If you're more adventurous than the average amateur and you're planning things to do when skiing in Valais—this could be for you! Alongside the pro events, the 4 Vallées ski resort Nendaz hosts an annual amateur Freeride Competition.
So, when you're not exploring the largest ski area in Switzerland, you can watch the pros dropping into the steepest of coulees, taking on powder and cliff drops, or give Freeriding a go in the amateur events. There's even a mini kid's Freeride competition, so the whole family can get involved.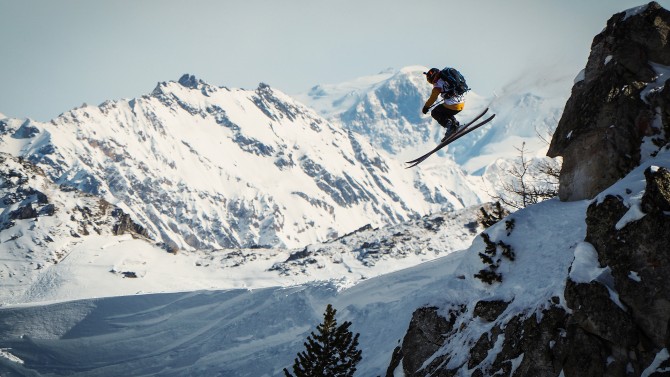 17th – 23rd March 2019
A chance to party across two countries, Switzerland and France, the Rock the Pistes Festival sees around 28,000 party goers hit the slopes and resorts in Portes du Soleil each year. The mountain festival features 5 live concerts on the slopes and more than 30 après-ski concerts in the area, with performances from Ofenbach, Charlie Winston, and Hyphen Hyphen.
A unique event, described as pure snow, pure mountains, pure sound and 100% pure pleasure, the Rock the Pistes Festival has to be one of the most full-on choices for things to do in Valais this winter.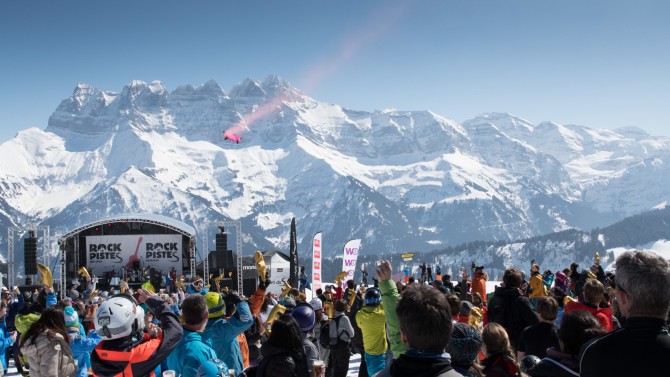 9th – 13th April 2019
Zermatt Unplugged takes place in Switzerland's highest ski resort, guaranteeing snow all year round—and often providing excellent skiing conditions, alongside live music and delicious food and drink in the early spring sunshine.
An event that sees world famous stars, including Passenger, Jessie J and Roo Panes perform in an intimate mountain setting, together with promising new talents and well-known DJs, Zermatt Unplugged is a must attend festival for anyone who loves both snow sports and great music.
The Taste Village will house Unplugged music, local gastronomy, and heartfelt hospitality, outside the main Bistro Marquee where young talents from the catering industry present their culinary creations.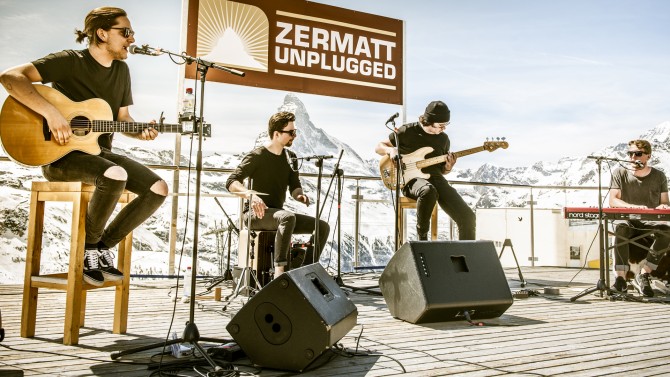 20th April 2019
Nothing gives the winter season a better send off than a Spring Break après party. Each year, the 4 Vallées ski resort Nendaz marks the change of season with a party on the slopes. So, visitors can spend the day skiing or snowboarding at Tracouet, before hitting the on-snow après bars to celebrate spring skiing under the sun in the afternoon.
There will also be a few added attractions to this coming season's Spring Break party, from outdoor hot tubs, to waterslide challenges and other snowy games, Nendaz will ensure the season goes out with bang.
With this 2018/19 winter season line-up, you won't be short of things to do in Valais.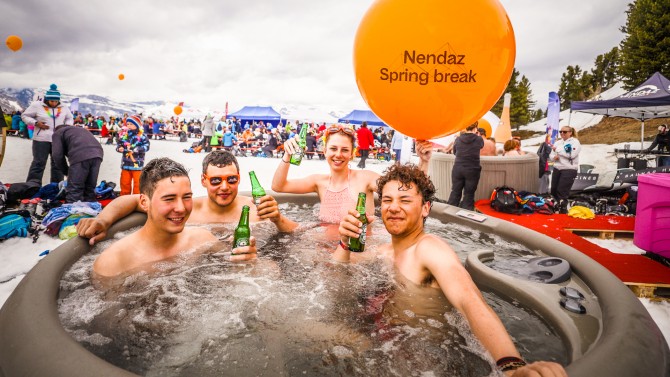 PARTNER STORY (AD)
PHOTO CREDITS: Valais/Wallis Promotion, Thierry Sermier, Matthieu Blache, Florian Bouvet, Giovanni Castell, JB Bieuville.