The Snow Centre brings 15 tonnes of fresh snow to Hemel's Christmas Lights' turn-on!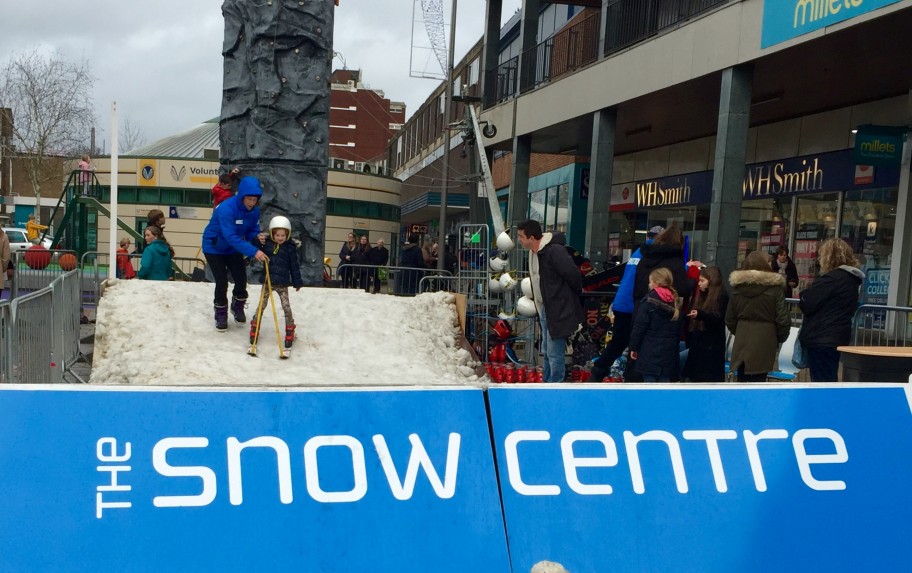 The shops are filling up with Christmas goodies and it's almost time to open the first door of your advent calendar; And to mark the occasion The Snow Centre's local shopping centre in Hemel Hempstead celebrated on Sunday 29th November with the annual Christmas lights' switch-on!
This year, alongside the busy shoppers, sparkling lights, jolly elves and smiling children, The Snow Centre delivered the gift of 15 tonnes of snow to outside Tesco Express by Marlowes' Shopping Centre in Hemel Hempstead. After sculpting the huge pile of snow into a real snow ski slope, The Snow Centre Team invited more than 130 children to try skiing or snowboarding for FREE!

Boys and girls, alike joined in the snowsports fun, took on the climbing wall, got their faces painted, jumped in the giant snow globe and celebrated the start of the Christmas festivities with a countdown to the lights turning on at 5.30pm that day!

Zoe Green from The Snow Centre's Team, who hosted the kid's ski and snowboard taster sessions on the outside mini slope said,'It was great to see so many children from the local community coming along to have their first taste on snow, and to have a fun day out for the whole family in the newly renovated town centre."

For more information on Junior Ski or Snowboard Lessons at The Snow Centre click here!