Enjoy your Sunniest Ski Holiday Yet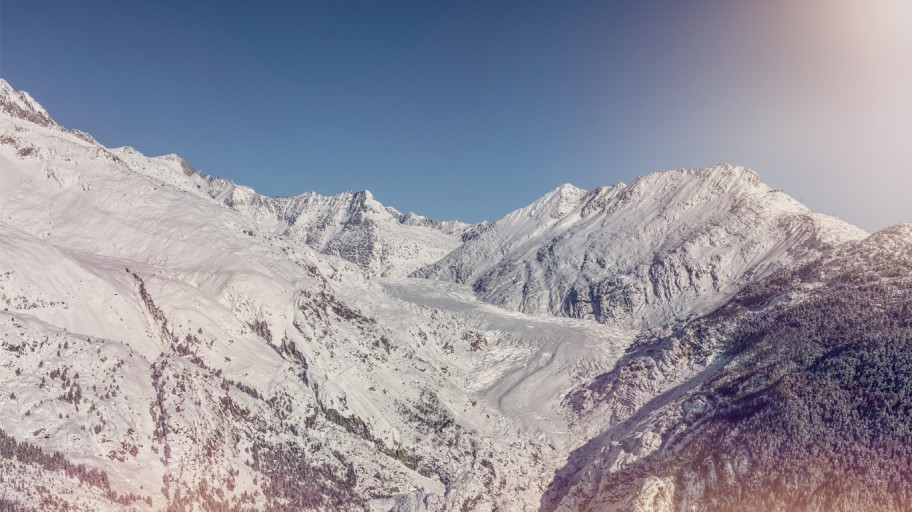 It's likely, that some of your most treasured ski holiday memories will have taken place under a bluebird sky with flashes of mountain sunshine glistening off your goggles. Perhaps you embraced a breath-taking view from a sunny mountain peak, skied a soft, south facing slope, or relaxed in a slope-side deck chair to catch the rays?
When the sun is shining, your ski or snowboard holiday is bound to feel even more magical. So, it helps to know a few insider secrets for spending as much of your ski holiday as possible on the sunny-side of the hill.
Which ski resorts have the most sun?
No ski resort can guarantee sunshine all year round, but you can pick a destination where the odds are in your favour.
Statistically, some resorts see more hours of daylight and also more sunshine than others. For example, in Switzerland's resort, Nendaz, which is located in the 4 Vallées between Verbier and Thyon visitors can benefit from the over 300 days of sunshine each year. With sun all year round, Nendaz offers you as many hours of sunshine as on the Côte d'Azur. Therefore, whether you prefer to be in the resort or up at higher altitudes, or relaxing on a sunny terrace, you will always find a place under the sun. In other words, don't forget your sunglasses and sun cream!
The other great thing about picking a resort like Nendaz, that has access to multiple valleys under one ski pass, is you can stay in any valley and chase the sunshine across a vast area—skiing on sunny slopes, and stopping for lunch in other sunlit valleys. In Switzerland's' 4 Vallées, that's an immense 412km of pistes to pursue the sun on.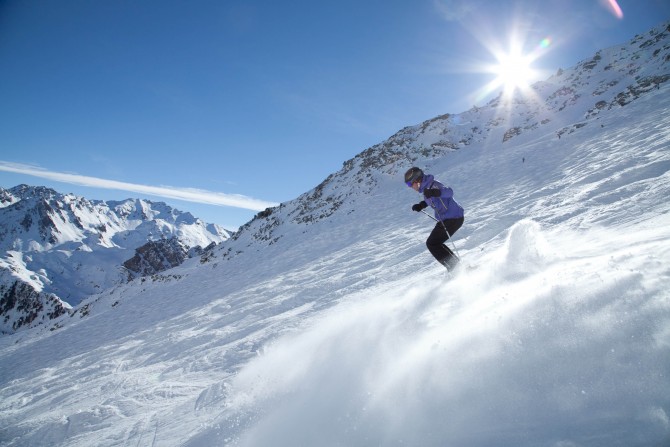 When to holiday for maximum sunshine?
It comes as no surprise that some months boast more sunny days than others. In the Alps, while naturally the summer months of June, July and August see some of the warmest temperatures, and July the most sunshine, the lack of snow means the majority of resort lifts are closed.
Spring skiing days in March, April and May see a combination of warm temperatures, the season's remaining snow, longer daylight hours than in the winter, and sometimes later lift closing times. However, during the ski season it's December, January and February that still see the highest number of sunny days, with on average less than 20% cloud cover on around 11 days in January.
For festive sunshine in December, it's beneficial to pick a resort that often presents ample snowfall throughout November. In Sierre-Anniviers, the 3 ski resorts of Val d'Anniviers, Grimentz-Zinal, St-Luc/Chandolin and Vercorin officially open mid-December usually following heavy snowfall and snowmaking. By this point many international ski teams will already have been training in Grimentz-Zinal in great snow conditions as early as November. Due to the slope's high altitude and sun exposure, Grimentz-Zinal, St-Luc/Chandolin and Vercorin offer great quality early season skiing.
The combo of long, warm days on the mountain in March, April, and May allow the resorts that receive the best snow cover throughout the season to host on-snow spring events. These events really make the most of spending time in the warm mountain sun. The Nendaz Spring Break is one of these events, an annual event mixing skiing under the sun and a big Après celebration at 2200m, with a Jacuzzi on the slopes and lots of other summer activities.
That said, if you're looking for sunny mornings on the piste and warm days sunbathing by the pool in the afternoon, glacier ski resorts like Saas-Fee offer snow and sun throughout the summer.
Glacier resorts are great for winter ski holidays too, guaranteeing snow to ski and their share of the sunshine. In Saas-Fee, from December through to April you can enjoy the first rays of mountain sunlight with 'Virgin Skiing'. From 7.30am earlybirds can make first tracks on freshly fallen snow while other skiers are still sound asleep. Alternatively, if daylight isn't a must for your slope-time, in January and March you can enjoy 'Full Moon Skiing' in Saas-Fee from 8.30pm.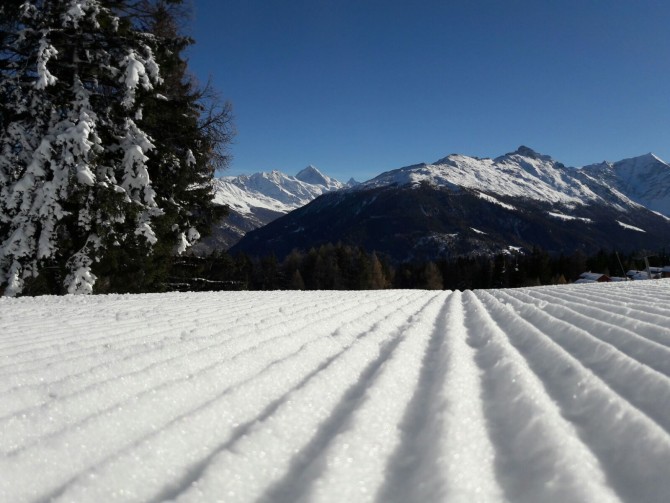 Which slopes are sunniest?
It's always nice to ski a slope in the sunshine, but good snow cover and gentle winds also come into play to make the experience all that you're imagining.
In Europe, south facing slopes receive more direct sun light than north-facing slopes. During winter months, portions of north-facing slopes may remain shaded throughout the day due to the low angle of the sun. This lack of heat causes snow on north facing slopes to melt slower than on south-facing ones, but unless you're near the highest point or on a slope that's not too steep you may not be receiving the sunny rays you're looking for.
That said, the sunshine beating down on south facing slopes can often cause the snow to melt and freeze overnight, making it icy for your early morning ski, or worse leaving no snow at all. For this reason, many skiers and snowboarders prefer slopes facing north-east, or those at high altitude that are kept that bit cooler, still gain sunshine, maintain snow cover and receive some shelter from the mountain wind.
If you're really into understanding the sun's path over the mountain, or you're just looking for an in-awe moment, the Aletsch Arena in Switzerland offers guests just that. The ski resort's First Track offer not only allows you to be the first person to carve over the freshly prepared white carpet, it also allows you to watch the sunrise from the View Point Eggishorn. This season, the Aletsch is already seeing perfect snowing conditions, following a heavy snowfall of 90cm just last week, making this experience even better.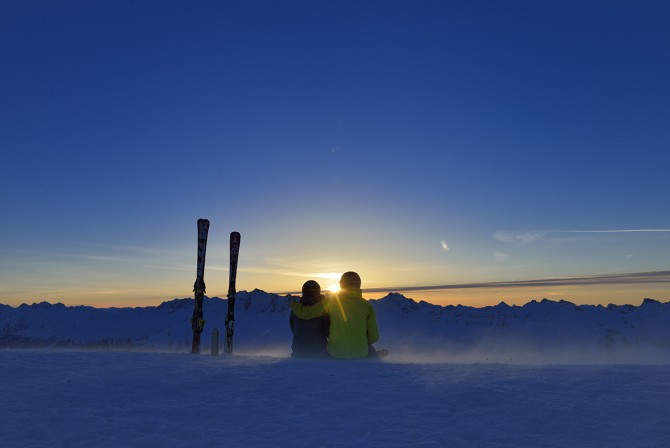 45 to 60 minutes before dawn, take the cable car up to Eggishorn, and experience the awakening of a new day. It's a sensational experience to witness the first rays of sun shoot over the majestic mountains, before launching into a descent over the freshly prepared slope down to Fiescheralp, where a lavish breakfast at Kühboden Alpenlodge is served.
PARTNER STORY (AD)