The Snow Centre Team Lands 1st, 2nd & 3rd at English Ski & Snowboard Cross Champs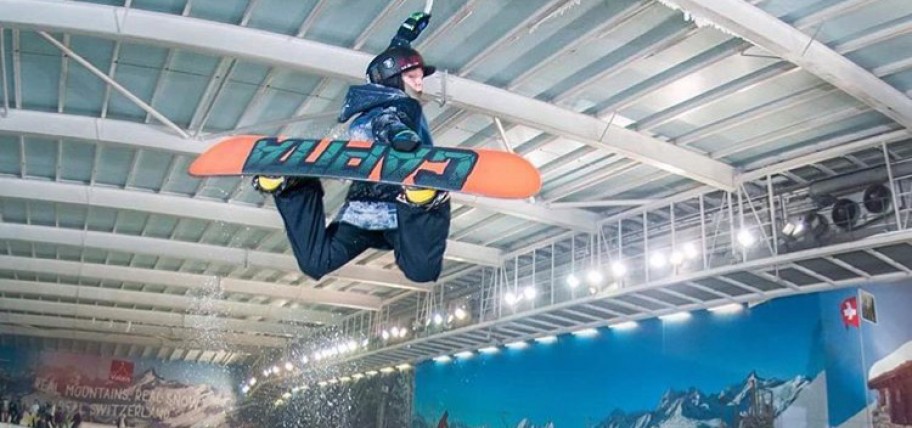 The Snow Centre's Junior Snowboard Team celebrated yet another success on Saturday 29th July 2017 — with 1st, 2nd and 3rd place at the English Ski & Snowboard Cross Championships at Castleford's indoor ski centre.
A credit to the support of The Snow Centre's coaches and the use of the centre's real snow 160 metre Main Slope, Lesson Slope and freestyle features, the talented Hemel Hempstead ski and snowboard team have been landing success up and down the UK for some time.
However, last week's achievements surely felt as good as waking up to fresh 'pow'. With The Snow Centre's Liam Tynan, Max Jorge and Eddie Livesey taking over the podium when they claimed 1st, 2nd and 3rd in the competition's under 16s snowboard category.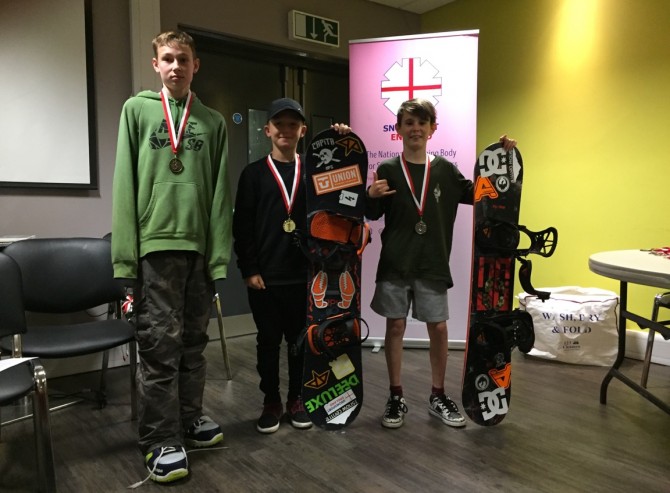 English Ski & Snowboard Cross Championships
At the event, teams and individuals, young athletes at the top of their game and those just finding their feet in competition, travelled from all over the UK to race down the exciting indoor boarder cross course.
Battling for speed, flying off jumps, taking on drops and avoiding collisions, boarder cross participants navigate their way down a winding course to the bottom of the slope; in an effort to pass the finish line first. While the challenge is tough, many describe participation as plenty of fun, and watching can be quite an adrenalin pump too.
The Snow Centre's Snowboard Cross Champions
At the top of their game, 12 year old Liam Tynan landed 1st, 12 year old Max Jorge took 2nd and 13 year old Eddie Livesey claimed 3rd with their performance on 2017's ski & snowboard cross course. While all three youngsters proved their boarder cross talents over the weekend, each of them has more than few slopestyle skills up their sleeve too. Earlier this year, the team also landed podium spots during the English Slopestyle Championships.
1st place boarder cross champ, Liam Tynan said; "I was stoked to win all my races and it was great that The Snow Centre took all the podium places. This was my first indoor boarder cross championships and I look forward to many more."
Read more about Liam, Max, Eddie and the rest of The Snow Centre's sponsored ski and snowboard team here or give snowboarding a try with Snowboard Lessons or Freestyle Coaching.