Telemark Skiing
12 May 2022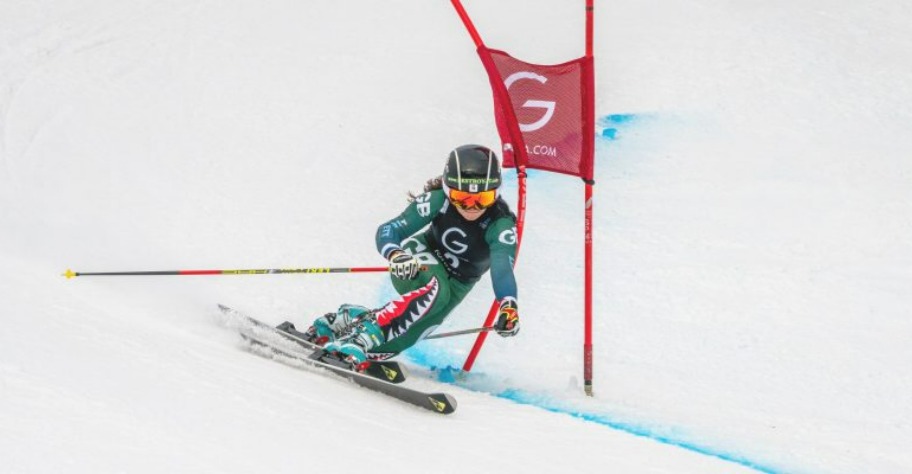 What is Telemark skiing?
Telemark skiing or Telemarking as it is generally known is a style of skiing where the heel of the boot is not attached to the ski like in traditional Alpine skiing.
During turns the skier makes a lunging movement and the inner heel lifts as the skier steers through the curve.
Telemarking is a very old and traditional form of skiing and is said to the root of ALL skiing. Traditionally hunters would use skis to travel around snowy landscapes in the Nordic countries. These hunters could craft their own skis out of wood and use leather leashes to strap their feet to the skis. The attachment would be around the toe giving freer movement for crossing the winter hills, mountains, and forests.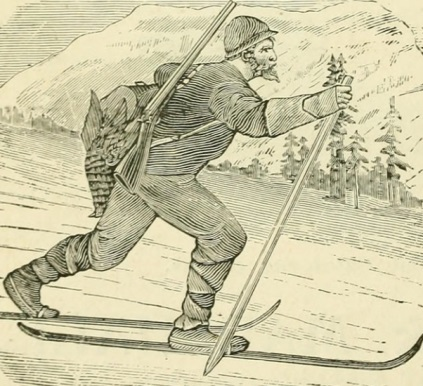 The name Telemarking came from a region in Norway called Telemark (remember the WW2 story the Hero's of Telemark)? This style of skiing was particularly popular in Norway and the other Scandinavian countries. It has since grown into a poplar worldwide style and can be seen being performed anywhere there are mountains and snow. Or even in an indoor snow environment.
Telemarking has a close relationship with cross country skiing (langlauf) and Alpine skiing. It kind of sits in the middle and over the years the equipment has developed considerably meaning skiers can tackle tough slopes both on and off piste.
There is a competitive Telemarking circuit with a world cup tour.
Why should I try Telemarking?
Telemarking offers a new challenge and it will likely improve your Alpine skiing. It's a great thing to try especially in the indoor snow slope environment where skiers are often looking for challenges in a limited snow space. It's fun, physical and once you link your first Telemark turns there is a real sense of achievement. And to top it all it's a real head turner (when you can do it well).
Is the equipment different from Alpine skiing?
The big difference is with the ski boot and binding system. A telemark binding can be mounted on almost any ski so depending on what type of terrain you want to ski this will determine the ski you use. Most Telemarkers tend to ski all terrain so choose a ski suited to that.
A modern telemark ski boot looks similar to an alpine boot at first glance. However there are some design features that set it apart from Alpine boots. Because the boot needs to flex through the sole they generally have a Vibram sole rather like a hiking boot. This also offer better grip on rocks when ski mountaineering if the skier is going back country.
At the front of the boot there is a bellows design around the toe box. This also aids greater flex. Movement and fluidity is the key to good telemark skiing.
The boot will have a flared lip (duck bill) at the front (bigger that an Alpine boot) and this fits under the toe binding to attach the skier.
Around the heel of the boot there is a groove where a cable sits (if deciding to use a cable binding but we will come to that next).
There are generally two kinds of Telemark binding. With the traditional binding the boot toe lip fits under the toe unit and then a cable attaches around the heel. This can be adjusted to keep the boot in place but allows for free heel movement which is important in a telemark turn.
The second type of binding is called an NTN (New Telemark Norm) and is more like an Alpine binding sharing step in characteristics, a ski brake and release mechanism. Obviously, there is no heel attachment but there is a heel bed.
Modern telemark equipment is very robust and supportive allowing skiers to carve, make powerful short turns and ski in all terrain.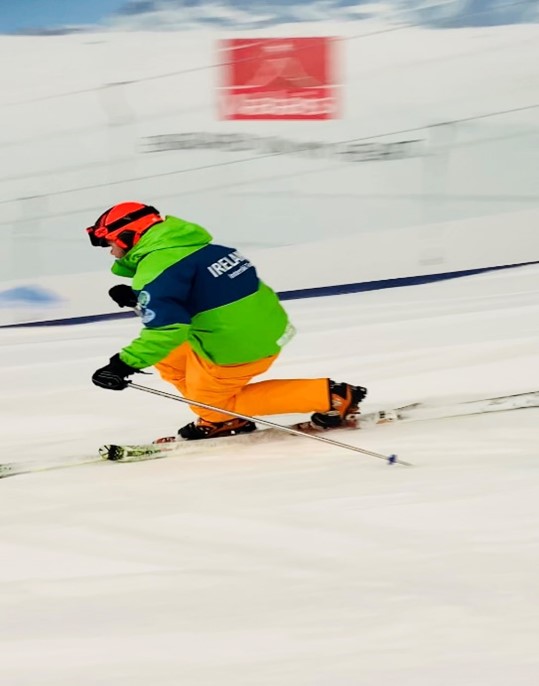 Is it difficult to learn?
It's not difficult to learn provided you are guided through the process and follow the progression which acts as a series of building blocks. If you can Alpine ski parallel the transition is quite easy.
It is quite physical and learners need to get used to big ranges of movement and use of the thighs. After a day telemarking your legs will let you know 😄 Telemarking offers a full body workout.
Where can I learn or try it?
Lots of Alpine based ski schools will have instructors who are also qualified to teach telemark skiing. If you are in a resort, it is worth contacting the ski school in advance and asking about equipment hire.
At The Snow Centre Hemel Hempstead and Chill Factore Manchester we have instructors who are qualified to teach Telemarking and we have a small pool of equipment. By arrangement we would be delighted to introduce and develop your telemark skills.
There is an emerging friendly social scene of Telemarkers who meet often and enjoy freeing the heel on a regular basis.
Did you know?
One of the UKs most successful winter sport athletes is female telemark skier Jasmin Taylor.
Jasmin is the first Briton to win a world championships medal and 7 world cup victories. She has 41 world cup podiums to her name.
When not racing and training internationally she is often skiing the snowy slopes of Hemel Hempstead.

📷 Credit FIS Telemark