Team GB at Laax Open's 2016 Slopestyle Snowboard Competition!
For the first time, this year Laax hosted their own 6 star event, previously hosted by Burton and known as the Burton European Open (BEO), in 2016 the event debuted as the Laax Open!
Laax, Switzerland since 1999 has seen many champion riders make their mark on the Swiss Slopestyle and Halfpipe courses. The Laax Open, like the BEO before it, once again included Men's and Women's snowboard Halfpipe and Slopestyle competitions, but this year with their largest ever Slopestyle prize pot and the male and female winners to take home $75,000, the competition would really see the world's best throwing their biggest tricks for the chance to top their rivals and land a place on the podium!
Laax Open's 2016 Slopestyle course lived up to expectation, featuring a creative set-up to test the world's best rider's tricks, style and creativity! Starting with a rail set, followed by a wave roller, 3 jumps, a quarter pipe, and a final rail set, there were endless opportunities on this course.

Alongside, famous faces Mark McMorris and Jamie Anderson, Team GB's snowboarders Aimee Fuller and Jamie Nicholls received invites confirming their direct entry into the Slopestyle Semi-Final's competition. While Rowan Coultas, Katie Ormerod and Billy Morgan competed in the Qualification rounds, with Billy qualifying in first and through to the Semis.
Following a week of heavy snowfall, on the day of the Men's Semi Finals, a white mist covered the Slopestyle course, and the competitors in the Men's Slopestyle Semis were forced to sit it out until the weather cleared. After a long morning's wait, Jamie Nicholls dropped in for the Men's Semis, Heat 1. Landing his first run, but falling on his second; Jamie finished Heat 1 in 11th, missing out on a place in the final. Only the top 3 riders from Heat 1 and 3 from Heat 2 were guaranteed a place in the final, plus the next 6 highest scores from either Heats.

In the Men's Semis, Heat 2, Billy Morgan would be next to put down a run for Team GB! Qualifying in 8th place, Billy went through to the finals with his 'Double Radio 9', 'Cab Double 9' and 'Back Triple 14'.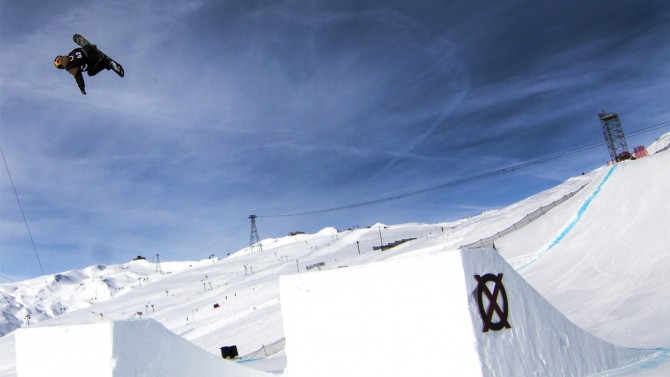 (ABOVE, BILLY MORGAN)
Before, the Men's Finals; set to take place on Saturday 23rd January, the women, would still need to complete the Semis! Delayed from Thursday until Friday due to bad weather, the ladies Semi Finals would see Team GB rider, Aimee Fuller finish in 13th and miss out on a place in the final.
On Men's Slopestyle Finals day, GB's Billy fans watched with fingers and toes crossed. Unfortunately, after such a strong start to the competition, things didn't go to plan in the final. Taking a fall, Billy managed to take 10th overall - still a good result for GB!

In true Mark McMorris style and coming back from a ' Double 12' gone wrong, Mark took 1st in the Men's and Jamie Anderson 1st in the Women's Slopestyle. Take a look at the results below!


Laax Open Men's Slopestyle Finals

1. McMorris, Mark - 91.40
2. Nicholson, Tyler - 84.35
3. Toutant, Sebastien - 83.10
4. Sharpe, Darcy - 82.30
5. Ciccarelli, Michael - 81.10
6. Piiroinen, Peetu - 76.30
7. Parrot, Max - 74.70
8. Tonteri, Roope - 65.50
9. Thorgren, Sven - 60.95
10. Morgan, Billy - 59.30
11. Kadono, Yuki - 59.00
12. Burch, Dario - 37.75

Laax Open Women's Slopestyle Finals

1. Anderson, Jamie - 81.10
2. Prior, Christy - 71.80
3. Onitsuka, Miyabi - 62.85
4. Norendal, Silje - 61.55
5. O´Brien, Spencer - 30.55
6. Maas, Cheryl - 21.55