Summer Holidays in the Swiss Alps - Sun & Snow Activities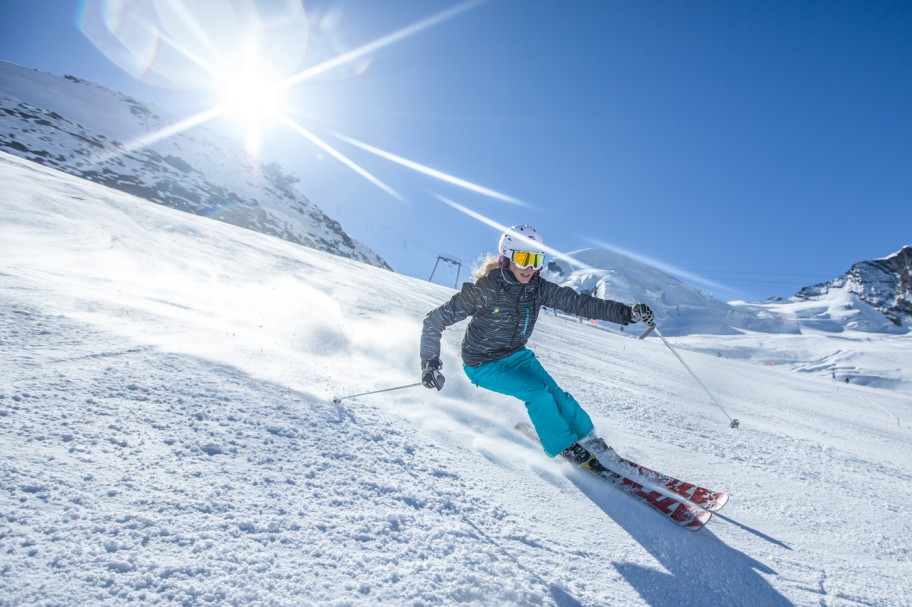 How many times have you wondered what the slope you're skiing would look like during a summer holiday? Have you ever imagined the view from the gondola once the snow has melted and rich green fields have graced the mountain hill side?
In many cases the answer is pretty breath taking! Plus, in a resort with a glacier ski area you can enjoy all the perks of a ski and snowboard holiday combined with glorious sunshine, sunbathing and summer activities in a beautiful mountain setting.
From the middle of July until the end of October, Switzerland's Valais resort, Saas-Fee offers exactly the kind of glacier needed for guaranteed summer skiing. With 20 km of glacier skiing available, a snow park and 3 T-bar lifts — in Saas-Fee you can spend your mornings skiing the slopes and your afternoons enjoying all a mountain summer holiday has to offer.
A dip in the lake, to a hike through the hills, summer mountain resorts provide spectacular free experiences in the sunshine, but there's also plenty of other summer activities not to be missed.
You can have fun with high altitude Alpine tours and guided climbing in Sass-Fee's diverse outdoor paradise where, across 350km of trails, there's views of 18 impressive 4,000-metre peaks. Alternatively, you can hit 70km of mountain bike trails and experience the views at speed, or make the most of the summer activities available in the Saas-Fee village. Choose from, hitting the driving range, playing tennis, a few rounds of volleyball, football, skateboarding, mini golf and boccia.
What's more, Alpine wellness and spa sessions in Saas-Fee are as readily available in the summer as in the winter, so you can give your body and soul the same dose of relaxation during a summer holiday as you can in the colder months.
For more information on combining sun and snow activities in Saas-Fee, Switzerland visit: www.saas-fee.ch/en/skifahren/sommerski/

Switzerland's famous ski resort, Zermatt, is another top alpine summer holiday destination. Providing up to 365 days of year round skiing on the Theodul glacier, the resort allows summer skiing high above Zermatt at up to 3,883 m. As the highest year-round ski area in Europe, Zermatt offers a summer adventure in the sunshine with all the potential of a dream skiing trip.
In Zermatt, skiers and snowboarders can hit 21 km of glacier pistes, and freestylers can enjoy the Snowpark on summer mornings before heading down to begin activities or catch a tan in the afternoon. A summer holiday in Zermatt is guaranteed to be a jam packed trip, with summer holiday-makers enjoying the best of both seasons. 'Snow loads' of different sports, activities and relaxation opportunities are available, ensuring visitors are spoilt for choice.
Alternatively, if you can't make it to the Alps this summer you can always take to The Snow Centre's indoor slopes, before relaxing in British sunshine — weather permitted.