Successful Skiing with Your Spouse or Partner
20 December 2016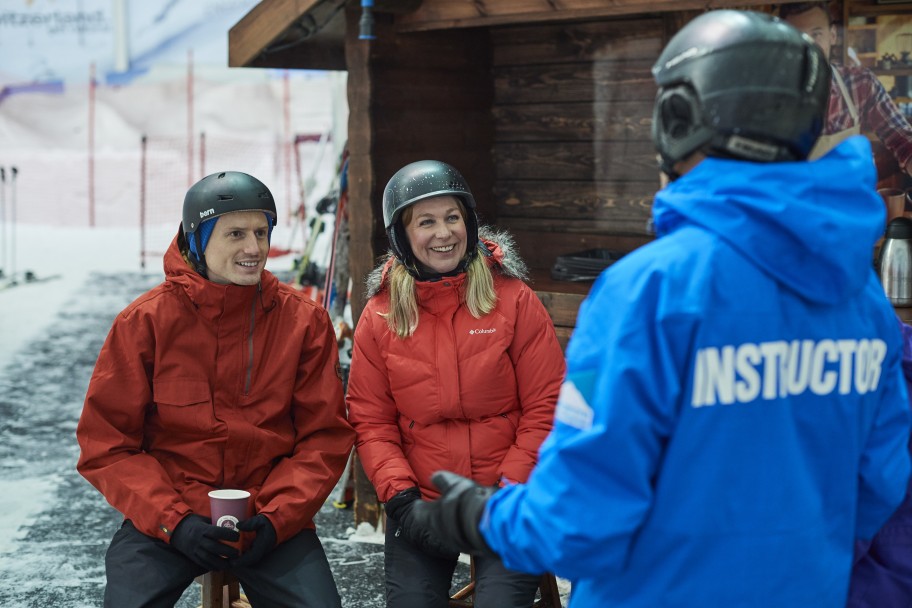 What should you do when your wife doesn't like skiing as much as you do? How do you persuade your terrified girlfriend to learn? Should you tell your enthusiastic boyfriend he's going to need some lessons if he wants to keep up?
Perhaps you're hoping to go skiing twice this season, or maybe you're planning to board the slopes at a fast pace with your mates; whatever your plans, getting your other half on-side can sometimes prove challenging. Nevertheless, finding a solution that ensures you get the snow time you're after, this season, and every winter following, is a priority. So, here's some advice to help keep the peace on the snow.
Choose an Alpine Experience Resort
When picking a resort, choose somewhere that has plenty of Alpine activities that don't involve skiing or snowboarding. From ice skating to spa treatments, shopping to eating out, the mountains have more to offer than just skiing.
Consider what your wife, husband, boyfriend or girlfriend might enjoy, and plan to do some of these activities together. You're probably itching to spend as much time skiing or snowboarding as possible, but remember, supporting your partner now, could see you enjoying many more trips to the snow in the future.
Pick Accommodation Close to the Piste
Staying in comfortable accommodation that's not a trek from the piste puts everyone in a better mood. When you're learning to ski, your days on the snow are tiring; so removing a long walk in ski boots to and from your accommodation can only improve the situation.
Never Teach Your Significant Other to Ski or Snowboard
Lessons are a must! They will help your less experienced partner progress most efficiently, and build their confidence. However, these lessons should never be taught by you. Like teaching your partner to drive, tutoring your loved one on the slopes is likely to end in conflict.
You'll find many ski and snowboard instructors will choose not to teach their own partners; so it doesn't matter how experienced you are or how much you know, it's safer to leave it to the experts.
Let the Less Confident Person Choose the Runs
You're probably excited to ski as many slopes as you can, but your partner is unlikely to feel the same. Their confidence is paramount to their progression and enjoyment. Pushing your partner to try runs before they are ready, is a sure way of knocking their confidence and spoiling the mood. Letting your loved one choose the runs allows them progress at their own pace and keeps everyone within their limits.
Compromise & Agree Time for More Advanced Runs
Being supportive of your less advanced spouse means giving up mountain time to bomb around the slopes. That said, it shouldn't stop you from pushing your own skills.
Agree some time to take a few laps without your partner, ideally with others on your trip, people you've met, or a ski guide. Make sure your partner isn't just waiting around while you have fun. A great time to cram in some more advanced skiing could be when your spouse is at ski school or enjoying a spa treatment.
Don't Get Hungry, Thirsty or Cold
Take breaks to eat and drink, and wrap up warm. Be considerate of each other and don't make any feelings of hunger, thirst or cold be the reason for any unnecessary disputes on the slope.
Take Lessons in The UK Before You Go
Having Lessons before you head off on your holiday can be a great confidence boost for your partner. Indoor UK slopes offer a great day out and an opportunity for you to warm up your skills before you go too. If you're both feeling ready for the slopes, things are bound to run more smoothly.
Join a Group Ski Trip
We're not always blessed with friends of the same ski or snowboard ability; so organised group ski trips can often be a great opportunity to match both your partner's ability and your own.
The Snow Centre offer group ski trips abroad with coaching, for varied abilities. However, to ensure everyone gets the most from these trips, they recommend you are able to ski or snowboard a red run or attend Skills Development Coaching sessions at The Snow Centre with one of their coaches first. All the skills needed to go on these trips can be learnt in the UK at The Snow Centre; so there's no reason for missing out.
Go at the End of the Winter Season
Fair weather skiing is more enjoyable for many reasons; there's nothing like a blue bird day on the mountain, or an afternoon sunbathing in a deck chair.
Early spring, during March and April are the best months to find these spring skiing days. With this in mind, it makes sense to choose when you go away wisely. Try to avoid missing out on quality ski time due to your partners cold toes, or unforeseen white-outs.
Embrace a New Type of Snowsports Holiday
A ski or snowboard holiday with your less experienced, significant other may not be the kind of snow trip your used to, but it can still be fun. Smile, enjoy it and embrace the opportunity to ski at a gentle pace and take in your surroundings. Work on techniques, skills or tricks that don't involve you speeding off ahead and aim to make your trip a successful one.