UK Skiing Apprenticeship
From never seen snow, to qualified instructor, ski and snowboard rental technician and fully-fledged member of the slope patrol—The Snow Centre's UK apprenticeships take people from zero to hero in just one year.
Don't believe us? See for yourself! Last year, at age 16 Amy Feander began her skiing apprenticeship at London's closest real snow indoor slope, The Snow Centre Hemel Hempstead. Training her from complete beginner to fully qualified ski instructor, the snow sports apprenticeship allowed her to succeed as an instructor while working and training in other snow sports areas, including in equipment rentals and slope patrol.
The Snow Centre Skiing Apprenticeship
Amy Feander's story…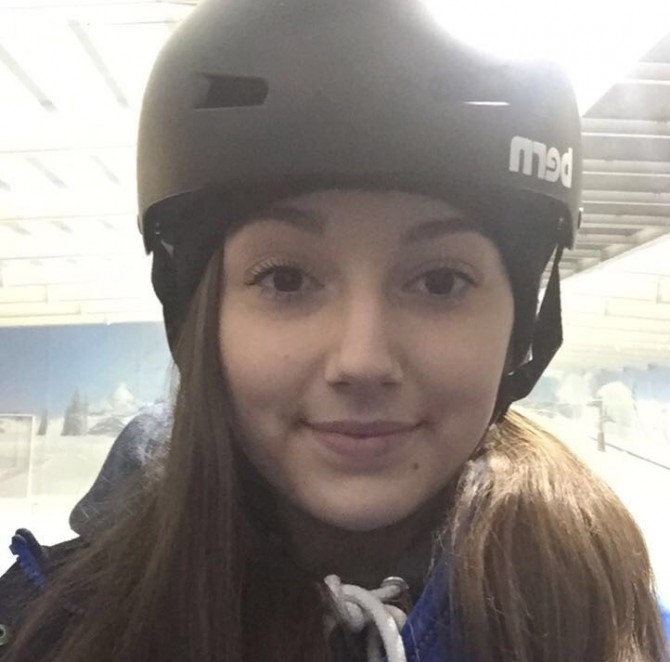 Why a skiing apprenticeship?
I was studying A levels at Oakland's college in St Albans, but I wasn't enjoying it, it just wasn't for me. I had chosen quite broad subjects as I had never really been sure what I wanted to do. They were psychology, sociology and photography.
My mum suggested looking at a few apprenticeships instead, at first, I wasn't too keen on the idea, but I looked though the West Herts college page at their apprenticeship programmes anyway. That's where I found The Snow Centre apprenticeship. I live just around the corner from the indoor slope and it was something very different, so I applied.
Did you need any previous snow sports experience?
Honestly, growing up I didn't ever have the desire to learn to ski, it had never crossed my mind. But, when I saw the apprenticeship advertised it really caught my eye as it was something new and very unlike all the others. It's not everyday you get the opportunity to learn to ski and then become an instructor in the sport and help other people. It's a very rewarding job and one I love doing.
What was it like heading out on the snow for the first time?
On my first day on the slopes, I remember sitting on the bench in the changing area with my boots and not having a clue what I was doing, it was all very strange and new. Although going out onto the snow is a bit daunting to start with, the instructors are all great and managed to get me up to speed in no time.
What snow sports training was involved?
The apprenticeship involved a lot of different things. I started off in the ski and snowboard rentals department, which is where the guests go to grab their equipment for the slopes. I learnt how to set up skis and boards and practiced my service skills.
Around my shifts in the rentals department, I had ski lessons. I was a complete beginner before the apprenticeship, so I continued my lessons for around 10 months before being put forward for my IASI level 1 ski qualification to enable me to instruct. As well as having ski lessons I was also shadowing them, observing how all the different levels were taught by lots of different instructors. This helped me massively when I came to teach my own lessons, as I had a huge insight into what was expected from me and what all the steps were for completing each level.
What have been the benefits of doing a skiing apprenticeship?
The whole opportunity was incredible, and I will always be grateful to the people who gave me the chance to be where I am today. So many good things have come out of the experience; meeting all of the people who work at The Snow Centre, gaining so much confidence, doing a job I love and most of all learning how to ski.
When you're a complete newbie, starting skiing late, training as an instructor can feel a little intimidating at first, particularly as most instructors have been in snow sports for a long time—but after completing the apprenticeship I have now been teaching for nearly a year now and time has flown. It's definitely worth sticking at, because in the end its so rewarding to have a job that's not like any other.
For more information on The Snow Centre's apprenticeships contact The Snow Centre's Head of Snowsports, Peter Gillespie via GillespieP@thesnowcentre.com.
"We are delighted to be able to offer this apprenticeship opportunity to local young people through West Herts college. It is truly a unique programme and is especially powerful when we take keen and motivated local apprentices who have had no experience or exposure to snowsports and shape them into successful and passionate instructors. This is indeed part of our commitment and legacy strategy at The Snow Centre." Pete Gillespie, Head of Snowsports.