Ski the Best Black Runs in Europe
2 March 2017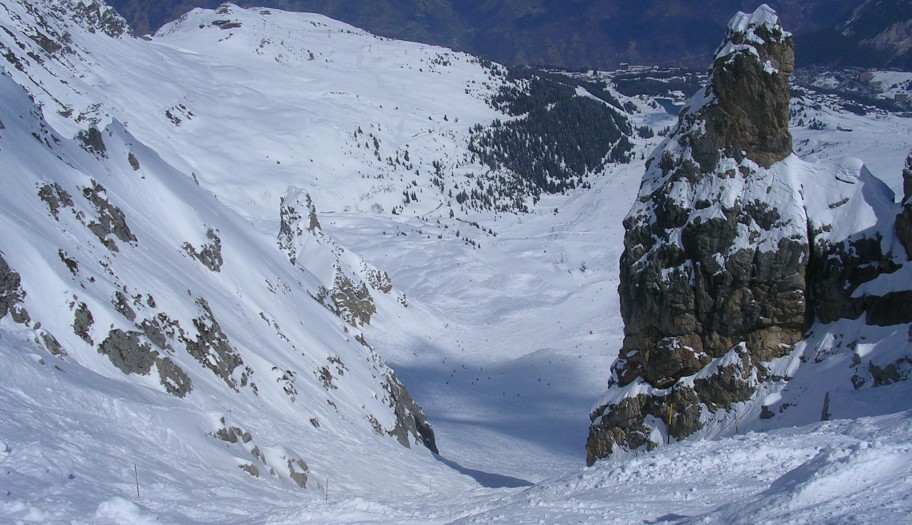 If you're a real adrenaline junkie or your last skiing holiday was a blast, but now you're looking to take things to the next level — perhaps its time to choose a European resort with a legendary black run.
Europe's most challenging slopes, normally classified black, include some of the world's steepest, most 'moguly' and undeniably daring runs, and should only be taken on by experienced skiers or snowboarders. It may sound scary, or positively thrilling, either way you'll need to be braver than brave to take on some of the best black runs in Europe.
La Chavanette (The Swiss Wall), Avoriaz, France
La Chavenette, in Avoriaz is better known as the 'Mur Suisse' or 'Swiss Wall,' a ski run featuring 200 metres of steep slope and a descent that's so sharp you can't see what lies ahead.
Sitting on the French, Swiss boarder, the slope is actually classified as orange, because it's deemed more difficult than the standard black rating. Not surprising when you consider it's just 1 kilometre in length, boasts a 331 metre vertical drop and is covered in enormous moguls.
Striking fear into many, the Swiss Wall is not for the faint hearted, but it's a true accomplishment for anyone who completes it, particularly if you choose to stick on the runs direct path, rather than scooting off to the less steep left hand side.
Tortin, Verbier Switzerland
Verbier's advanced slope, Tortin is nothing short of terrifying, easier to tackle following a heavy snowfall, the non-groomed slope proves very challenging in icy conditions.
The Tortin run, with a starting point at Mont-Gelé is one of the most popular and world-famous freeride trails. The access to Tortin begins with a traverse before it pans out onto a wide steep slope. If there is plenty of snow, the run is simply a decent steep descent, but if not, you'll find a steep field of moguls await — turning it into one of the most challenging black runs in Europe.
Grand Couloir, Courchevel, France
Another of Europe's best black runs is the Grand Couloir, which also features a terrifying icy mogul and steep descent combo. To make it that much more intimidating, the run starts with a thin mogul filled track, complete with sheer drops on either side, before opening out onto the wider, steep mogul playground.
The Grand Couloir is not the only couloir running from the top of La Saulire lift station. Running from the same lift, Coulier Tournier is another challenging steep populated with moguls and offering the Courchevel skier a risky adventure. The run doesn't have as narrow entrance as the Grand Couloir, making it less terrifying to some.
Although the Grand Couloir is in Couchevel, it's accessible from Merible and Valthorens with a 3 Valley Lift Pass — and even if you're not planning on taking on the challenge yourself, you can watch the daredevils on the Couloir Tournier, and at the start of the Grand Coulouir from the Saulire Express 2 Gondola.
Harakiri, Mayrhofen Austria
Mayrhofen's, Harakiri (Piste No. 34) is a steep icy black slope that's claimed many falls; falls that once they start, just don't stop! With a gradient of 78% and little to no moguls, if you take a tumble on the Harakiri you'll probably keep sliding to the bottom.
At a length of 2 kilometres the steep part is actually only 400 metres long, but it's enough to claim the concentration of even the most advanced skiers and snowboarders. Accessible in the Horbergtal below the 6-person Knorren Chairlift, you can watch the chaos from the lift or from the bottom of the slope — making it one of the best black runs for onlookers to witness some truly inspiring skiing, or some horrendous tumbles.
As far as scary black slopes go, these are some of the most challenging, so if the idea of trying any of these runs terrifies you, try a few less daunting black slopes or intermediate red runs instead. Zermatt, Verbier, Les Portes du Soleil and many more European resorts offer free ride (non-groomed) and black runs for advanced skiers and snowboarders.