Qualify As a Ski Instructor With The Trainers To The Stars!
Warren Smith | 14 September 2016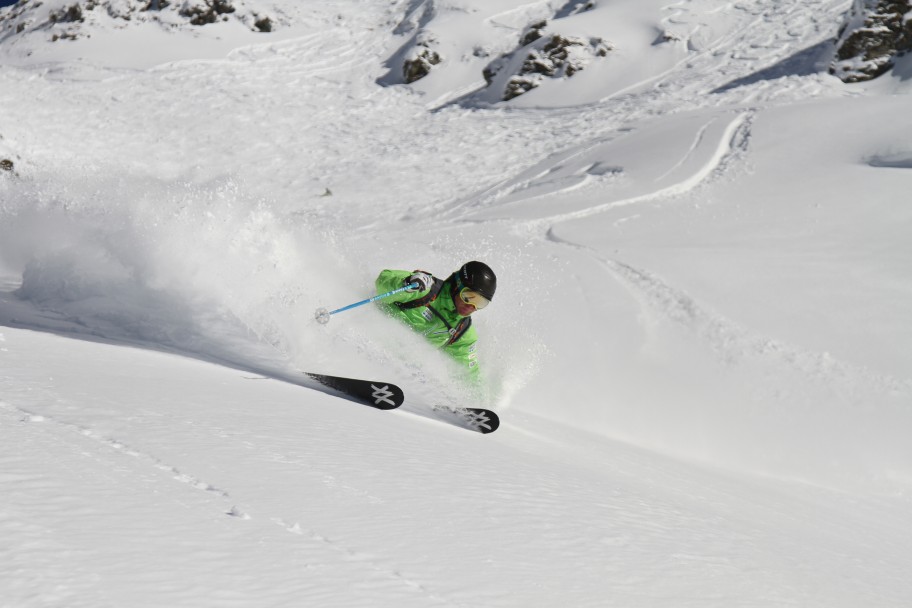 You may have heard the name Warren Smith if you're a fan of the channel 4 celebrity T.V show, The Jump — where celebs go head to head on the snow, competing in various Snowsports disciplines. Ski coach to The Jump's stars, Instructor Warren Smith and his team at the Warren Smith Ski Academy are not only international coaches and instructors, they're also elite professionals with a great industry reputation — making the ski school an excellent choice for progressing intermediate to advanced skiing techniques.
But, alongside coaching many famous faces and helping plenty of skier's progress on a variety of mountain terrains, the Warren Smith Ski Academy offer instructor training courses for those looking to build a coaching career within the ski industry.
Ideal if you're looking for a career coaching on the mountain and skiing a variety of different terrains, from powder to bumps, piste and park, the Warren Smith Ski Academy value the importance of developing their student's skills to a high level alongside their ability to deliver professional instruction.

The course itself is a 9 week Gap Year Instructor Course qualification taking place in Switzerland — it includes 6 weeks performance coaching, IASI Level 1 instructor preparation and a 6 day course, a 2 day First Aid course, Avalanche and Mountain Safety training, a Level 1 Freestyle Coaching course, sports psychology and sports science training, ski biomechanics, video analysis, core strength building and ski specific physical training, an IASI Level 2 Instructor 6 day Training course, half board accommodation for 9 weeks in Verbier, Switzerland and a full season Lift Pass.
It sounds pretty good, but here are the benefits of becoming a Warren Smith Ski Academy trained Instructor, explained by founder, Warren Smith himself. Warren has been working in the ski industry for 29 years, starting out as a ski technician at Hemel Hempstead dry slope, he qualified as an instructor and now has a successful ski coaching school.
1. Warren, skiing is a great sport for self-progression and development without becoming an instructor, what additional value have you gained from instructing and coaching?


"Additional values I've learnt are how to communicate with a much wider variety of personalities. I think after all these years it's hopefully made me become a very adaptable communicator. I feel I have more patience and understanding for situations."
2. You've collected a lot of ski coaching experience in your time, how have the courses you offer today advanced from the qualifications offered when you trained as an instructor?


"I think the courses and the content within them that a person can access now is amazing. Back in the day an instructor exam was pretty much rocking up to do a tech & teach. Now there are so many modules and other aspects involved that skiers taking instructor qualifications come through with, I believe a much deeper and broader understanding of the sport and also alpinism."

3. What are the fundamentals that make the Warren Smith Ski Academy Instructor Courses different from other coaching pathways?
"I know our content with regards to the actual qualifications is very similar to most other products on the market. Where we offer a little extra beyond the Level 1 and Level 2 qualifications is that we also give a module for Level 1 Freestyle coach. It's very useful if students want to teach at their local slope or work with a club. We also focus heavily on getting skiers biomechanically sound so that they have the correct range of movement to match what is required from the coaching instructors. Oh, and we have the best Pub Quiz and Quiz Master in the alps, without a doubt!!"
4. The Warren Smith Ski Academy Courses include mountain safety training, sports psychology, core strength building and ski specific physical training — these are modules we don't always see in other coaching programs. Can you explain the importance and value of these sessions?


"The mountain safety, in our view should be taught across the levels, to even Level 1 skiers, not just when you get to Level 3. As far as ski biomechanics and physiology goes, it is of paramount importance for a skier, whether they are an instructor or not, to learn about what the body needs to be ready for when skiing. Having this extra education greatly reduces the risk of injury and increases performance in the safest possible way. Learning about the body and the mind really helps the penny drop when it comes to truly understanding skiing techniques."
5. What are the Warren Smith Ski Academy pupils of last year doing today? Can you share with us where the completion of a Warren Smith Instructor qualification has taken their career?


"Many of our students have found work placements as instructors in the alps and also at some of the UK skiing venues. Some of them have found placements at The Snow Centre which has been great. We've seen some students come back out with us this summer up on the Zermatt glacier and seen a huge change in their skiing level from training in and amongst The Snow Centre team. We also have several of previous year's GAP Year Students who have gone on to work within our team. We also have links with ski industry retail shops where we can also find placements for students."

If you're interested in taking the first step in your own ski coaching career and becoming an Instructor with the Warren Smith Ski Academy find out more about the Instructor 9 Week Gap Year Course here.