Planning approved for The Snow Centre Swindon
28 November 2018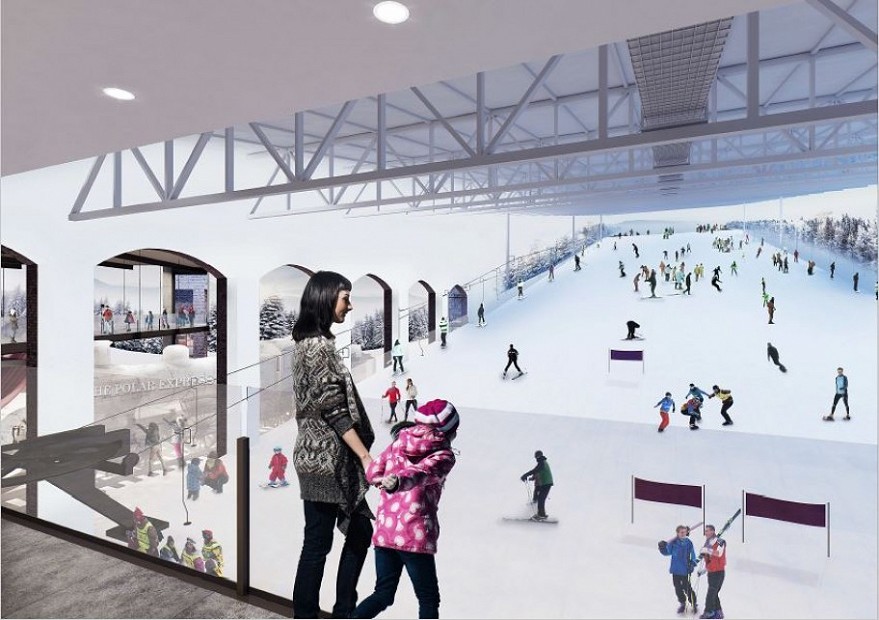 The The Snow Centre Hemel Hempstead team, at London's closest real snow indoor skiing and snowboarding destination are adding a second facility to their portfolio of real snow indoor centres. With full planning consent approved for a new slope within the build of a regional leisure destination in Swindon, Hemel Hempstead and Swindon will soon have more in common than their famous 'magic roundabouts'.
Olympic Snowboarder Jamie Nicholls' and The Snow Centre MD Ian Brown attended the planning committee meeting on Tuesday 27 November 2018 which saw approval for the build of 15,800 square metres of indoor snow space within Swindon's North Star Leisure Complex. Following the verdict, The Snow Centre will look to open their second ski and snowboard destination in 2020.
The brand-new snow centre will feature two indoor real snow slopes; a 170m Main Slope, 75m Lesson Slope, and a designated fun zone for sledging and snow play. On completion the centre wil become the UK's seventh indoor skiing facility—and the first new real snow slope the UK has seen since The Snow Centre Hemel Hempstead opened its doors in May 2009.
Like its sister site, The Snow Centre Swindon promises to offer Lessons and Lift Passes for kids and adults looking to master their skills on 1 plank or 2. However, it will also welcome families and shoppers to the slopes for snow fun during their visits to other attractions within the 500,000 sq ft leisure, dining and retail destination—set to be one of the largest in the UK.
Located alongside a 14-screen IMAX cinema, 19 lane bowling alley, a trampoline park, a gym, shops and the existing Oasis Leisure centre, The Snow Centre Swindon is part of a £270m project lead by property investment company, SevenCapital.
John Watkins, director at SevenCapital said: "We're thrilled with the decision to grant full planning approval for the North Star Village. Since taking on the project in July 2017 the team has worked tirelessly to deliver on our promises to submit plans for an exciting regional leisure and retail destination that Swindon and the wider UK will benefit from significantly.
We have delivered on all our planning promises and are now looking forward to getting on site and bringing those plans to life."
The Snow Centre MD Ian Brown added:"We are delighted to be able to open a second real snow indoor slope and look forward to building on the success we've seen at our existing centre in Hemel Hempstead.
A few opportunities for new ski facilities have presented themselves over the last few years, but for various reasons have not progressed beyond ideas. Swindon is a great location and we are thrilled that SevenCapital have been able to make this a reality."
2x Olympic Snowboarder Jamie Nicholls, who was present in support of the development at this evening's planning said: "This is an amazing opportunity for even more people to get into snow sports. It will give those living in the South West of England; Swindon, Bristol, Bath, Cardiff and beyond the chance to get into skiing or snowboarding. I can't wait to hit the slopes in Swindon with the next generation of snow sports talent."