Perfect Locations For Your First Ski Or Snowboard Trip
18 January 2022
If you've never been skiing before, it can be difficult to know where to start. With so many resorts and countries to choose from it's hard to know which would be best for a beginner ski holiday. Here, the Snow Centre's partner, Neilson Active Holidays give you some top tips so you know what to look out for in a ski resort and what you should avoid if you want to make the most of your first time on the slopes.
WHAT TO LOOK FOR
There's no one size fits all when it comes to ski resorts, some have hundreds of kilometres of slopes that as a beginner you just won't get around to skiing, so look out for the smaller ski areas (those with around 100km of slopes) as they tend to be quieter than the popular large scale resorts.
Having loads of people whizzing past you when you're learning can be intimidating, so when you choose to hit the slopes for the first time is important. Christmas and Feb Half term tend to be busy so if you can avoid that, you'll have more of the mountain to yourself and fewer people whizzing by.
As with most things in life, a few pointers in the right direction will ensure you have a much happier (and safer) first time on your skis or snowboard. We would always recommend you book a few lessons to get you going, so good English-speaking tuition is a must. Most resorts offer good levels of tuition but the ones we have chosen below are well known for their excellent ski and snowboard schools, which will transform you from a nervous beginner to a confident improver in no time at all.
Finally, skiing isn't cheap, and you probably don't want to be spending all your hard-earned cash on an activity you don't know if you'll like (until you try it that is), so value for money in your choice of a ski resort is right up there with your considerations. The resorts we've chosen will tick all of the beginner ski boxes and they won't break the bank either.
Where to go: El Tarter in Andorra
Transfer time: 2 hours 45 minutes
Pros: Great value, quiet ski area

Beginners should head to El Tarter for its wide-open terrain, long gentle runs and fantastic, English-speaking tuition. El Tarter is a small, attractive resort with a peaceful and friendly atmosphere, that draws people back time and time again.
El Tarter is home to one of the best native English-speaking schools in the whole of Europe. Their top-class instructors have all the expertise to make learning to ski or snowboard a fun and rewarding experience. Watch your skills and confidence soar as you progress throughout your holiday. There's also a dedicated beginner's area where you can practice your skills without having to worry about the experts flying past!

Andorra's (almost) tax-free status is another thing the resort is famous for, making it ideal for your first time. Whether you want to book a first-rate hotel or simply enjoy your spending money going further, you'll find the cost of everything from drinks on the mountain and après-ski in resort, to accommodation and lift passes that are affordable in El Tarter.
Where to go: Les Menuires in France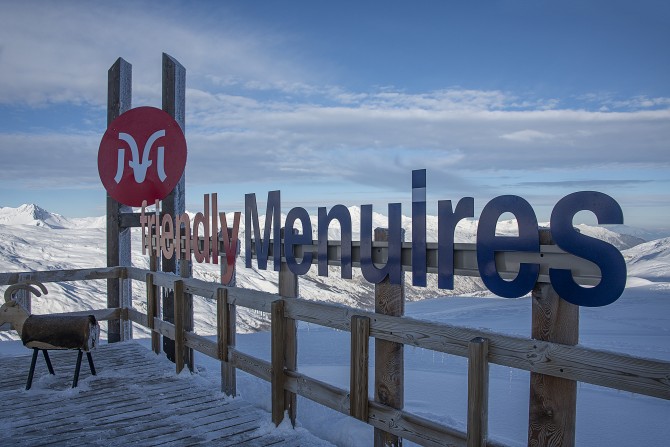 Transfer time: 3 hours
Pros: Wide-open slopes, guaranteed snow
Les Menuires, is part of The Three Valleys ski area, but don't let that put you off. Les Menuires is very family-friendly which makes it a great place for children and grown-ups to take their first turns on the snow. There are also some lovely runs for beginners who are already blue-run confident and want to push themselves a little bit further. Whilst you could access the entire 600km Three Valleys ski area from Les Menuires, beginners and improvers will be more than happy cruising the local area. The resort is full of lovely wide runs and tree-lined slopes with plenty of room to get those turns nailed.
Check out our Neilson Hotel Le Menuire & Spa for a super convenient base as you can virtually ski from the hotel (about 100m away) to the Preyerand lift (about 200m away) and you can ski back to within about 20m of the hotel without having to come out of your bindings. The main hub of Les Menuires, the Croisette area, is around 450m away and from here, the entire Three Valleys is at your feet.