Olympian Jamie Nicholls Talks PyeongChang 2018
1 March 2018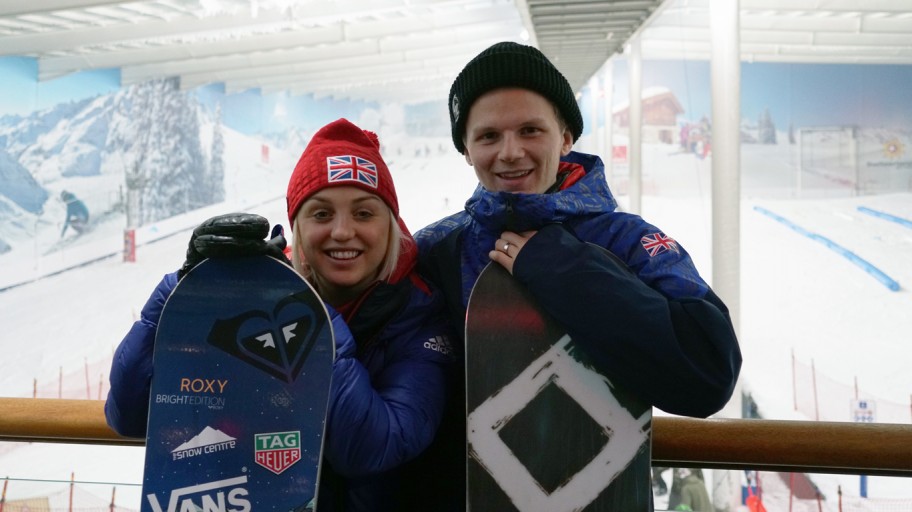 After competing in his 2nd Olympics, The Snow Centre's ambassador, Jamie Nicholls shares his thoughts on the 2018 winter games. PyeongChang 2018, South Korea took place over February, and saw team mate, Billy Morgan take a bronze in Big Air, and freestyle skier, Izzy Atkins also land a spot on the podium.
Meanwhile, Jamie (above right) competed in two events, Slopestyle and Big Air, but found himself missing out on a place in the finals following what GB Park & Pipe called 'some suspect judging.' Jamie shares what the last few week's disappointment has meant for him…
How does it feel to have competed at two Winter Olympic Games?
"It's been amazing to represent Team GB at my 2nd Winter Olympic Games. Obviously, the games didn't go as I had planned, and with Slopestyle being my main event, I was surprised at the score the judges gave me. That's the way it goes sometimes though, and it's only made me want it more for next time."
How do you feel PyeongChang 2018 went?
"As a team, we did really well, and across Freestyle Skiing and Snowboarding we picked up double the medals we did at Sochi 2014. For me personally, it wasn't a great success. I put a safe run down in Slopestyle that I thought would get me into the finals, but it didn't. Next time I'm going to go all in with my biggest and best."
Your cousin and Big Air medal hope, snowboarder, Katie Ormerod had an accident during the Olympic practice which meant she had to leave the competition, what was that like?
"It was awful, Katie and I have grown up snowboarding together, and she's 4 years younger than me, so watching her go through that was pretty awful. The day before she had broken her wrist and then I watched her drop into the rails at Slopestyle practice and slip off the rail and brake her heel. It was awful, she was in a lot of pain."
What does your team mate, Billy Morgan's bronze medal win in Big Air mean for the future of British snowboarding?
"It's a great thing for British snowboarding. Slopestyle and Big Air are the kind of snowsports we can prepare British kids to compete in at indoor slopes and dry slopes in the UK. I started out riding every week at Halifax dry slope and now I train at The Snow Centre Hemel Hempstead in the summer. So, hopefully, Billy's medal win will inspire other kids to get involved and start snowboarding regularly at their local slope."
What's next for Jamie Nicholls?
"This Olympics has been a big learning curve for me. I failed to get the result I wanted this time, but I'm taking everything I've learnt on board. Over the next 4 years hopefully you'll see me, enjoying the next stage of this adventure and achieving more in Beijing 2022."
What would you say to any youngsters considering a career in snowboarding?
"Head down to your local slope, have fun and just keep snowboarding. The best goals and dreams come from a love of doing something, so as long as you're having fun on your board you're on the right track."