Next Season's Challenge: Beginner to Heliskier in 7 Steps!
Jenny Hyndman, Ongosa | 4 May 2016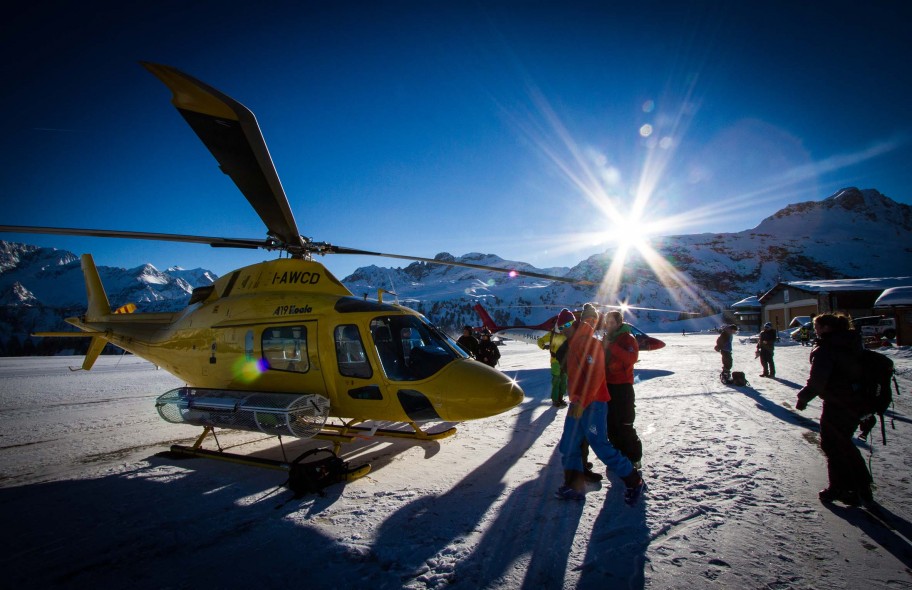 Anyone can Heliski!
If you want to go from zero to hero, and cut out as much as possible of the standard piste-plodding, we've discovered there's surprising variation in level of Heliski trips, so there will be one for you. Heliskiing involves drop-offs and pick-ups via helicopter rather than ski lift, meaning you have the ultimate choice of what you'd like to ski. With the perfect professionals helping you along the way, it's much more accessible than you think!
1. Practice skiing before you head to the mountains
If you are a beginner, consider what preparation you can do at home to set you on your Heliski journey. A few sessions, ideally on actual snow rather than a dry slope, will be helpful to familiarise you with the sensation of sliding downhill and wearing boots that feel like breeze-blocks…
2. A quick weekend ski break
That said, get out on the real stuff if you can; consider a quick weekend trip, to a resort with a short airport transfer time. Try Morzine, Mégeve or St Anton, which are all around just an hour from their nearest airports, and have a good ratio of beginners' pistes.
3. A few days of group lessons
We recommend you join some group lessons – the benefit of a series of short lessons is that they allow you to spend time in between practising what you've learnt. Indoors in the UK, or in resort, group ski lessons are slightly kinder on the budget, but will also be well matched to your ability. Don't just get your mates to teach you!
4. Private, full day lessons
On your next ski trip, take a couple of full-day lessons. By going private, the instructors will focus on exactly what you need to progress from blue runs to Heliski! A great private instructor will be well matched to your requirements: flexible around things like where you want to meet in the morning and stop for lunch.
5. Head off piste with your instructor
If your instructor thinks you're ready, your lessons may include hopping on and off piste. You're in safe hands! Morzine instructor Amy Marwick says 'If you can move around the mountain in control, then you can have a go off piste! Mastering the art of skiing powder snow takes practice, so take any opportunity you can to try out a few turns.' When this is the case, your instructor will provide the required equipment (It'll be the same gear as when you Heliski). Make sure your instructor is qualified to teach you off piste, and we really recommend sticking with the same one through your learning process.
6. Experience the local knowledge of a mountain guide
Ensure you have some time booked with a local guide. Guides can be a completely different breed to instructors; their job is to ensure you feel confident and safe, whilst getting the most from the mountain. Your guide's experience and local knowledge means they'll be aware of all kind of hidden spots to find the best conditions and make sure you fall in love with skiing away from the piste.
7. The Heliski trip!
We think you're ready to Heliski! If you're 'capable of linking around 6 turns, on descents with a red run pitch', most Heliski companies will happily sign you up to a trip. Because you'll have access to so much more of the mountain, 'you can find a surprising amount of cruise-y, gentle gradients with untouched powder.' Once you've stepped out of the helicopter (and no, you don't have to jump James-Bond-style!) the Heliski experience can be as chilled or as challenging as you desire.
As a result of perfectly matched group lessons, dedicated private instructors, and confidence boosting guides, we're positive anyone can conquer Heliskiing, starting right here in the UK!
However, it's obvious that the help you get along the way is a crucial element. A website like Ongosa personally matches you with a suitable guide or instructor, from simply skiing your first red run, to charging the backcountry from a helicopter!