Meet New Ski Buddies on a Group Trip to Switzerland
23 January 2017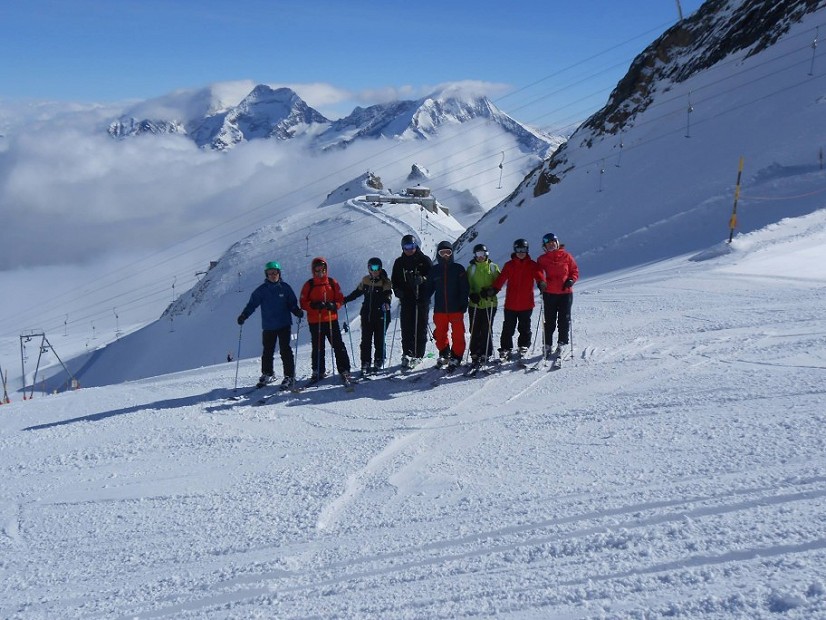 Looking for some new ski buddies? Hoping to meet more snowboard loving friends or ski with a bigger group on the hill? Along with visiting your local indoor slope, The Snow Centre's Group Ski or Snowboard Trips to Switzerland are a great way to find new ski buddies, progress your on-snow skills, and explore all the mountain has to offer with other skiers and snowboarders.
Great for couples, solo skiers, skiers and snowboarders and existing snow friends, The Snow Centre's Group Ski Trips provide coaches for progression, plenty of friends to hit the Après bar with, and a resort that can deliver the complete Alpine experience.
With trips to Saas-Fee and Grimentz, Switzerland available, there's a choice of opportunities to ski with new snow buddies, both of which won't disappoint. But don't take our word for it; here's 5 reasons why skiing together is better from those who've tried it for themselves.
Why skiing together is better - Group Ski Trips
"I was travelling alone, and I was anxious about not knowing anyone, but that quickly changed as everyone was so friendly. We had such fun with the group during the day and into the evening, with plenty of chance to enjoy Après ski!" Anonymous, The Snow Centre's Group Ski Trip 2016
"It was like a family ski trip except someone had taken care of the organisation, knew their way around the mountains, and also knew how to give expert instruction. Great fun and great skiing!" Paul McLintic, The Snow Centre's Saas-Fee Group Ski Trip 2016
"I thoroughly enjoyed my ski trip to Saas Fee with The Snow Centre team and wouldn't hesitate to recommend future holidays with them. A good opportunity for those wishing to progress their skiing, with instruction when requested and not to a rigid timescale of resort classes. Robert Chamberlain, The Snow Centre's Saas-Fee Group Ski Trip 2016
"My partner and I went together, he's a lot better than me, so both he and I found others in the group to ski with, people of a similar level to us. The coaching was particularly beneficial to me and I feel far more confident now." Anonymous, The Snow Centre's Group Ski Trip 2016
"If you're looking for somewhere to go, I can 100% recommend Grimentz! I think it's my favourite ski resort ever, and I've been to a few. It's so picturesque, a quaint village and the hotel is directly opposite the lift station and the ski hire shop. The slopes are amazing too, with lots to challenge all types of skier. Snow is falling in Grimentz at the moment, so it'll be great by this year's trip in March." Zoe, The Snow Centre's Group Ski Trip January 2017
The next Group Ski Trip
On Saturday 11th March 2017 the next group of ski buddies will head out to Grimentz, Switzerland for 7 days of 'chocolate-box' mountain scenery and on-snow fun. Staying in a resort with access to the slopes of both Grimentz & Zinal, these snow buddies are in for a treat.
Throughout the trip, not only will The Snow Centre's instructors provide full time coaching and video analysis, they'll also meet everyone at Heathrow, transfer to the Grimentz resort with the group, and almost certainly join in the Après. With the transfer, a 7 day Lift Pass, Coaching, video analysis, 7 days half board accommodation and locker storage all included in the package, its sure to be a fun-filled, stress free trip as well as a chance to meet some new snow buddies!
For more information on the next Group Ski Trip to Grimentz or Saas-Fee click here, but hurry places are filling fast!