Ladies That Ski - Women's Activities on the Snow
Linda Forbes | 19 October 2017
Spotting mothers, daughters, groups of girls or ladies on the slopes is no longer like finding a tree run on a glacier, or unearthing the bottom of your skis when buried deep in powder! Today, there's plenty of talented women putting the world to rights on the snow!
And, not only are there plenty of ladies' ski and snowboard sessions happening across the UK, women are taking their on-snow sessions to the mountains in ladies' ski groups too. Linda Forbes, has been an Instructor at The Snow Centre since it opened, and is a regular face coaching Wednesday Morning's Ladies Sessions on the Hemel Hempstead slopes. These snow loving ladies have tagged themselves 'Ladies Wot Ski and Board' and often join together to plan a trip to the mountains, or two.
Linda explains why regular ladies' sessions at The Snow Centre and 'girls only trips' to the mountains are such a fantastic thing for any ladies who would like to get involved in a women's ski group.

(above, Ski Instructor, Linda Forbes)
How the ladies' UK ski sessions began…
"The Ladies' Ski Sessions on The Snow Centre Hemel Hempstead's indoor slope were a very successful feature of the old Hemel Hempstead dry slope! The old dry slope was replaced by the real snow slopes of 'The Snow Centre' in 2009, but the ladies 'only' ski sessions carried on.
When I first began working part-time at the Hemel dry slope after eventually qualifying as a Ski Instructor in my early 50s (yes, it is possible to qualify in later life), I always looked with envy at the Ladies that could ski and have 'fun and frolics' during the daytime - having worked full-time in education for such a long-time.

Swapping to a part-time role in 2009 coincided with the opening of London's closest real snow slope, The Snow Centre. For me, this meant I had the privilege of becoming more involved in Ladies' daytime Ski Lessons, as they grew and developed into the wonderful success they are today. Almost immediately the new 'real snow' environment heralded the increase in popularity of these sessions. As a result, they were quickly extended into two mornings rather than one, to cope with the increasing numbers.

I believe that these Ladies' Ski and Snowboard Mornings are so successful because they provide a nurturing, supportive environment conducive to building new skills progressively in an unpressured, enjoyable way. Fragile confidences are boosted through clear guidance to ensure success and always with an element of fun! The laughter often resounds across the slopes!
At The Snow Centre, there is also the opportunity to relax for a chat over a coffee after skiing, with many ladies now often extending their sessions to regular lunch dates. The fantastic sense of camaraderie and belonging that has continued to grow and develop over the years has meant that many lifelong friendships have been established from having the common interest of learning to ski and/or snowboard.

An enormous testament to the Ladies Ski Sessions' triumphs has been the number of women, who have started-out as beginner skiers or snowboarders during the Ladies' sessions, and now become Qualified Instructors! Never in their wildest dreams would they have imagined that they would achieve such heights when they first began their on-snow learning journeys!! Many of them still continue to attend the Ladies' Sessions as well as working regularly at The Snow Centre - providing a pleasing, increased balance of women to men Instructors! Ladies Ski and Snowboard Sessions have changed lives!"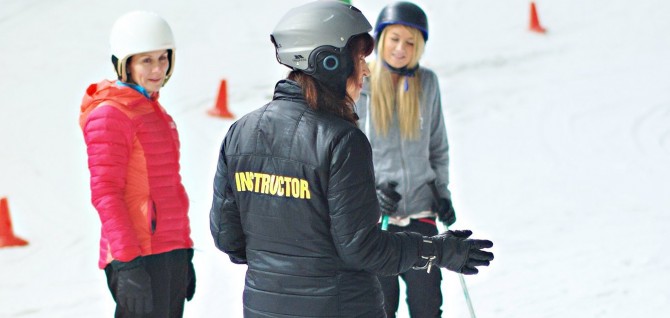 Ladies' ski trips to the mountains!

"The 'Ladies Wot Ski and Board' trips to Austria, were the 'brain child' of one of our very popular instructors Greg Price, who had a great deal of experience in organising trips for large groups of skiers.
The first trips began in 2010 and were initially staffed by volunteer Instructors, of which I was very privileged to be one of. We stayed at an extremely comfortable 5-star hotel in Austria. It was in a beautiful location, which offered the rather pleasing combination of comfortable rooms, luxury gourmet food and a spa/ sauna, conducive to easing tired muscles after a long day on the slopes and relaxation with just the occasional bottle of bubbly. Memorable times were had by all!

The après on these trips was legendary, and for those who managed to stay awake after dinner, the night life was also. These trips remained extremely popular until 2015. Stunning memories remain of such fun, laughter and frolics enjoying the breath-taking mountain scenery. All with the opportunity to practice newly learned skills in a mountain environment amongst a hugely supportive group of friends.
These trips then moved into a new phase, which was incredibly exciting - The Snow Centre's new partner, Switzerland Tourism welcomed the very first ladies' trip to Saas Fee in Switzerland, in late November 2016 and we've enjoyed more thrills and spills there since!"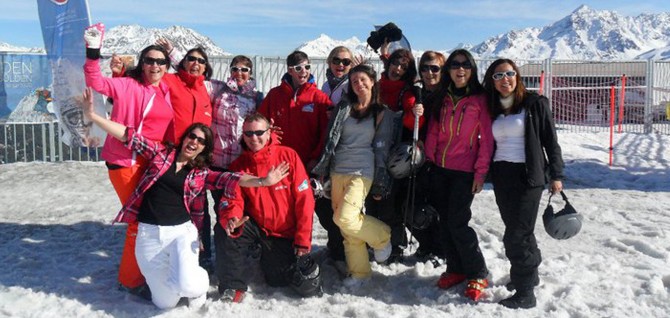 How to get involved in ladies' ski & snowboard activities

"Absolutely anyone can get involved in the Ladies' Ski and Snowboard Lessons at The Snow Centre. The sessions cater for women of all abilities, from complete beginners through to performance skiers and snowboarders. Join us on a Monday and Wednesday from 10.30am until 12.30pm.

With times that have been arranged specially to maximize the ease of child care arrangements and the opportunity to socialise and meet new friends, it's a no brainer! Plus, you don't want to miss out on a free coffee after some fun on the slopes, it's the perfect opportunity to chat over the achievements, amusements, successes and enjoyment of the morning.
And once you've joined us on Hemel Hempstead's UK slopes, hopefully you'll start thinking about coming away to the mountains too. Ladies who can competently ski or snowboard, whilst controlling their speed on The Snow Centre's Main Slope are ready and welcome to come along on our girls 'only' ski trips abroad. We don't teach absolute beginners on the mountain, as everyone can learn these skills at The Snow Centre before we go, but there is still a mix of abilities on these mini breaks, so everyone has someone to ski on the mountain with."
Ladies' skiing in the UK - www.thesnowcentre.com/lessons/adultskilessons
Ladies' snowboarding in the UK - www.thesnowcentre.com/lessons/adultsnowboardlessons
Ladies' ski trips on the mountain - www.thesnowcentre.com/lift-passes/skitrips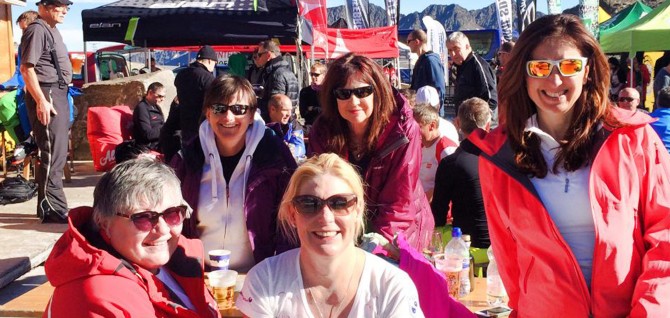 With women's ski groups continually progressing and bringing other ladies on-board, it's not surprising the girls are giving the boys a run for their money on the snow. As a social, fitness friendly and fun-loving activity, it seems ski and snowboard sessions are the answer for any ladies looking to get involved in Snowsports.
Find out more about Ladies Mornings at The Snow Centre or girls trips to the mountains.