Indoor Skiing Near You - Real Snow Slopes
8 May 2017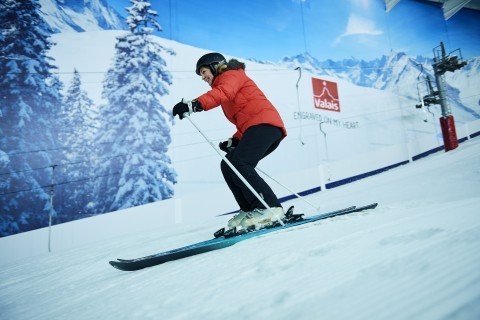 There are 6 real snow indoor slopes across England and Scotland, offering visitors pretty impressive man-made indoor skiing conditions. All provide a sliding on-snow experience that's just about as close as it gets to the real deal.
Having a real snow slope near you, means you can gain extra practice time on your skis or snowboard, enables you to learn from scratch without leaving the country, and guarantees ski and snowboard friendly conditions 365 days a year.
Whether you're planning a visit before your ski holiday or thinking of becoming a regular at your local indoor ski centre, here's the location and inside scoop on your nearest slope.

The Snow Centre Hemel Hempstead
The Snow Centre Hemel Hempstead is London's closest real snow indoor skiing and snowboarding destination, but it's the newest UK centre in too. With all of England's other real snow centre's being located north of The Snow Centre, the Hemel Hempstead slope is your nearest real ski slope if you're travelling from, Surrey, Essex, Kent, East Sussex, West Sussex, Hampshire, Dorset, Somerset, Dorset, Cornwall, Wiltshire, Hertfordshire and parts of Buckinghamshire, Gloucestershire and Oxfordshire.
Home to the largest lesson slope in the UK serviced by two travellator lifts, and a 160 metre Main Slope with two button lifts, The Snow Centre is a great place to learn to ski or snowboard, enjoy some indoor skiing or make the most of the park during Thursday and Friday evening freestyle sessions. The centre also features an Alpine restaurant and bar overlooking the slopes, so you can relax after your session or simply pop in for a bite to eat and watch the action on the real snow slopes.

Located just off the M1 (Junction 8) and 10 minutes from the M25 (Junction 20), The Snow Centre Hemel Hempstead is easily accessible by car and offers 280 FREE car parking spaces. Alternatively, if you're travelling by train, there are regular trains from London Euston to Hemel Hempstead Train Station – with a journey time of 30 minutes. Its then about a 40 minute walk or 5 minute taxi ride from the taxi rank at the station.
SatNav postcode HP3 9NH
Snozone at Xscape Milton Keynes
Around 32 miles away, and North of The Snow Centre Hemel Hempstead, Milton Keynes' indoor snow dome at Xscape provides ski and snowboard enthusiasts living in, Bedfordshire, Gloucestershire, Buckinghamshire and Oxfordshire with a choice of nearby indoor skiing destinations. So if you're looking for indoor skiing near you, you're spoilt for choice if you live between Xscape and The Snow Centre.
Operating alongside Snozone Castleford, Snozone Milton Keynes is situated inside the Xscape shopping centre. With real snow indoor skiing available a few steps from the shops, cafes and bars, whether it's your first time on skis or you're an experienced snowboarder, Snowzone can offer you a jam packed day of activities on and off the snow.

The centre has been open for around 17 years and the slope continues to deliver on-snow experiences from skiing and snowboarding to sledging via two button lifts and a travellator.

SatNav postcode MK9 3XS
Tamworth SnowDome
Further North is Tamworth SnowDome, a real snow slope offering a 170 metre Main Slope and 2 smaller nursery slopes. Tamworth SnowDome provides indoor skiing near you if you live in Staffordshire, Shropshire, Leicestershire, West Midlands and parts of Derbyshire, Northamptonshire, Nottinghamshire, Warwickshire and Worcestershire. The SnowDome is easy to find and just 5 minutes from junction 10 of the M42 or M6 toll road.
Tamworth Snowdome's real snow slope is set amongst an ice rink, swimming pool and gym, so there's a choice of activities on site. On the slopes there's a rope tow lift and 4 travellators and a choice of lessons and lift passes available.
SatNav postcode B79 7ND
Chill Factor Manchester
Manchester's Chill Factor is the next real snow slope you'll come across when travelling North through the UK. With a 180 metre Main Slope a beginners area and a terrain park with jumps and rails the centre offers the usual choice of indoor snow centre activities. Similar to The Snow Centre, the slopes are serviced by drag lifts on the Main Slope and there's two travellators in the beginners area.
Naturally, Chill Factor is Manchestor's closest real snow indoor Snowsports destination, but it's also not to far if you're based in Chester, Liverpool or South Yorkshire, and may still be your closest indoor skiing destination if you live in Northern Wales or in parts of Lancashire.
SatNav postcode M41 7JA
Snozone Castleford
Milton Keynes' sister slope, Snozone Castleford in West Yorkshire is located just 60 miles away from Chill Factor, allowing everyone living in between these two facilities a choice of nearby indoor skiing opportunities. However, if you're based in West Yorkshire, North Yorkshire, or anywhere further North Snozone Castleford is the closest real snow centre in England. Alternatively, Scotland's indoor skiing destination is in Braehead.
At Snozone Castleford you'll find a 150 metre Main slope and a dedicated beginners slope, with plenty of learning and progression opportunities for both skiing and snowboarding. Like Milton Keynes' slope, Snozone Castleford is located amongst cafes, restaurants, bars and shops, but there's also a skate park, cinema and bowling lanes amongst other leisure facilities.
SatNav postcode WF10 4TA
Snow Factor Braehead
Snow Factor Braehead is Scotland's only real snow indoor slope, but seeing-as they have outdoor mountain ski resorts in Scotland, this is not that surprising. However, Braehead's indoor slope offers ski and snowboard facilities to nearby guests and those from further a field all year round.
The centre features a 200 metre Main Slope and a 50 metre beginner slope, serviced by two POMA tows and two rope tows. There's also an Après ski bar, family area and soft play zone, making it another great destination for a family day out.
Alongside, skiing, snowboarding, the freestyle parks and sledging, there's also an ice climbing wall and ice bar, so you'll be spoilt for choice on a visit to Snow Factor.
SatNav postcode PA4 8XQ