How to get into Ski Cross - Ed Drake
31 March 2018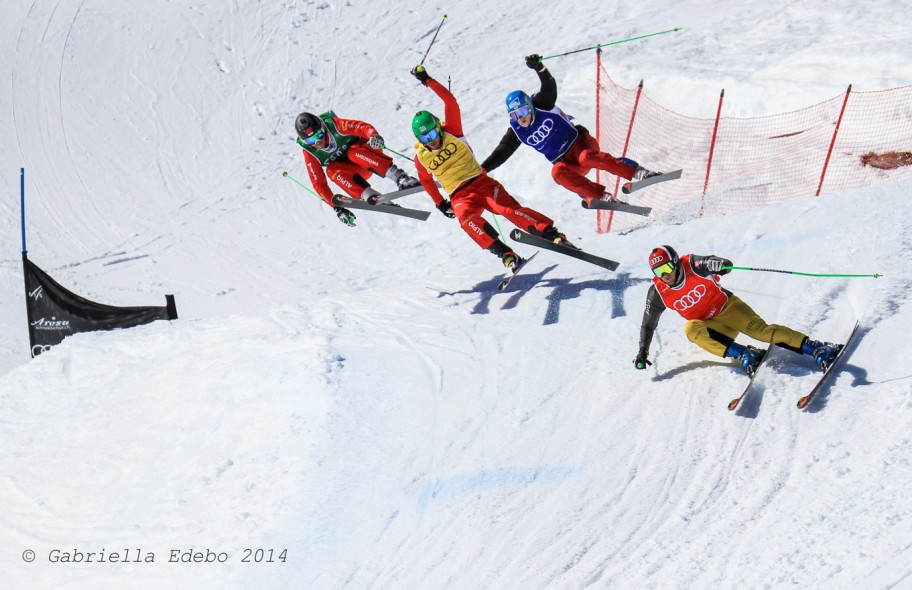 Retired British Ski Cross racer and ex-British Team Alpine athlete, Winter Olympian Ed Drake commentated on the recent PyeongChang 2018 Winter Olympics Ski Cross. Giving true dimension and explanation to the hard work and skill that goes into competing in a sport as fast and adrenalin fuelled as Ski Cross, it was excellent to hear his take on the events.
Ed, who represented Great Britain at the Vancouver 2010 Winter Olympics, was at the forefront of British skiing for many years. He was British National Alpine Champion four times before making the switch to Ski Cross in 2012. During his competitive ski career, he was an ambassador for The Snow Centre, Hemel Hempstead, and made many coaching appearances.
Now retired from competitive skiing, he provides great insight for all those inspired to try ski cross following the 2018 Winter Games.
Ed, we watched you talking about ski cross throughout the BBC's coverage of PyeongChang's 2018 Olympics. You described the skill and risks involved, what do you think are some of the things that make ski cross such a brilliant sport to participate in?
"The fact that it's not complicated makes it a really good sport to watch, and you don't need to be an expert to enjoy it. The format is simple to understand, the first to the bottom wins, it's a raw sport.
The race set-up is also very exhilarating, it makes for a 'being with mates' feel as you speed down the course."
What skiing skills do you need to have before you can consider participating in ski cross?
"Besides basic ski racing ability, you have to be light on your feet, well balanced and able to deal with changing terrain.
You also need quick reactions due to the varied terrain and the close proximity you are to other competitors. If you're considering ski cross, be prepared to get aggressive with your skiing. You have to stand up for yourself as you move through the course, there are lots of participants fighting for the same bits of snow, if you get the spot you want you need to hold that position and if you still need to get it, you need to fight for it."
You've got plenty of competition experience in racing and ski cross how did you get into competing in ski cross?
"Sort of by accident, I had been rehabbing my ankle after surgery from a racing accident. The alpine race I was meant to be competing in got cancelled, and a 'ski cross friend' told me there was a ski cross event taking place not too far away in France.
The following day, I drove from Austria to France to compete in my first ever ski cross competition. I crashed, but I loved it. I've been hooked ever since."
How can youngsters and adults who are thinking of taking up ski cross learn the skills needed?
"There are a few ski cross clubs, The Cross Collective and the PDS Academy are a couple, but although ski cross is not alpine racing, the skills are transferable, so training in alpine first is a great idea and will help build the technique required to participate in ski cross. There are lots of UK alpine race clubs.
Once you have some alpine skills, there are resorts that have open ski cross courses, so you can just go along and give it a go. Val Thorens or Les Gets in France, are both good courses for this, but a lot of resorts are offering this now.
Amateurs can also turn up to races such as the Audi Speed Cross Tour. These events, where you can just pitch up without the need of a FIS membership are great for gaining competition experience."
Lessons at The Snow Centre Hemel Hempstead can prepare you with the skills you need to participate in ski cross, and the Hemel Race Club provide great progression into alpine racing.