Great Britain's freestyle athletes compete in Dew Tour!
This week, 9-13th December 2015, the UK's top GB Park and Pipe athletes competed in Breckenridge, Colorado's Dew Tour! The worlds best male and female pipe, freestyle ski and slopestyle snowboard winter athletes travelled from all over to perform their biggest and best tricks for a place on the Dew Tour podium.
Team GB saw Freestyle Skiers, Katie Summerhayes and James Woods (Woodsy), Slopestyle Snowboarders, Aimee Fuller, Jamie Nicholls and Katie Ormerod take to the Dew Tour Course, featuring 2 rail sets, followed by 2 jumps, another rail set, before 2 final jumps!

All competing GB athletes competed in the Dew Tour semi finals, Katie Summerhayes finished in 14th out of 16 of the worlds best female freeski athletes, after landing her run perfectly in practice, but it not quite coming together during the competition! Aimee Fuller competed against 16 of the top female Slopestyle Snowboarders and finished in 8th, just missing a place in the final. While, Jamie Nicholls also managed to land a perfect run in practice, but didn't get it 'down' for the competition and finished 16th out of 30.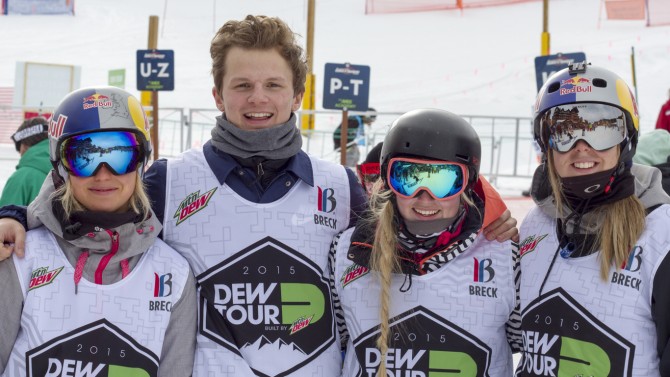 At 18 years old, snowboarder, Katie Ormerod's first invite to the Dew Tour Competition would see her excel into the final with a run that included, a 'Gap Front Board' followed by a '5050 Gap to Board Slide' on the 1st rail set, a 'Front Side 360 Spin' on the 1st jump, a backflip on the 2nd, '5050 to Board Slide to Switch' on the next rail set, a 'Cab 540' spin on the 3rd jump, to 'Backside 720' spin on the last jump. Repeating this run on finals day, she scored 75.00, at which point Katie needed to up her run to score high enough for a place on the podium (top 3). Ormerod added a 'Cab 900' Spin in her 2nd finals run, landed, but unfortunately lost speed and had to straight air the final jump.

Finishing in 5th overall, Katie said; "I'm just stoked I landed a 'Cab 9,' it's the first time I have ever done one during a competition!"

Anna Gassa took 1st, Spencer O'brein 2nd and Hailey Langland 3rd in the Women's Slopestyle Snowboard.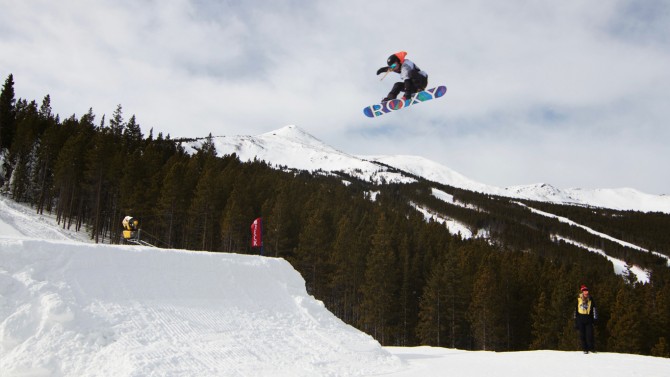 But skier, 'Woodsy's' entry into the final was even cleaner, qualifying for the finals with a 1st place in the semis, things were looking bright for Team GB's James Woods! Unfortunately, 'Woodsy' lost out on finals day, coming 5th overall in the Men's Freeski Slopestyle! While, Gus Kenworthy took 1st, Jossi Wells 2nd and Fabian Boesch 3rd.
The Women's Freeski Slopestyle final managed to take place one day late, due to heavy winds and snowfall. The event saw Kelly Sildaru take 1st, Tiril Christiansen 2nd and Emma Dahlstrom 3rd. The Men's Snowboard Slopestyle saw the famous Mark McMorris in 1st, Staale Sandbech 2nd and Darcy Sharpe in 3rd.
And over in the Men's Superpipe Final, legend, Shaun White showed the world he has definitely not retired from snowboarding by taking home 1st place!