Give Ski Touring a Go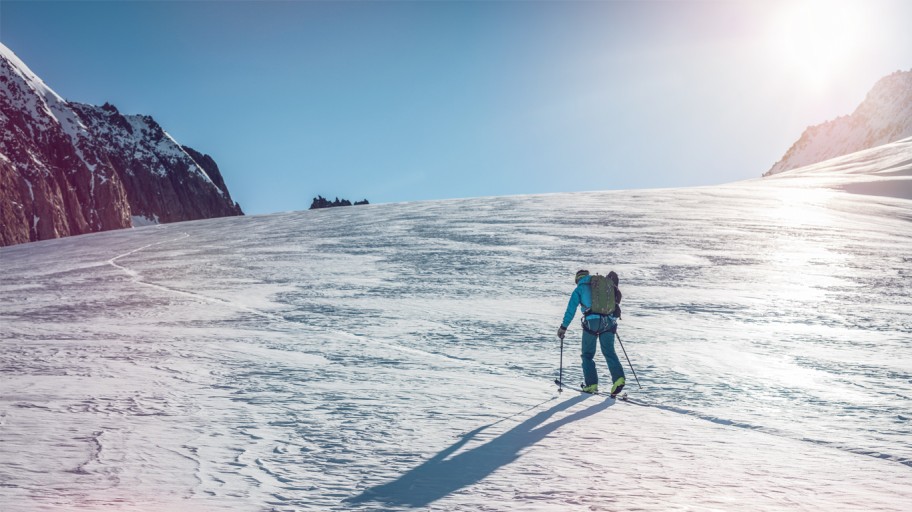 Are you feeling inspired to hit the slopes and see some snowy sites? Do thoughts of walking across mountain terrain surrounded by breath-taking views excite you? Are you a lover of the great outdoors, the marvels of nature and all the rewards exploring new places brings? If so, ski touring might be for you!
What is ski touring?
In simple terms, ski touring involves walking uphill on skis and skiing downhill. Moving across snowy mountain tops, through fluffy snow, packed pow, on and off-piste, and more—ski touring is a great way to discover all that the mountain has to offer.
Ski touring involves the use of skins, which are placed underneath skis to help on the uphill and make it much easier, allowing you to enjoy steady exercise in stunning surroundings.
How can I try ski touring for the first time?
There are plenty of opportunities for skiers to try their hand at ski touring for the first time. If you've been thinking about going on a ski tour for some time, but don't have either the necessary equipment or sufficient knowledge of the mountain terrain and the challenges it presents, then an introductory course conducted by a mountain guide is just what you need.
Ski touring equipment can be hired locally and in regions like Valais Switzerland there are a number of destinations offering introductory ski touring courses, including the Aletsch Arena, Blatten-Belalp, Lötschental, La Tzoumaz, Nendaz, Grimentz, Crans-Montana, Val d'Hérens and Pays du St-Bernard.
In fact, Switzerland's Valais region is a great place to begin your ski touring journey. They even have ski touring zones known as Rando Parcs. These are specially enclosed areas perfect for introductory ski touring. All the Rando Parcs trails are reserved for ski tourers, marked and secured, allowing ski tourers of all levels to practice their sport in harmony with nature. You can find Rando Parcs, in Valais' Morgins and Crans-Montana.
The opportunities to experience the awe of nature's mountain views doesn't end there, ski touring is also available in the evening. After the sun has gone down, ski tourers can begin their trek in Valais' Champex, Vercorin, Veysonnaz,Anzère, Arolla, Evolène, La Tzoumaz, Nendaz, Verbier, Champex, Crans-Montana, Nax, 
Les Marécottes and Morgins. This marvellous opportunity allows tourers to experience the tranquil silence of exploring the mountain under clear starry night time skies, a special experience not to be missed.
Alternatively, if you're just looking to see more of the mountain on your skis, but hoping to take-on some of the best off-piste slopes, pick up a mountain guide. When heading off-piste it's important to have an experienced local mountain guide by your side for your own safety, but they can also help you choose a route that's difficulty level is best suited to your abilities. More than 450 professional mountain guides are available to accompany visitors through the snow-covered winter landscape to the most beautiful natural sites in Valais.
Can I try ski touring if I can't ski?
If you can't ski, don't worry this needn't stop you from exploring the mountain, you can swap skis for snowshoes. No distance is too far on snowshoes as they gently carry you over the deep blanket of snow. It's an easy technique to learn and requires almost no prior knowledge. Anyone who can walk, can also snowshoe and enjoy unique tours through pristine winter landscapes.
You don't have to be limited to marked paths either. If you would like to experience snowshoeing outside the marked winter hiking paths, you can hire one of Valais' hiking and mountain guides . They'll show you the way, and let you in on their insider secrets as they lead you through wintry terrain covered in deep snow. There's also opportunities to experience snowshoeing by night.
What's available for experienced ski tourers?
If you've already tried ski touring and want to take things one step further, consider one of Valais' mountain huts for ski tourers. A large number of mountain huts are open from March, the start of the touring season. Each is the starting point for unforgettable tours, but just getting to the hut is a memorable experience in itself. Be sure to hire an experienced local mountain guide for your own safety, and make sure you've checked the equipment checklist before you head out. Plus, under the guidance of a local expert, you'll be sure to find some hidden gems on your expedition.
PARTNER STORY (AD)