Family Ski Holidays Swiss Side
5 October 2016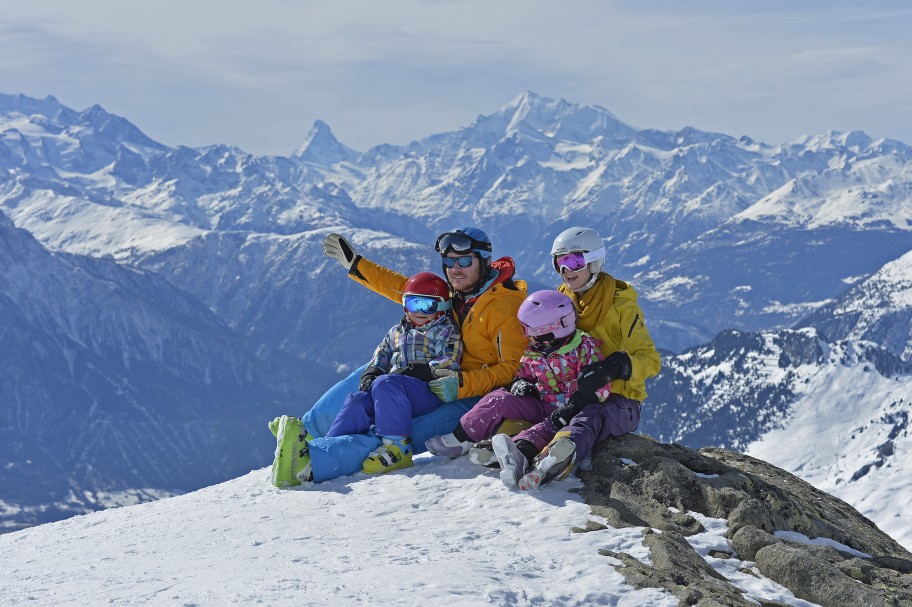 Family ski holidays are a lot of fun, offering great learning opportunities for the kids and a chance to spend some quality time together. However, planning the perfect family ski holiday can prove very different from planning a week on the slopes as a couple, or a weekend away with a group of friends.
While bundling up your little ones in their ski suits and watching them master their first turns is magical, to ensure the ideal family experience there's plenty of 'must haves' a ski resort should offer. Here's how to pick the right ski resort for you and your little ones.
How to choose a family ski resort
Narrowing down which resorts are suitable for you can be challenging. Before you do anything else, work out what is most important to you and your family. Are you imagining your youngsters skiing their first slopes, an afternoon of sledging activities or relaxing in an idyllic ski town? Do you need a vast area to ski or will the children's abilities mean you spend a lot of time on the beginner slopes anyway? How do you and the rest of your family deal with longer transfers? What is the key to your ideal family snow experience?
A skiing haven for families
We can't give you all the answers, but we can point you in the direction of the top family-friendly resorts. One of our favourite ski areas, the Aletsch Arena in Switzerland is officially recognised as a "Families Welcome" resort; a coveted award only given to destinations that meet exacting standards for family-friendly infrastructure, activities, services and hospitality.
A family haven, the Aletsch Arena offers the quaint villages of Riederalp, Bettmeralp and Fiescheralp, dotted along a pristine Alpine plateau, as well as the valley towns of Mörel, Fiesch, Fieschertal and Lax. A ski area that demonstrates you don't have to sacrifice vast slopes and scenic mountains to enjoy all the elements of family fun.
And there's plenty of snow fun to be had in the Aletsch Arena. Over a third of the ski trails are beginner friendly and nearly half are suitable for intermediates, making it a great place for children to learn to ski. There are also four dedicated kids' areas, four fun parks, a snowpark and a half pipe, which is great news for parents or kids who are already masters of the piste. And for those looking for some adrenalin fuelled fun, there's also a competitive high-speed course on Fiescheralp and a timed giant slalom course on Bettmeralp. So, you can have a snow load of fun competing for the fastest race time or watching back the video footage.
Besides offering plenty to amuse the family on the slopes, the Aletsch Arena makes things safe and easy for families. Set within the first UNESCO World Heritage Site in the Alps, the three mountain villages are entirely car free and easily accessed by aerial cable car with the guarantee of total peace and quiet. Furthermore, you don't have to struggle walking about in ski boots and carrying all the children's skis, because virtually all the hotels, chalets and apartments in the villages are ski-in/ski-out.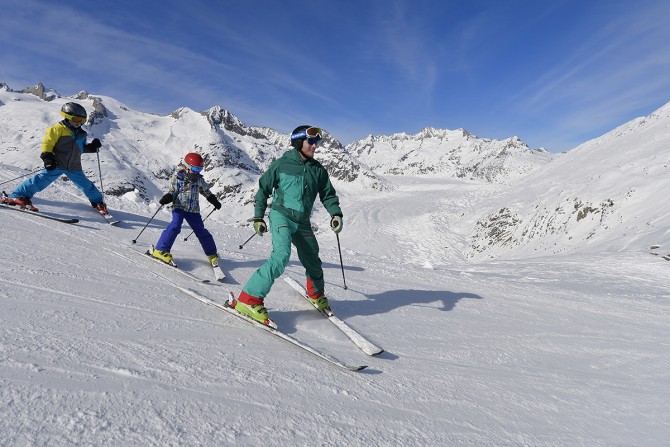 Great for families & great for parents
It's paramount to a family ski holiday that the children have a fantastic time. But once they're happy, it's also great to find a resort that can offer something for just the grown-ups. So, if you manage to find some time without the kids, a resort that offers beautiful scenery and some adult snow activities are a plus.
Alongside all the family fun, the Aletsch Arena is home to cross-country ski trails, snowshoeing and winter hikes. Alternatively, you can bring older children along to enjoy sledging on the gentle Blätz piste or a delicious fondue in the atmospheric mountain restaurant atop Fiescheralp.
Whether you're looking for snow fun for all the family or safe and easy scenic villages, Aletsch Arena has it all. Remember, to plan your next family ski holiday around what is most important to you and your family, but with family-friendly resorts like the Aletsch Arena you can't really go wrong.

Find out more about trips to the Aletsch Arena.