Christmas Skiing — Top Winter Wonderland Experiences
1 November 2016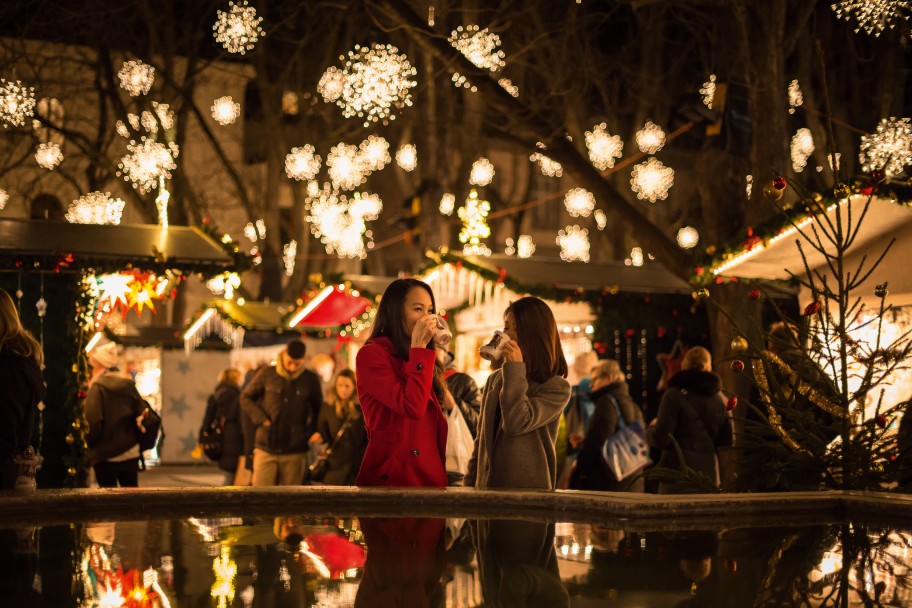 Get into the festive spirit and spend this Christmas in a winter wonderland, you won't forget! Wake up to pretty alpine chalets covered in glistening white snow and mountain views that are straight off the front of a Christmas card. What better way to guarantee snow and festivities at Christmas than by heading to a ski resort?
We can picture it now, cosy winter nights, daytime skiing and festive Christmas markets in the snow. For a magical Christmas like this, there are plenty of resorts to choose from, but some of the most picturesque winter wonderlands can be found in the Valais region in Switzerland. Here are our top destinations for a white Christmas to remember;
Swiss winter wonderlands
The Valais region in Switzerland boasts the perfect setting for a white Christmas with loved ones; famous for its stunning views of the Matterhorn and pretty much guaranteed snow, it's a popular destination throughout the winter season.

During the festive period, the Valais region only gets more magical. Full of local festivities and vast pistes, the ski resorts don't close for Christmas, so you can enjoy all the slopes have to offer and the 'chocolate-box Christmas' dreams are made of.
And it really feels very 'Christmassy' in most Swiss ski resorts! The smell of mulled wine and fondue, combined with traditional decorations make the experience that little bit more festive. Uniquely, decorative advent calendars are very popular in Switzerland, with some villages' displays using houses' windows as the advent calendar doors. Christmas Markets in the towns, cities and ski resorts, are also a great feature of the festive period.
Furthermore, Christmas Eve is the main day of festive celebration in Switzerland, so you can pick and choose when to enjoy your family meal together. Plus there are lots of other delightful christmas activities, including those in The Valais region's resorts of Saas-Fee, Val d'Anniviers and Aletsch Arena, here are a few favourite winter wonderlands.
Christmas skiing & festivities in Sass-Fee
Christmas skiing in Saas-Fee Switzerland just has to make our top 3 winter wonderland list — if only because its picturesque setting once provided the perfect backdrop for Wham's popular 'Last Christmas' music video.
This traffic free village, full of traditional Swiss charm makes for a stunning winter wonderland. Besides that, its glacier and high alpine village provide it with an excellent snowfall record for guaranteed skiing. And there's no shortage of pistes either; catering for all abilities, there's plenty of runs for beginners and intermediates too.
Additionally, this year you can step into Christmas with the Christmas market or "Wiehnachtsmärt in the Saas Fee village square. Set against a romantic mountain backdrop, this year the festive market will bring the season to life on 16th & 17th December 2016.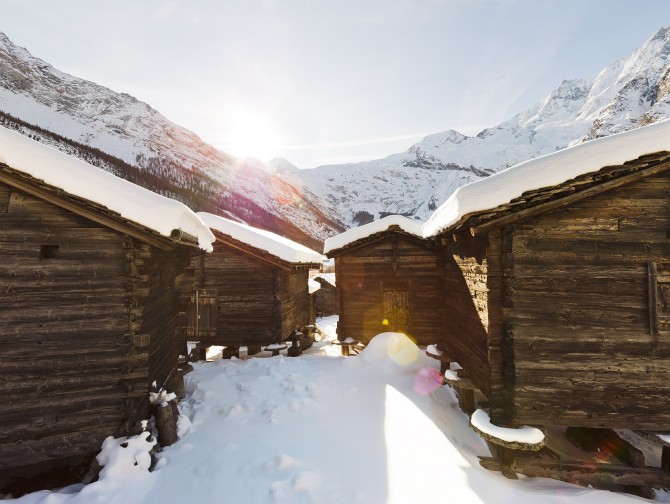 Ice skating & Christmas tradition in Val d'Anniviers
For a great value white Christmas, with all the magic, a variety of pistes, a natural ice rink and a Christmas market, the Val d'Anniviers has a lot to offer. Prices here are lower than in the big, better-known Swiss resorts. And although there are cheaper places in Switzerland, for a week or two Christmas trip, Val d'Anniviers delivers more of the festivities and skiing most snow lovers hope for.
The three ski areas, Grimentz-Zinal, Vercorin and St Luc-Chandolin offer a variety of pistes to keep you skiing throughout a Christmas break. The villages are small and traditional with charming old-fashioned centres, perfect for an alpine Christmas.
This year's "Christmas Extravaganza" or Christmas market will take place on the 10th & 11th December in the main street of the village of Grimentz. Complete with stalls and gift ideas, events and concerts, the event plans to offer a festive atmosphere all weekend long.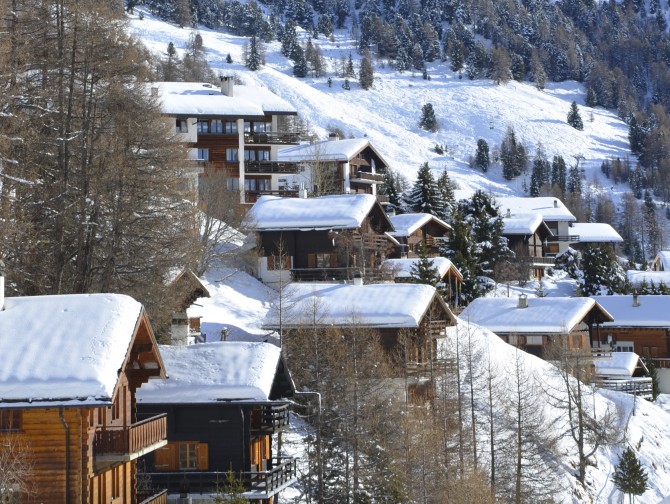 Christmas skiing & family festivities in Aletsch Arena
With its family-friendly focus, Aletsch Arena is just the place to spend Christmas. Traditional Valais chalets and hotels lend original charm to the villages. It's also a pretty safe bet for a white Christmas thanks to the high altitude of the resort. Each of the three ski areas, Riederalp, Bettmeralp, and Fiescheralp, are substantial on their own, but together they provide over 104 kilometers of prepared slopes.
And when you're not skiing on the immense pistes, there's plenty of Christmas activities to keep everyone entertained off the slopes. There's a beautiful natural ice rink in Bettmeralp and 72 km of well-prepared winter walking trails in the snow — a marvellous way to burn off your Christmas lunch.
The Aletsch Arena Christmas market is a little early to enjoy in the week leading to Christmas Day. But if you're looking to start the Christmas festivities as soon as possible, the traditional Gommer Christmas market in Fiesch will run from 18th — 20th November this year. Following the Gommer Christmas market, signs that Christmas is coming are everywhere, making for a truly festive feel throughout the holidays. The festive foods and Advent celebrations still make for a sparkling winter wonderland.

Christmas Winter Wonderlands
For the perfect family Christmas moment, romantic winter wonderland or festive celebration with friends there's plenty to choose from in The Valais region in Switzerland. Whichever destination you choose we hope it's a snowy one, with all the joy a white Christmas can bring.

Find out more about these Swiss' Christmas ski destinations.