Best Jobs in the Ski Industry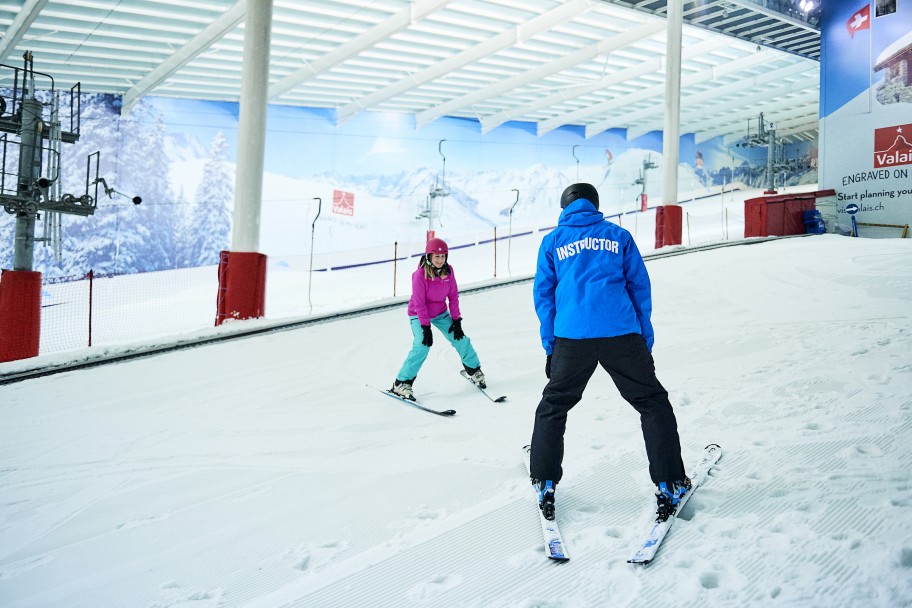 When considering a career in the ski industry, becoming an instructor is often the first role that comes to mind! While working as a ski instructor can be very rewarding, there are lots of other jobs within snowsports. Read on for some of the best jobs in the ski industry, and an introduction to planning a career in skiing and snowboarding.
Ski or Snowboard Shop Sales Person
Whether you work in a snowsports shop in resort, or in the UK, you'll benefit from knowing all there is to know about the latest ski and snowboard gear, and potentially enjoy staff discounts too. Plus, if you choose a shop in a ski resort, you can squeeze in some slope time on your day off, or if you're based at an indoor slope you could ski after work.
Overtime, you could work your way up to store manager or alternatively, with the appropriate qualifications, consider aiming for a behind the scenes position, such as a buyer.
Rentals or Ski and Snowboard Technician
A ski and snowboard technician is responsible for repairing and servicing skis and snowboards. A ski and snowboard technician can be based either in the UK, or abroad in a ski resort. In resorts, the work is seasonal and normally available from November to late April, meaning that those working overseas will often return to the UK for the off-season. However, if you work in a store or at an indoor ski centre or dry slope in the UK, ski and snowboard technicians generally hold their position all year round.
Dry slopes and indoor real snow centres also have rentals technicians who set up skis and snowboards for those renting equipment, and these positions are usually year round opportunities. With many facilities providing the chance to ski or snowboard outside working hours for free or at discounted rates.
Snow Groomer or Cat Driver
Snow groomers or cat drivers prepare and maintain the snow to make it safe and functional for skiers and snowboarders. They use grooming vehicles (piste bashers) to push and flatten snow on the slope, to make freshly groomed pistes. These jobs are not easy to come by, but there are opportunities to progress to a position like this. You can even learn on the job in UK real snow centres and abroad.
Snow Park Builder
Park builders are responsible for designing, building, and maintaining the takeoffs, landings, and manmade features of a terrain park, either in resort or in the UK.
Park features can include rails, halfpipes, boxes, jumps, rails, wall rides, tires, barrels, quarter pipes, and many other objects placed creatively to allow a skier or snowboarder to ride over them safely. Making these features fun and safe, can be hard work; with takeoffs needing to be hand groomed, gaps needing to be properly spaced, landings kept smoothed, and more.

Learning from experienced park builders and having an existing knowledge of skiing or snowboarding park features will benefit anyone looking for a ski industry job as a park builder.
Chalet Host
Chalet hosts are based in ski resorts, running an individual chalet for holiday makers to stay in. The job usually includes all housekeeping duties and ensuring guests are well cared for throughout their stay. Sometimes a chalet host will work alongside a chef who will be responsible for running the chalet kitchen, and in other scenarios, the chalet host will be responsible for cooking for the guests too.

Due to the nature of the role, chalet host positions are seasonal, with most returning to the UK at the end of each winter. Generally, the chalet host is an entry level job, provided that candidates have appropriate skills, but it can be a stepping stone toward resort representative and coordinator roles. The chalet host position might not fall into the best jobs in the ski industry category, but it can open doors for the future.
Chefs, Bar & Kitchen Staff
Working as a chalet chef, behind a ski resort bar or in a hotel kitchen gives you the opportunity to work shift hours, allowing for plenty of free-time on the slopes. It's seasonal work, but there are opportunities for progression.

Chefs can gain experience at varied levels, from working in a small chalet to a large hotel and everything in-between — providing room to expand a passion for food and grow their skills. Bar tenders, waiters, waitresses and kitchen staff can also progress through the ranks from one season to the next.
Alternatively, indoor slopes often run restaurants, cafes and bars at their slopes, offering Snowsports enthusiasts work and ski time all year round.
Ski Lift Operative
Ski lift operators or attendants are responsible for ensuring that guests have the best possible lift loading and unloading experience, whether that be in resort or at an indoor centre. Indoor ski lift operatives may also work as a member of the slope patrol team, monitoring guest activity on the slope and maintaining a safe environment.
The ski lift operative role often includes assisting guests with using a chairlift, gondola, button lift, or T-bar, and greeting guests, answering questions, setting up and taking down fencing around the lift, maintaining the snow conditions at the entrance and exit to the lift, and adjusting and monitoring the lift speed.
With ski lift operatives at indoor snow centres often working as members of the slope patrol team too — the role is similar to that of a pool side life guard, in that slope patrol team members are the first point of contact should there be any incidents on the slope.
Snowsports Journalist, Events Specialist or Marketing Person
Experts in ski journalism, social media, marketing, events and business can find work in the ski industry. There's always Snowsports events to be organised, trade shows and other events to be attended and Snowsports, products, holidays and experiences to market and promote via various on and offline medias.
These tend to be roles that require appropriate skills, experience and qualifications, but Snowsports journalist, marketing and events positions provide plenty of room for progression.
Snowsports Holiday or Experience Sales Person
If you have a gift for customer service and sales, and you've got a keen interest in all things snow — selling ski or snowboard holidays or experiences could be the right role for you. Positions like this are available with holiday companies, UK ski and snowboard centres and in resorts, with varied levels of expertise required. There's also room to progress from a sales person, to a team leader and overtime, even a sales manager position.
Although you're not working on the hill, in a snowsports sales type role, you're likely to benefit from free or discounted ski holidays or slope time.

Nannies or Snow Hosts
You don't need previous ski or snowboard experience to become a ski resort nanny. You simply need an interest in looking after children and the appropriate childcare qualifications. Usually a seasonal role, ski resort nanny positions allow you to gain slope time on your days off without having previous snowsports experience or knowledge. However, nannies tend to work while resort guests are skiing, and therefore see minimal slope time for themselves during a winter ski season.

Alternatively, snow hosts at The Snow Centre can be found working with children during sledging parties and sessions, and in snow gardens. A great opportunity to look after children and their introduction to the snow, while gaining plenty of skiing and snowboarding time around working hours.
Resort Reps, Managers, Administrators & Co-ordinators
Ski resort reps are the public face of the company within the resort. There is quite a lot of pressure to work hard, and are usually positions filled by experienced season workers. As a resort rep you may find yourself organising guests, solving any issues and making sure everyone is happy during their stay.
As a resort manager, you're likely to manage the staff of multiple chalets or hotels and make sure any issues or problems are resolved. Administrators and co-ordinators tend to work behind the scenes on anything that needs organising or administrating. All roles are usually based within a ski resort and allow for plenty of mountain ski time, but you do tend to need appropriate qualifications or experience.
Snowsports Photographer
Ski and snowboard photographers are usually freelance, and have relevant qualifications and experience. Using a portfolio of previous work and contacts they gain work through reaching out to holiday companies, agencies, resorts, snowsports brands, indoor centres, dry slopes and athletes, but steady work is hard to come by.
That said, as a snowsports photographer or videographer you're more a less guaranteed plenty of time on the snow.
Resort Driver or Handyman
We've grouped resort driver and handyman together as often these roles are covered by one person within ski resorts. As a resort driver you're likely to work for a ski holiday company or chalet, driving guests and staff around the resort. You'll need a relevant professional driving licence to do this job.
As a handyman you might find yourself completing daily hot tub maintenance and snow clearing, resolving minor maintenance issues in the chalets or hotels, maintaining and cleaning the company vehicles and stock taking. You're likely to need some DIY skills and perhaps some professional qualifications depending on the role requirements, but when there's nothing to be fixed, you're also likely to enjoy more free-time than your colleagues. A great ski industry job, for anyone hoping to maximise their slope time.
Snowsports Designers
Design roles in Snowsports can vary from product design to graphic design, but for most design roles you need relevant qualifications and probably experience too. In a design role you're likely to be based in the UK working in an industry you love, but you may not see a lot of ski time. However, competitive design roles do provide progression and you're likely to work with like minded snow enthusiasts.
Ski or Snowboard Instructor or Freestyle Coach
If you've still got your heart set on becoming a ski or snowboard instructor, why not set high expectations for yourself? There are various qualification levels within ski and snowboard instruction, and becoming a top instructor requires time, skill and experience.
After qualifying as an instructor, you can train to become a freestyle coach and teach tricks on jumps rails and boxes, progress to ski race coaching, or become something as unique as a heli-ski or board guide. With the right qualifications instructor careers can take you all over the world or allow you to teach at your local dry slope or indoor centre. We can't deny, a role as a ski or snowboard instructor is an exciting one and will always make the 'best jobs in the ski industry' list.
For information on the jobs available at The Snow Centre Hemel Hempstead click here.