Best Methods of Getting to the Alps - Switzerland
9 October 2017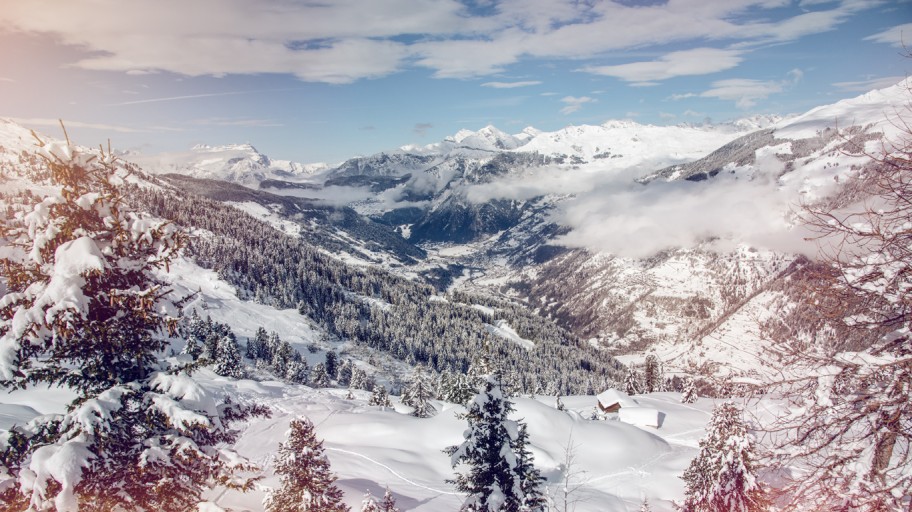 Train vs plane, car or coach, these days there's a choice of ways to get to the Alps—and there are many reasons why skiers and snowboarders prefer one mode of transport to another.
Working out what works for you, is reliant on cost, the resort's access, travel time, luggage allowance, comfort, and the convenience of stations and airports. Therefore, when it comes to travelling to the Alps, regions with a choice of easy access are always a good pick—somewhere like Valais, Switzerland.
Your Journey to Valais, Switzerland Sorted!
Whether you arrive by public transport, car or plane, the Valais offers outstanding transport connections in all directions, and since the opening of the Lötschberg Base Tunnel, it is even quicker to reach than before.
The region also offers diverse landscape and culture, making your journey to resort an opportunity to take in breath-taking views and new sites.
And once you arrive, the Valais region boasts a choice of resorts for all levels of ski and snowboard ability, accompanied by chocolate box towns and picturesque mountains galore.
Getting to the Swiss Alps by car…
From the UK, you could venture to Valais Switzerland travelling in your own car on a door-to-door 12-hour plus long trip. One that makes use of the tunnel at Dover and a direct drive through France, but there are quicker methods of getting to the slopes. Unless you particularly enjoy a road trip, it's far easier to take an approximately 1 hour 45 minute flight to Zurich, Bern, Geneva or Basel and hire a car at the airport.
After reaching Switzerland by air, you can still hit the road to see all the Alpine highlights of travelling into the Valais region—feeling considerably fresher than if you had sat in the car for the entire journey. With most Valais ski resorts being accessible by car in just 2-3 hours from Geneva airport, or 3-4 hours from Zurich, Bern or Basel, flying and then driving is a quicker and somewhat more comfortable experience.
If you're heading into Valais by car across Switzerland, the main thoroughfare is Highway A9, which runs to Sierre. Valais can generally be reached from the north by way of Bern through Lötschberg (car shuttle train), from the east via Furka Pass and from the south via Simplon Pass. The Furka and Simplon passes offer the possibility to take the car shuttle train all year round. From Western Switzerland by way of Lausanne, along the Rhône Valley into the heart of Valais.
Flying to the Swiss Alps…
With SWISS International Air Lines, skiers and snowboarders can fly to the Alps for as little as £74 one way, including free ski transport and a flight duration of around just 1 hour 45 minutes. Flights are available from London Heathrow, London City, London Gatwick, Birmingham and Manchester to Zurich and Geneva—making travelling to Valais resorts such as, Verbier, Thyon, Nendaz, Zermatt, Saas Fee, Aletsch Arena and Val d'Anniviers simple.
What's more, when you arrive in the Geneva and Zurich airports there's a choice of transportation for your onward journey, from hire cars to public transport. So really, your ease of resort access, low cost journey, short travel time, luggage allowance and comfort are all covered when you choose to fly to Valais.
Visit Valais by train or bus…
It is possible to travel from the UK to Valais by train; you can literally leave London at lunchtime and be in Switzerland the same evening! Eurostar links London with Paris in 2 hours 20 minutes from just £44. Then you can catch your next 3–4-hour train from Paris to Geneva, Bern, Basel or Zurich from just £21. From there you can catch a direct train to most Valais resorts every 30 minutes.
However, carting ski bags on multiple trains all the way from the UK takes effort! A better option, would be to catch a train to resort after arriving in Switzerland by air. The trains in Switzerland are generally pretty reliable, and the lines are easy to navigate, so plenty of snow lovers prefer this method over hiring a car.
For short stays, skiing holidays or vacations in one specific location, the Swiss Transfer Ticket is the best and least expensive public transport option. It takes guests from the airport or border railway station directly to the vacation destination and back again, by train or bus. delivering you to the Alps promptly, so you can start enjoying your time on the slopes sooner.
PARTNER STORY (AD)