Best Late Season Skiing in Switzerland
8 March 2017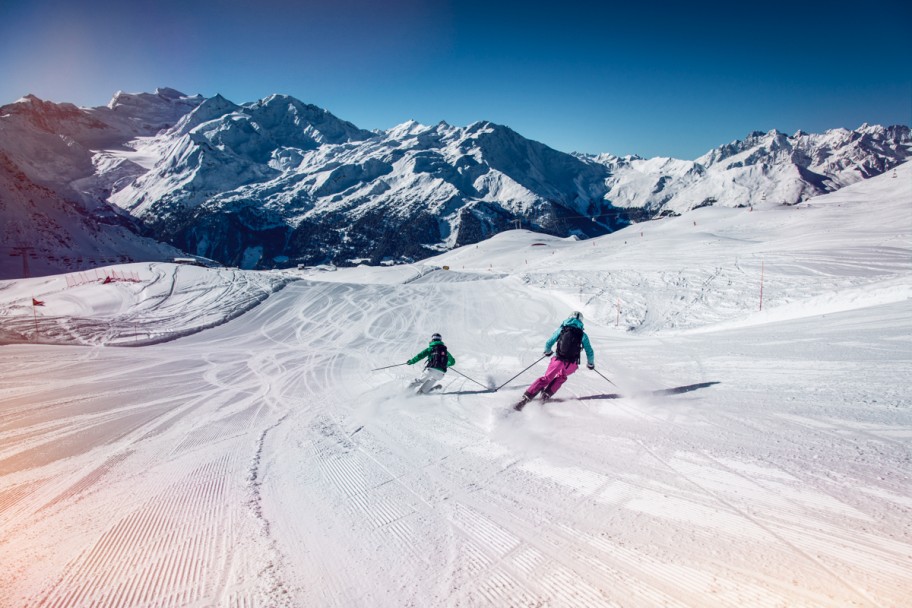 When winter comes to a close and the spring sunshine creeps in, our days of cruising the mountain don't have to end; there are plenty of destinations offering blue-bird late season skiing...
Saas-Fee Switzerland is one resort that definitely makes the 'Best Late Skiing' list. If not only for it's snow, but also for its great atmosphere. A ski area providing full-on fun across 150 kilometres of slopes, Saas-Fee guarantees snow between 1,500 and 3,600 metres above sea level. Plus, the resort has a glacier with 20 kilometres of pistes, making Saas-Fee late season skiing hard to beat.
Saas-Fee is also a top pick for pros and young beginners looking to acquire or hone their skills, without having to worry about snow cover.
Our second resort, boasting great late season skiing and spring snow events is Anniviers. Besides hosting the First Track Freeride, Freeride World Qualifer in March at St-Luc/Chandolin, and running a 4 day skiing offer with 5 night's accommodation in Val d'Anniviers and free chocolate, Anniviers hosts a snow load of Easter activities in the spring.
From late season skiing, to Easter egg races, processions and visits from the Easter bunny, Anniviers is a popular destination for families throughout March and April.
On the other hand, if guaranteed spring snow and crystal-clear mountain air, crunchy snow, and a clear view of the most beautiful 4000 metre peaks of Valais sounds more your thing — then the Aletsch Arena could be the late season skiing destination for you. There you can enjoy winter sports in Valais' spring sunshine on the sunny plateau of the Aletsch Arena, which includes the villages of Riederalp, Bettmeralp and Fiesch-Eggishorn.
In the Aletsch Arena, there is something for everyone who loves late season skiing. What's more, there are suitable accommodations for every budget, from four-star hotels to simple vacation apartments. And during March and April, you'll usually find there are some great offers up for grabs, like this year's 30% off accommodation and ski pass online booking deal.
In fact, the Valais region in general has a great choice of resorts for late season skiing, inclusive of Saas-Fee, Anniviers and the Aletsch Arena. Home to the highest-altitude ski resorts in Switzerland, with over 2,000 kilometres of pistes that extend to more than 3,000 metres above sea level, the region comes with a unique guarantee of spring snow cover.
Even in summer, skiers and snowboarders will find 20 kilometres of immaculate glacier pistes in the Valais region. The ski resorts on the Allalin in Saas Fee and on the Matterhorn Glacier Paradise in Zermatt are open all year round. And although the skiing is not about to end in spring, the late season après-ski and spring ski parties in Valais are some of the best.
Offering outdoor music on the spring snow, late season ski celebrations in Valais include Rock the Pistes in les Portes du Soleils, Zermatt Unplugged, Caprices Festival and Verbier Impulse Festival.
There's many reasons for putting the Valais on our 'Best Late Skiing Destinations' list, but why take our word for it, find out more about Valais for yourself!
If you're planning a late season ski trip to the Alps, you can make the most of Swiss International Air Lines latest offer and Fly direct with SWISS for as little as £118 return including free ski carriage. Find out more here.