Beginner Friendly Ski Resorts - Switzerland
12 January 2017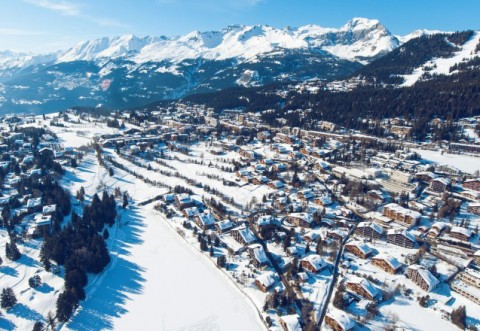 Skiing is for everyone. Whether you're an adult or junior, pro or beginner, there's always something new to learn, or more fun to be had on the snow — but with so many exciting mountain destinations to choose from, finding the right ski resort can be confusing, particularly when you're planning your first ski trip.
On top of that, learning to ski or snowboard can be both challenging and thrilling, but with a little 'know how' your first ski trip can be your most memorable holiday yet. For guidance on beginner friendly ski resorts in Switzerland, read on.
8 Beginner Friendly Ski Resorts in Valais, Switzerland
Switzerland offers the 'chocolate box' mountain scenery that completes any Alpine holiday. It's also relatively easy to travel to, making it a popular destination for all skiing abilities.
For beginner skiers, Swiss resorts provide plenty of pistes for learning on — and there's often a choice of other Alpine leisure activities to try too. There are also a 'snow load' of children's snow playgrounds in Switzerland's Valais region, many of which are dedicated to youngsters first steps in Snowsports.
These are just a few of the many reasons beginner skiers and snowboarders visit Valais, Switzerland, but there are bundles more. Here's 8 beginner friendly resorts that could offer you the trip of a life time.
The Aletsch Arena is not only a car free, beginner friendly ski resort, its great for couples, friends and families too. The ski destination on the sunny plateau is made up of three villages, Riederalp, Bettmeralp and Fiescheralp, each offering their own ski school and various Alpine activities and restaurants.

For beginners there are over 40 km of easy slopes, and the ski-in ski-out villages are linked by 104 km of slopes, so advanced beginners can ski from Riederalp to Bettmeralp and Fiescheralp and back.
Although the resort offers lessons for both skiers and snowboarders of all ages, the Aletsch Arena is particular admired for its junior ski school. The beginner friendly resort has created a little snowy paradise for their young learners, complete with children's ski clubs, on-snow play figures, kid's easy to use lifts and snow games.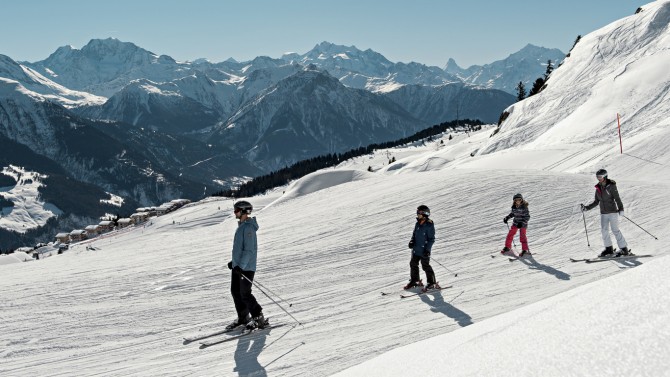 The fifth highest skiing resort in Switzerland at 3112 m, Belalp offers more than 87 km of skiing fun, and 20 km of the slopes are great for beginners. The Belalp Ski School provides instruction in both skiing and snowboarding, and the resort also features spectacular views of the Great Aletsch Glacier, which is part of the UNESCO World Natural Heritage Site.
The extraordinary beauty of Belalp amazes visitors; making it a great romantic getaway for you and your partner, and an excellent pick for beginners too.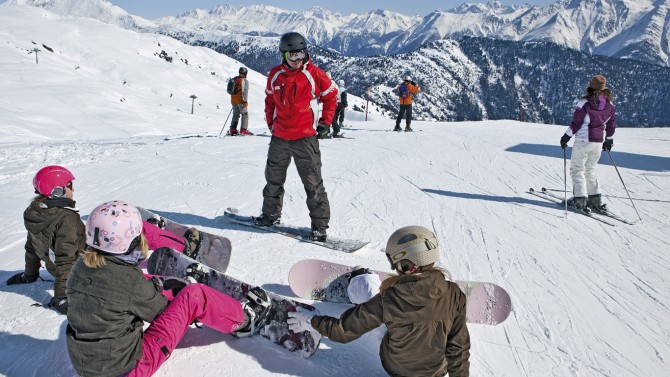 First time skiers and snowboarders will find plenty of beginner friendly slopes on the Hannigalp side of the Grächen resort. Hannigalp offers a magic carpet lift, the easiest type of lift for complete beginners. Plus there are fairly wide moderate runs that aren't to steep, and are fantastic for mastering on-snow skills.
On top of that, the slopes at the Haerdera t-bar lifts also provide a relatively easy slide, and are well separated from the other slopes. Although, these runs are more popular with beginner skiers, who tend to like using t-bar lifts more than snowboarders do.
The Grächen's trail map features a lot of slopes classified as red, which are intermediate runs. However, the blue (easy) runs available, are usually enough for most first time skiers and snowboarders; making it a great destination for a group of mixed ability.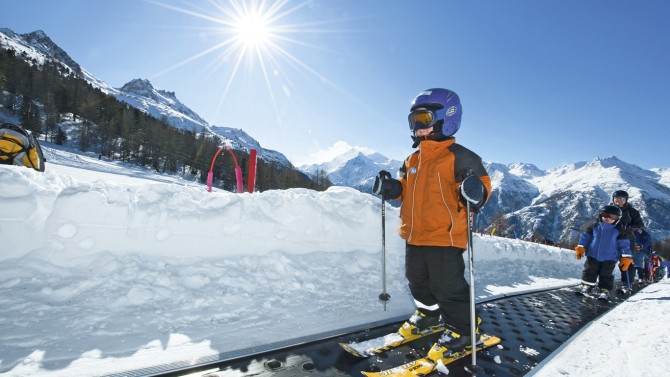 Crans-Montana's family friendly ski area includes plenty of gentle terrain for beginners to gain confidence on, with nearly 40 percent (55 km) of pistes classified blue (easy/moderate).
Beginners should be sure to visit Le Signal during their stay, a great learners ski area within the Crans-Montana resort. Its gentle slopes, wide terrain, uncrowded pistes and choice of nearby restaurants make it ideal for families with young children learning to ski — and convenient for beginner skiers and snowboarders of all ages.
There's also two beginner lifts and a conveyor belt in the idyllic surroundings of the resort's snowy golf course, Severiano Ballesteros. On top of that, the golf course provides a relaxation area where you can enjoy the view of the Alps, while sipping a hot drink.
The collection of easy runs down from Les Violettes, La Toula and the Petit Bonvin ski areas are well suited to beginners progressing their skills. With slightly steeper terrain, these slopes can provide beginners with a few more challenging pistes to try at the end of their holiday.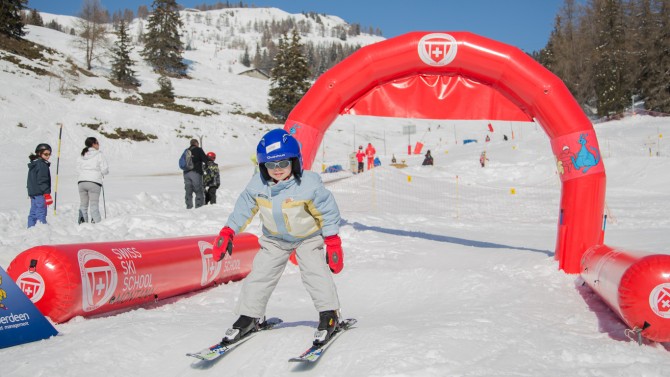 Thyon is the eastern gate to one of the largest connected ski areas in the Alps: "Les 4 Vallées". Thyon provides a relaxed, family holiday destination.
On the slopes, ski schools for all ages, and several easy tracks across Les 4 Vallées make it a great choice for beginners and children. There's even a zone limited at 30 km/h, a slow slope to ensure first time skiers and snowboarders can progress at their own pace.
The total ski area includes Thyon, Veysonnaz, Nendaz, La Tzoumaz and Verbier, but the Thyon region alone offers more than ten lifts — with cheaper, beginner friendly Lift Passes available for those not ready to explore all four valleys. Thyon has a choice of restaurants, shops, bars and other Alpine activities to try too. All in all, it's a great destination for beginners and mixed ability groups.
Verbier is the most world-renowned resort found in the vast Four Valleys ski area. It's the resort that offers south facing skiing with a sunny vista and warm temperatures, perfect for beginners and children alike. There are beginner zones with speed limitations — as well as a choice of ski schools for adults and juniors, skiers and snowboarders.
The beginners' slopes in Verbier are found in Les Esserts village, which is an ideal starting point for first time skiers and snowboarders. To make things easier, there is a 120 m magic carpet lift, prolific snowmaking and the area is well away from the main ski slopes. There's also a special ski area and kindergarten "Les Schtroumpfs" for children at Les Moulins. For advanced beginners, there are a variety of blue runs at 2'200 and 2'700, which guarantee fun skiing from December until the end of April. The rest of the slopes are more challenging.
For those groups of mixed abilities: new to skiing or snowboarding, intermediates, freeriders and experts, there is fun to be had on all the different slopes available in Verbier.
To get a proper view of the Alps, Verbier guests can take a cable car from the village to the summit of Mont Fort at 3330 m, to see magnificent views of the Matterhorn, Grand Combin and Mont Blanc; making it a picturesque destination for more advanced skiers, and any beginners heading to the top, just to take a look. Verbier is not only about skiing, it has a great variety of restaurants, bars and very lively nightlife, offering the complete Alpine experience.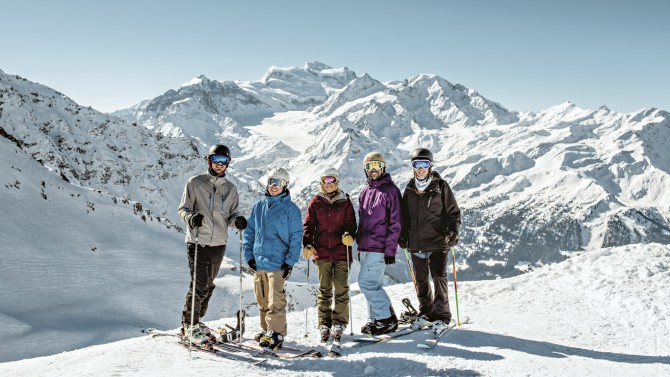 One, hands-free ski pass is all you'll need to explore the Portes du Soleil, the vast French-Swiss ski area nestled between Lake Geneva and the Dents du Midi. As a beginner, you're unlikely to make it all over the mountain to see everything, but this area still has plenty to offer first-time skiers and snowboarders.
Set in an idyllic alpine location, the Portes du Soleil features many leisure and cultural activities in 12 interconnected resort villages, plus a staggering 650 km of pistes and 385 km of marked winter trails. Additionally, each resort village has its own ski schools and dedicated learner facilities. From toboggan bumps and mini jumps to colorful kid-friendly runs and beginner lifts, the Portes du Soleil has your first steps on snow covered.
The area is also renowned for its traditional cuisine and fresh, local ingredients, so you can be sure to get a true taste of the Alps in the Portes du Soleil.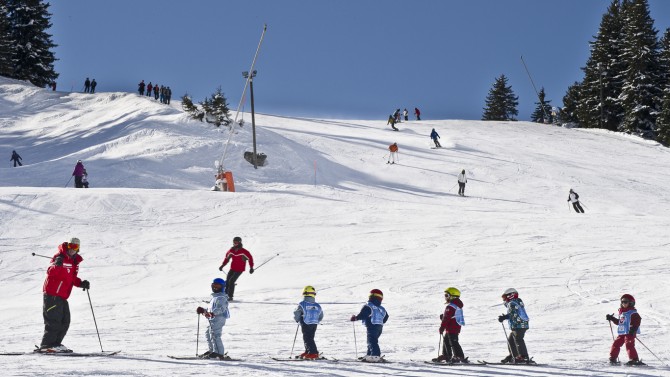 First time skiers and snowboarders shouldn't overlook smaller resorts. Less lively or smaller resorts can often provide a quiet haven to beginners. Small resorts with easy runs and less people often have quieter slopes; allowing beginners to progress without crowds of people watching or disturbing their flow.
Liddes-Vichères in the Gd-St-Bernard area, is the ideal small, family resort. With beginner slopes suited to children, plus a ski school with full facilities it has everything beginners need. Snowshoeing can provide a great alternative to skiing or snowboarding, should you want a break from the slopes.
Other smaller resorts with plenty to offer beginners include La Fouly, Rosswald and Staldenried-Gspon. For first time skiers and snowboarders looking for a calm and gentle introduction to the slopes, any of these smaller resorts can offer just that.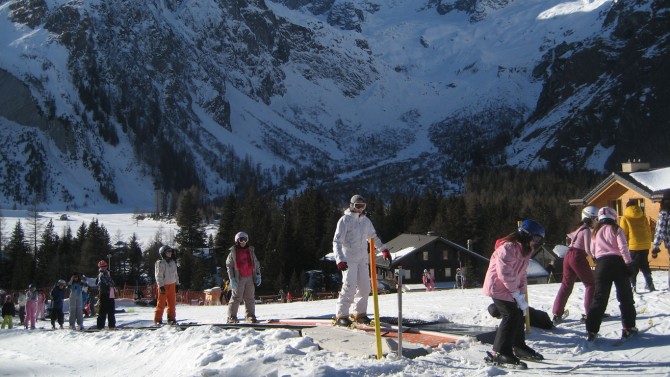 Whichever beginner friendly ski resort you're drawn toward, remember to choose wisely for your first ski trip. Consider your needs and find a destination to match. Embrace the learning journey and the Alpine experience.
Don't forget, no matter how skilled your friends, family or other people on the slopes might seem, everyone had to start somewhere.