Airbag Training Trip for Hemel Snowboarders
1 October 2016
Fancy travelling around 1000 miles for 1 day of snowboard training on an airbag? It sounds like a lot of effort to learn a few new tricks on an airbag that will break your fall when you take off a jump doesn't it!

It wasn't too far for our GB Park & Pipe snowboarders, in fact, it's exactly the kind of commitment that creates our future Olympic medallists. Amongst the GB Park & Pipe Team who travelled to Kaunertal, Austria for 1 training day, were The Snow Centre Hemel Hempstead's riders, Olympian Jamie Nicholls and 16 year old, Cerys Allen.
Why travel to Austria to train on an airbag?
Currently, the UK doesn't offer a permanent Snowsports airbag, otherwise known as a 'Reduce Risk Training Facility' on a large enough scale to train tricks to keep up with the competitive level of international snowboarding. If you have no idea what we're talking about, we're referring to Slopestyle and Big Air snowboard competitions, where snowboarders take off large jumps and perform tricks in the air before landing back on the snow. Airbag training, replaces landing on the snow with landing on a giant airbag. Landing on the airbag significantly reduces the risk when attempting new tricks and provides the athletes with the opportunity to test the trick to see if they're ready to put it into practice on an 'all' snow landing.
With more space, vast real mountains and outdoor ski resorts on their doorsteps, other countries have already invested in substantial permanent airbag facilities to offer their ski and snowboard athletes reduced risk training. Meanwhile, the best of the UK's best are travelling far and wide to keep progressing big snowboard tricks to the level required.

The good news for Team GB athletes is, GB Park & Pipe have secured funding to build a substantial 'Reduce Risk Training Facility' in the UK. This will consist of a dry-slope style ramp (jump) leading into a shaped airbag. With hopes that it will be ready in time for pre-season training for 2018's Winter Games, there are plans for it to open next Spring.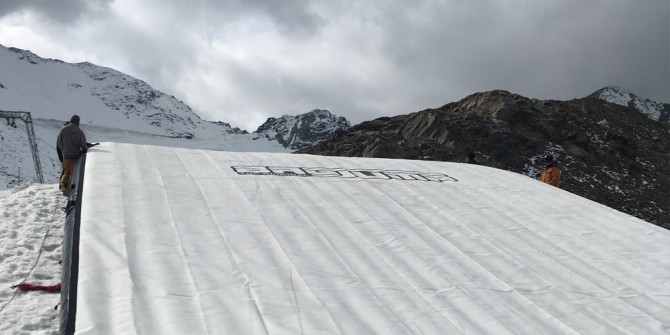 (Above - Kaunertal, Austria's airbag)
UK opportunities to practice snowboard jump tricks
If you're not looking to land Olympic worthy tricks, there are already dry-slope and real snow progression sized jumps with and without airbags in the UK. The Snow Centre's real snow parks offer jumps with snow landings for varied ability on their Thursday and Friday night freestyle nights and occasional airbag sessions too. Gloucester's dry slope is home to an airbag for trying new tricks and landing on a soft cushioned landing, and the UK trampoline parks complete with foam pits can be great snowboard alternatives for finding your feet in the air.

You don't need an airbag to learn a new trick, but it can help if there's something really big you're looking to try!
The tricks the pros are training on airbags
Team GB athlete, Jamie Nicholls is not unfamiliar with flying through the air upside down on his snowboard. Having trained many daring snowboard tricks on jumps at The Snow Centre and on the mountain with snow landings, he's also performed these same tricks on even bigger jumps during competition. Jamie shared the tricks it's worth travelling so far to progress.

"I was only working on front double 10s (spins) and switch (backwards) backside double take offs - as the jump and airbag were too small for practicing triples! With these 1 day trips it's a gamble, but you have to go incase it works out to be big enough to try something good on." Jamie Nicholls.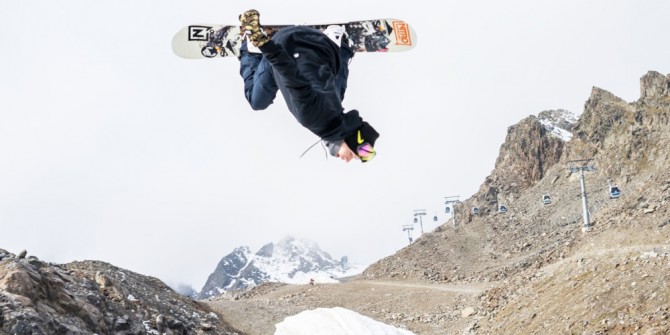 (Above - Jamie Nicholls on Kaunertal, Austria's airbag)
Also progressing some impressive moves on the 1 day venture to Austria was The Snow Centre's sponsored snowboarder, Cerys Allen. At only 16, Cerys is already training with the GB Park & Pipe Team and stepping up her game. She regularly trains technical rail tricks and big spins on the jumps at The Snow Centre, but headed to Austria in the hope of landing frontside underflip 540 spins. Focusing on getting the take off and landing right, we're pleased to say she landed them on the airbag time and time again and is now feeling ready to take this trick to an 'all' snow landing, look out for her at The Snow Centre in the coming weeks.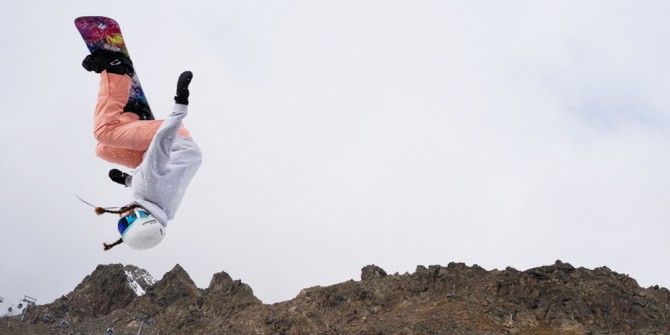 (Above - Cerys Allen on Kaunertal, Austria's airbag)

Find out more about Freestyle Coaching and learning snowboard tricks.