5 Reasons Snowboarders Holiday in Val d'Anniviers
Jenny Bletcher | 10 February 2017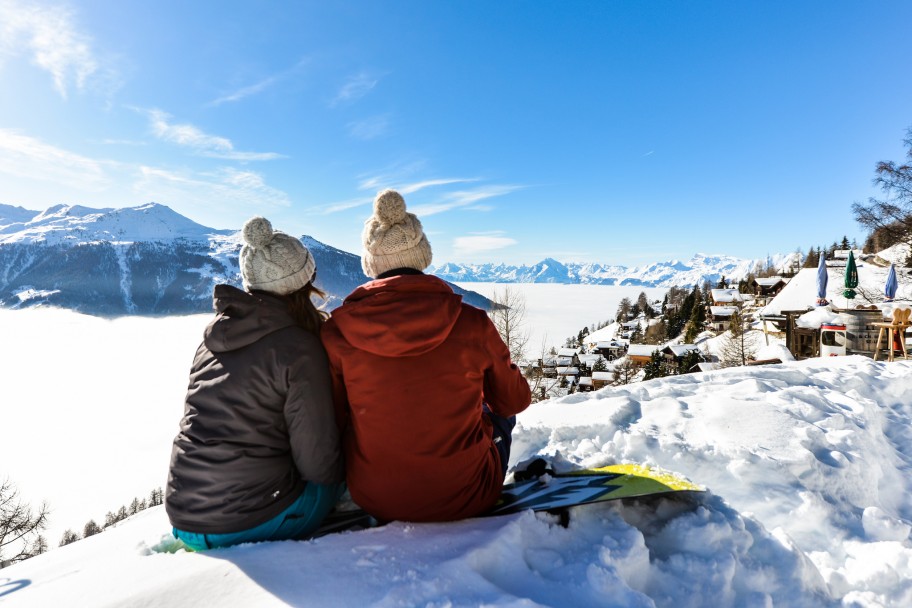 When choosing a snowboard holiday there are many things to consider. You might ponder over which resorts can offer the best snow conditions, where the widest pistes can be found, who to snowboard with, and what's key to a great snowboard holiday. We can't give you all the answers, but we can give you a little guidance on finding the right resort.
Once you know who you're travelling with and when, it becomes much easier to work out what your priorities are. Whatever factors you decide are essential to your trip, you'll quickly discover some resorts are more geared up for snowboarders than others. Val d'Anniviers in Valais, Switzerland is a dream destination for many snowboarders, and here's why!
The Vast Pistes

Any resort that offers access to wide open slopes across multiple valleys, is a win with most snowboarders. So, a ski area like Val d'Anniviers that allows you to connect to 210 km of pistes covering 3 resorts with just 1 lift pass, comes top of the 'must snowboard' list.

Generally, the more there is to snowboard, the more the area has to offer snowboarders of varied ability. In Val d'Anniviers, together the 3 resorts provide multiple nursery slopes and snowboard schools, a mix of easy to advanced runs, and the valleys are all connected by piste or lift, so you can visit more than one resort in a day.
Freestyle Parks & Freeride
After a few days on the mountain, it's not uncommon for practiced snowboarders to feel the urge to leave the ground or hit the powder — so a resort geared up for some extreme snowboarding is a plus. Val d'Anniviers', Grimentz-Zinal, Vercorin and St-Luc have their own freestyle parks with features for all abilities — and in terms of innovative features, the Major Park of Vercorin has a pretty fantastic park set-up. So whether you're a master of the park or just learning your first trick, there's a choice of parks to progress your skills in.
Alternatively, if powder is more your thing, Grimentz-Zinal has a freeride zone for experienced riders. The "Gardes de Bordon" freeride area has at least 100 hectares of non-signposted pistes, made up of steep slopes coated in powder — great fun for the most extreme snowboarders. What's more, in March you'll find the top freeriders here, competing in the First Track Event in St-Luc/Chandolin to qualify for the famous Freeride World Tour.
If you're not yet equipped with the knowledge and equipment needed to tackle extreme powder zones, the Mammut Avalanche Training Centre in Zinal provides avalanche training. Using simulations the centre teaches the skills every extreme powder rider needs, from avalanche safety to how to use the equipment. Val d'Anniviers is a great choice for any snowboarder looking to test their limits.
The Social Side of a Snowboard Holiday
A snowboard holiday wouldn't be complete without tasty Alpine food, a few drinks and good company — fortunately, when it comes to eating-out and Apres, Val d'Anniviers has it all. The area offers an array of choice, so if you bring the right friends or family, you'll be sure to enjoy the Alpine experience in Val d'Anniviers.
Alternatively, if you're interested in the flavoursome taste of quality Swiss wine, the Château de Villa Sierre hosts wine and raclette events at the Tignousa restaurant on the slopes of St-Luc/Chandolin. Sierre is widely considered the Capital of Swiss wines, making the chance to taste a glass or two with your meal, an opportunity not to be missed.
The Breath-Taking Landscapes
Nature and breath-taking landscapes make a snowboard holiday that much more invigorating, which is another reason why Val d'Anniviers proves a great choice for snowboarders. The resort of Grimentz-Zinal at the end of the Val d'Anniviers ski area is surrounded by the highest mountains in the Alps, and provides the perfect setting for any nature lover's holiday. From St-Luc/Chandolin the view is remarkable, the locals call it: the Imperial Crown, because it has 5 peaks higher than 4000 meters.
Whether you're a first time snowboarder or looking to conquer the mountains, the unspoilt slopes in Grimentz-Zinal combined with magnificent Alpine views, make for a great snowboard setting.
The Quieter Slopes
Finding a quiet slope on a busy mountain is gold dust, but in a vast ski area like Swizerland's Val d'Anniviers, snowboarders will be sure to uncover some of Europe's best hidden slopes.
When you look around and see the slope belongs only to you and your group, you know you're on a great snowboard holiday, and the quieter resorts in Val d'Anniviers can offer many moments like this one.
Compared to its Valais neighbours, Zermatt and Verbier, Val d'Anniviers is a secret powder haven, with quiet valleys, high mountains and an extended ski area, perfect for any snowboard holiday.
For more advice, hints & tips and news that could help make your next snowboard holiday one to remember, read our latest snowboard stories.