5 Ski Touring Mountain Huts, Cabins & Lodges – Switzerland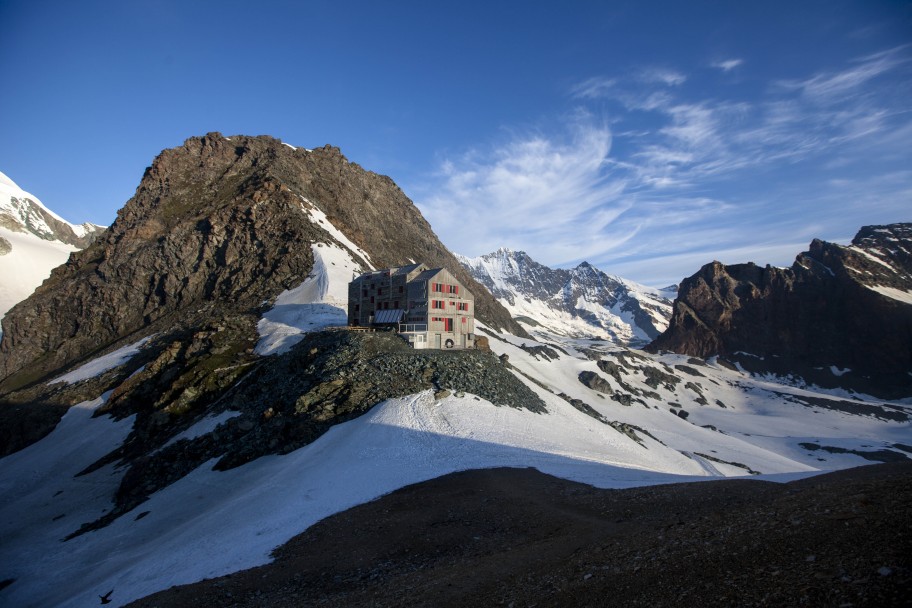 If you're an advanced skier, looking to discover an off-piste adventure outside the comforts of a ski resort, why not try your hand at ski touring from hut-to-hut? The marvels of ski touring across open country, and skiing up and down hills to a seemingly unexplored landscape, are only improved by the experience of spending the night in a hidden lodge mid ski tour.
From small mountain huts to large ultra-modern lodges, and from altitudes of 1,475 to 3507m, Valais, Switzerland offers you a tremendous variety of hut style accommodation options and mountain-top hideaways. Here are 5 breath-taking huts to stop off at on your ski touring trip – all offering you an unforgettable stay in the Valais Alps.
If you're looking for a destination that's off the beaten track and surrounded by natural Alpine beauty, with all the living comforts of modern day life, then this extraordinary ski touring lodge is for you.

The concept of the Anenhütte Lodge, in the Lötschental valley, was developed by the engineer Peter Tscherrig. His philosophy is to respect the environment while taking account of modern expectations and needs. Located at an altitude of 2,358m, the Anenhütte is set in a wildly romantic landscape in the middle of the UNESCO-World Heritage site and is self-sufficient when it comes to providing guests with drinking water, hot showers and electricity, along with a comfy bed in simplistic modern rooms.
Surrounded by high summits and wild glaciers, the Anenhütte cabin is the perfect out-of-the-way location for hiking, climbing and off-piste ski touring.
Find out more about Ski Tours, Snowshoeing and hiking to Anenhütte, Lötschental.
The Monte Rosa hut at 2,883m at the foot of the Monte Rosa massif is a popular destination for hikers, but it's also a well-liked stop-over for a number of ski tours and guided mountaineer ascents, due to its nearby spectacular ski descents.
The Monte Rosa cabin itself, has a strange shape and aluminium cladding, and is certainly one of the most original in the Valais Alps. Thanks to its south-facing facade covered with photovoltaic panels and other features installed by the federal technology institute ETH Zurich, the venue covers more than 90% of its energy requirements. However, its 120 beds are available from mid-March to mid-May, to provide a comfy night's sleep to adventurers on guided ski tours, and those taking part in nearby Heli-ski excursions.

Find out more about Ski Tours, Snowshoeing and hiking to Monte Rosa.
Built in 1912 between the Chessjen and Hohlaub glaciers, the Britannia Hut is a monument to British-Swiss friendship. To thank the Swiss for welcoming them in their mountains, the Association of British Members of the Swiss Alpine Club had the hut built with the requirement that a washroom with running water be installed – a modern innovation for the period.
Today guests can stay in the hut located at 3300 metres during ski tour and hiking visits.
Find out more about Ski Tours and hiking around the Britannia Hut.
Located at the foot of the towering Finsteraarhorn, in the middle of the Bernese Alps, which culminates at an altitude of 4,274m, the Finsteraarhorn cabin offers modern comforts, in a remarkable natural setting. During the summer, the venue is supplied with running water and offers guests a large, sunny terrace. In the winter, the venue provides a haven to those on ski tours.
More information on taking a ski tour to Finsteraarhornhütte – Aletsch Arena.
Patricia and her husband Raymond, a mountain guide, have been guardians of the Cabane d'Orny for 30 years. Here they offer guests an exceptionally warm welcome at an altitude of 2,831m in an idyllic landscape.
The Hut of Orny is located in an idyllic landscape, 2,831 meters above sea level, between two little lakes and facing the glacier. Open all year round, the hut is the ideal overnight rest-stop for winter ski tour groups.
Find more inspiration for your ski touring trip, and further mountain hut, cabin and lodge options here.