11 Hours of Skiing or Snowboarding for Dementia UK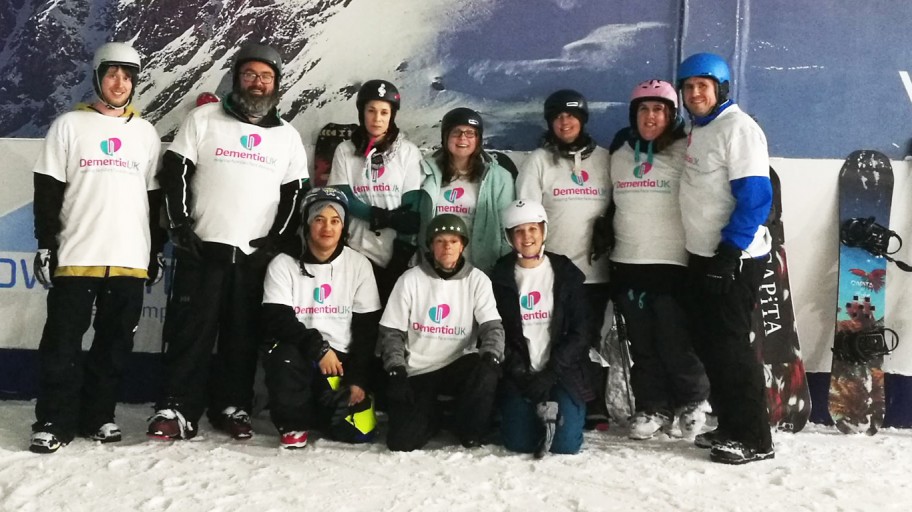 This week, a team of passionate and giving skiers and snowboarders took to the slopes of The Snow Centre Hemel Hempstead to raise money for Dementia UK. Through lapping the centre's real snow 160 metre Main Slope for 11 hours the group raised £730.77 in sponsorship for a charity close to their hearts.
With the support of The Snow Centre's Managing Director, Ian Brown; Steven Whorlow, Diane Horne, Dave Bage, Claire Finnimore, Deborah Jefferys, Nat Sims, Sarah Usherwood, Zoe Newnham, James Cox and Rudy Monthy were able to use their on-snow skills to take on the 'marathon' style ski and snowboard challenge and complete 11 Hours sliding on the snow.
A great achievement, but it's not the first time they've hit the slopes for a good cause. Only last year, Steven Wholow organised a group to ski or snowboard in aid of Macmillan Cancer.
Steven said, 'Last year we raised money for Macmillan Cancer, as many of us have been affected by it, and this year we chose to support Dementia UK, because my Nan and Grandad have suffered with Dementia. We've decided to take on the challenge next year to raise funds for the NSPCC. It wouldn't be possible without all the people who donate and The Snow Centre's Ian Brown and Pete Gillespie for allowing us to hold these events.
For anyone looking to donate to this great cause visit the team's Just Giving page.