Tim Downs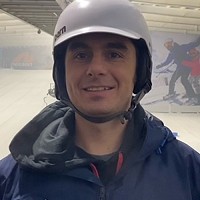 What skill do you teach? Snowboarding
What qualification do you have? IASI level 2
What was your first Snowsports experience and where? I first learned to ski at The Snow Centre, then tried snowboarding straight after and never looked back!
What's the best thing about being an instructor at The Snow Centre? Our annual chainsaw ice-sculpting competition. Kidding! The best thing is sharing the love of snowboarding, and seeing the buzz in people's faces when things start to make sense and work for them.
One single tip you would give to anyone taking part in Snowsports… Understand that everyone learns at different speeds, be patient and you will get there!
Funniest Snowsports memory? Probably when I messed up a kicker (jump) and landed in a superman position down the landing ramp. My zipper caught on the ice and my trousers proceeded to fill up with snow as I slid down. I couldn't do that one again if I tried!