Simon James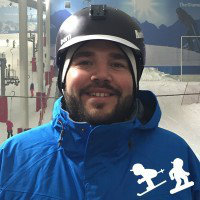 What skill do you teach? Skiing and Snowboarding
What qualification do you have? IASI Alpine Level 1 and IASI Snowboard Level 1
What was your first Snowsports experience and where? Here at The Snow Centre when it was a dry slope - Hemel Ski Centre,
What's the best thing about being an instructor at The Snow Centre? Sharing my passion for snowsports.
One single tip you would give to anyone taking part in Snowsports… Never give up!
Funniest Snowsports memory? Following a single track which looked like a pathway to heaven but lead to the biggest cliff drop you can imagine, followed by a 45 minute hike back up the hill in waist deep powder.