Sean O'connor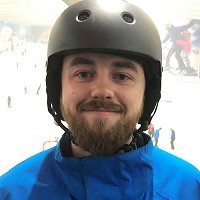 What skill do you teach? Snowboarding
What qualification do you have? CASI Snowboard Level 1
What was your first Snowsports experience and where? A week's trip to Les Arcs whilst in college
What's the best thing about being an instructor at The Snow Centre? It honestly doesn't feel like a job, I feel like I'm getting paid to have fun. I love seeing people's progression when they come back and passing this passion onto them and also my own personal progression with teaching and riding from working here.
One single tip you would give to anyone taking part in Snowsports… Practice, practice, practice, and when you think you've done enough, practice some more. Everyone is always learning in this sport and you can take yourself as far as you want with it if you're willing to keep pushing yourself.
Funniest Snowsports memory? Funniest, and also slightly painful memory would be riding in Montreal and me and some friends wound up at a double black diamond run through some trees with no other option of getting down, had never been so happy to take my board off and get a beer after that!