Ross Griffiths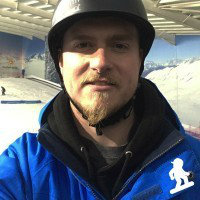 What skill do you teach? Snowboard and flatland Freestyle
What qualification do you have? BASI Level 2 and UKCP Coaching Level 1
When was your first Snowsports experience and where? I learned to snowboard when Hemel was a dry slope
What's the best thing about being an instructor at The Snow Centre? We have a lot of clients so I get to develop good relationships with people that come often, as well as meeting and inspiring new people.
One single tip you would give to anyone taking part in snowsports... Learning and improving is good for you, as it makes it easier and safer for you to have fun... but mostly have fun.
Best Snowsports memory? Charging down black runs on the last day of my Level 2. Probably one of the most physically and mentally demanding challenges I've had, but that day I forgot all about it and just rode my board, and have never had so much fun.