Michael Easton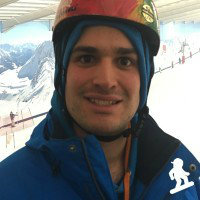 What skills do you teach? Snowboarding and Freestyle
What qualification do you have? BASI Level 1 and IASI Level 1 Freestyle coach
What languages can you teach in? English and British Sign Language (BSL
When was your first Snowsports experience and where? I first learnt to snowboard at an indoor centre before I went on holiday with my family in Pila (Italy) in Feb 2004!
What's the best thing about being an instructor at The Snow Centre? I enjoy teaching people to learn how to ride and enjoy themselves! I am a deaf and I can communicate both oral and BSL.
One single tip you would give to anyone taking part in Snowsports… Keep riding and have fun!
Funniest Snowsports memory? I went on a trip to the mountains with a group of snowboarders. We all went off piste, thick soft snow, and everyone fell down (as well as the instructor)!