Santi Izaguirre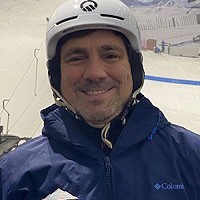 What skill do you teach? Alpine
What qualification do you have? SSE 1, IASI Level 2, IASI Level 1 Telemark, IASI Level 1 Race Coach and IEF (Argentinean Ski Instructor State Qualification)
What languages can you teach in? English and Spanish
What was your first Snowsports experience and where? A winter holiday with my family at Bariloche Argentina. Back then I was 12 years old and I never stopped skiing since then. I later become an instructor at the age of 26 at Las Leñas ski resort, Argentina.
What's the best thing about being an instructor at The Snow Centre? Super friendly atmosphere and good camaraderie in and out of the slope, it is also great that the snow is not affected by external weather conditions😀
One single tip you would give to anyone taking part in Snowsports… learning is a never ending process, have fun, don't be afraid to take a stumble and never ever give up! Just enjoy the ride!
Funniest Snowsports memory? While giving an adult group lesson to a group of total beginners in the mountain. Although none of the students knew each other, they all had such a great sense of humour that were not afraid to pick on each other on their mistakes and stumbles. They made the whole week of lessons an incredible fun experience impossible to forget.