Nathan Steele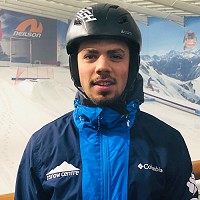 What skill do you teach? I teach all levels on skis here at the snow centre, 1 through to 6 and including skills development. Each level has its own rewards from an instructor perspective.
What qualification do you have? I am a level 2 BASI qualified ski instructor and am working towards completing my level 3 qualification.
What languages can you teach in? English & French
What was your first Snowsports experience and where? I started skiing as a young boy at 4 years old. This was in family holidays and then as I got older I tried to ski as much as possible. I have now been instructing for 3 years.
What's the best thing about being an instructor at The Snow Centre? For sure one of the best things about working at the snow centre is that it is possibly more accessible than a trip to ski in the alps would be. This allows Snowsports fun to be had for everyone. And I enjoy being part of delivering that experience for our customers.
One single tip you would give to anyone taking part in Snowsports… The most important thing in my opinion when learning either how to ski or snowboard is, to do it with a smile, as first and foremost it should be fun.