Keith Maidlow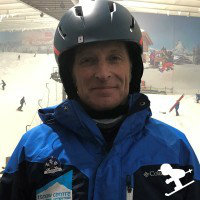 What skill do you teach? Alpine Skiing
What qualification do you have? BASI Alpine Level 1
What was your first Snowsports experience and where? Skiing in Andorra - where my journey began!
What's the best thing about being an instructor at The Snow Centre? Working with a great team of enthusiastic instructors and staff. Meeting new skiers and watching my pupils develop their knowledge and skills whilst becoming great skiers
One single tip you would give to anyone taking part in Snowsport... Enjoy every amazing moment and remember - it's FUN!
Best/Funniest Snowsports memory?
Best - Christmas family holidays in the mountains is as good as it gets.
Funniest - When I lead groups in the alps I always issue a t- shirt for the funniest and most memorable moment at dinner on the last day. I have issued far too many to recount them all, cost a small fortune in t shirts!