Simon Ellis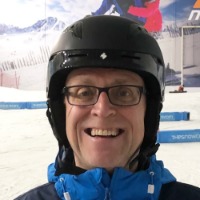 What skill do you teach? Skiing
What qualification(s) do you have? IASI Level 1
When was your first Snowsports experience and where? I had my first ski lesson at Hillingdon dry ski slope many moons ago, loved it and got hooked straight away
What's the best thing about being an instructor at The Snow Centre? The ski centre is the next best place to being in the mountains, with a really great team who love snowsports and want to share their enthusiasm.
One single tip you would give to anyone taking part in Snowsports… You will never regret the time you spend on snow, go as often as you can.
Best Snowsports memory... So many to choose from, but possibly skiing from the top of Whistler mountain to the bottom in one go with a local guide at a zillion miles an hour!