Peter Norman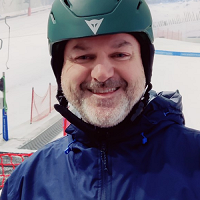 What skill do you teach? Alpine Skiing
What qualification do you have? BASI Level 1 & IASI Level 1 / Level 2 Teach
What was your first Snowsports experience and where? My first time on Snow was in Austria (Zee am See) and there was a very heavy snow fall. It was a magical experience that I will never forget.
What's the best thing about being an instructor at The Snow Centre? Meeting so many different people and sharing my passion for skiing. I am very much a people person. I really enjoy delivering the best lesson to build confidence in our clients.
One single tip you would give to anyone taking part in Snowsports… Be patient and finish your turns. Try not to take your skiing to seriously and don't forget to have fun on your ski journey
Funniest Snowsports memory? Skiing in Austria for the whole week dress as Brian May from Queen ,only to be asked in the bar by one of the locals "did you see that Brian May look alike today on the slopes"