Pete Gillespie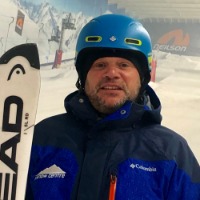 What skill do you teach?
Alpine skiing and Telemark skiing
What qualification(s) do you have?
IASI and BASI Level 4 instructor
Austrian National ski teacher – Staatliche Diplom
Swiss federal diploma of higher education in Snowsports
What languages can you teach in?
English and German
When was your first Snowsports experience and where?
Hemel dry ski slope at 12 years old! Followed by Soll in Austria
What's the best thing about being an instructor at The Snow Centre?
Working with an amazing Team
One single tip you would give to anyone taking part in Snowsports…
Engage with an instructor and enjoy the Snowsport journey. It will give you a lifetime of amazing experiences.
Best Snowsports memory?
Too many to single out one but skiing in Patagonia, Argentina was quite amazing!