Penny Chapman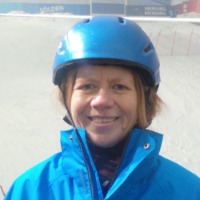 What skill do you teach? Alpine Skiing and Telemark Skiing
What qualification(s) do you have? IASI Alpine level 3 (ISIA stamp), Telemark level 1 (IASI & BASI) , Snowsport England Level 4 Development coach (IVSI)
What languages can you teach in? Much to my shame , only english
When was your first Snowsports experience and where? I learnt to ski in Mayrhofen too long ago to admit! I did not do too well but have persevered!
What's the best thing about being an instructor at The Snow Centre? The camaraderie
One single tip you would give to anyone taking part in Snowsports…. Have fun, it doesnt matter how well you do!
Best Snowsports memory... Finally passing my Level 3 award.